April 30th, 2008 by MTBBill
Over the last couple of weeks I have incorporated some night riding back into my schedule.   Will has hockey practice at the Escondido Sports Complex on Wednesday nights from 7-9PM.    The facility is only about half a mile from the north side of Lake Hodges so I have been hitting up Hodges while he is practicing.  The first go around was a run up to the top of Bernardo Peak and back and the second time was a speed run to Hernandez Hideaway and back.   After the first ride, one thing is for certain, my night time skills needed some brushing off.   It did not help that I had not been on Bernardo Peak since the October 2007 fires.  Sunset was approaching while I was climbing so I got a good look at the damage.   The vegetation tunnel towards the bottom of the climb has been completely rerouted.   This was a good call by the rangers.  That section was just one big rut with the cool feature being the tunnel.   Since the vegetation tunnel is gone, it was a good time to reroute the trail in a more sustainable manner.     I enjoyed the watching it get dark from the top before coming back down.  That is when I realized there were a bunch more loose rocks on the trail that I had remembered from the climb.   The shadows from the lights can make things seem a bit more interesting and I'm sure my hiatus from night riding had something to do with it.   The lack of vegetation on the hillside could have caused more rocks to erode into the trail as well.  One other slight annoyance was that I my current handlebar mounts don't work well the oversize bars so the best I could was to have the flood been slightly angled to the left.   Either way, I had a downright gingerly descent off the peak.   I'm leaning more toward the "I've become a night riding weenie" explanation that those other technical things.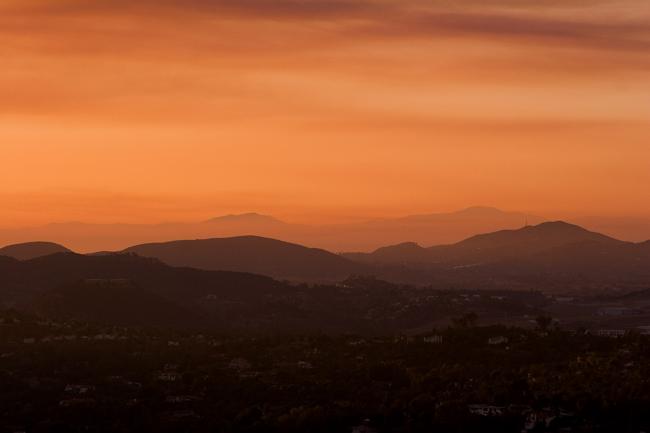 The second ride the following week went better but I did keep it near the lake.   I had not been on a speed run ride in a while so it was fun just to try and hammer around the lake and back.    With both rides I was back about 30 minutes before Will was done, so I will have to add some more trail the routine.  My goal is to get back with only about 10 minutes before Will is done.      Gotta get in the miles when I can.