The White Tank Mountain Regional Park is a really cool place to ride that offers a diverse group of trails ranging from buff benchcut contour trails to the gnarliest scariest technical nightmare of a trail that I have ever had the misfortune to wipe out on. (I have the scars, believe me). Saguaros and cholla and nearly all manner of desert flora could be found along this loop we did in the Spring here. This page breaks a little from my normal report style. You see I had my most painful and damaging mountainbike crash ever on the Goat Camp trail so it is hard to describe this trail system without recounting my misfortune out there. For those that have been following my blog, this is mostly a retelling of the orginal blog post.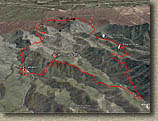 Map: Not only does Maricopa County have the best prison system in country, they have really good online resources for their parks. Here is a link to their White Tanks section of the site (PDF File). To the left is a link to a local copy of their excellent map. To the right is snapshot of a 3D view of the the loop I describe from Google Earth.
Data Files: GPX. KML, GDB ...Huh? Here is the Trailforks map of the White Tank Regional Park. Here is a recent ridelog that is close to what we did.
Ride Notes:
Starting from area one, We rode further up Black Canyon Road where it soon loop back onto White Tanks Mountain Road where to took a left. We cruised on the road for 1.7 miles. Just after passing the Waterfall Canyon Road on your left look for the Mesquite trail singletrack off to your left. This first bit of singletrack is really mild and nearly flat. After half a mile you the trail crosses Waterfall Canyon Road.
A quarter mile after that the Waddell Trail comes in from your right. Continue straight and remain on the Mesquite trail. The trail will start heading up into a canyon and aburptly becoming a tehnical boulder strewn mess that will be a hike-a-bike for mere mortals. The sections that are climbable are still burly.
When you get to about 3.5 miles the climbing mellows out a bit but their are plenty of patches technical bits here and there. We also got in a bit of quicke descending before we started a fairly mild climb that was interspresed with challenging bits.
At around 4.2 miles we came to the junction of the Willow Canyon Trail where we hung a right and did some more climbing. We did not climb long before we turned down into Willow Canyon where we enjoyed an extremely buff and beautiful contouring bench cut trail that scenically awesome an joy to cruise down. This section of trail is where the the term diverse came from when I was thinking of how to describe this trail network. You will have to wait until after the Goat Camp trail to fully appreciate the contrast between the two. At 5.5 miles we crossed a watershed. This is a good place to stop and take look around upstream. There is sort of a small oasis at the bottom of what would be a raging waterfall during the flash floods of the monsoon season. It pretty sure it should provide some shade at almost all times of the day.
From the there it was a short bit of climbing until we reached the junction of the the Ford Canyon Trail at 5.8 miles. We took a left from here and went downhill for just a bit, crossed through a was and then started a sizable switchbacking climbing up to a saddle and the junction of the Goat Camp and Mesquite Trails.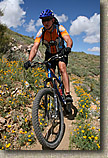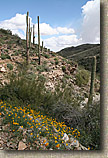 The Goat Camp Trail had been on my to-do list for a long while as people who are much better riders than me have all said it is one of the gnarliest trails they have ever been on. So when we get to the saddle I'm thinking, cool time to armor up. I was quickly informed that, nope we had over 3 miles of mostly climbing left to do before we get to gnarly stuff. During our climb up to the saddle the sky had darken and a still breeze had started up from the south. We were a little concerned as some of the clouds look ominous. The breeze was stiff enough that we opted to cut our break on the exposed saddle short and get moving again. For the rest of the days sizeable clouds would blow through but nothing in the way of a storm materialized. While did climb most of the next three miles there was one really cool descending section where we rolled though saguaros while the trail was lined with wildflowers. It was exceptionally pretty.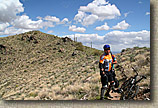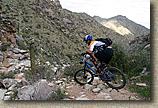 At around the 10 mile mark you reach the spot where things get incredibly technical. The opening descent, while only about a quarter of a mile long is a steep loose monster that is quite shaly with big chunk a plenty. Our guide and all-around awesome guy for the day, Greg, described it best when he said "If you touch your front brake just a little too much, the earth opens up and swallows your front wheel". After this initial loose stuff things firm up underneath you but the trail is just impressively rugged. It is hard to put a pucker factor on this section. It is more like a continual state of colon lockdown.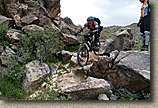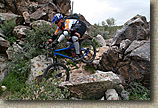 At around 10.8 miles you come to a really tricky feature known as the Spiral Staircase. There is a bit of a chunk gate to get into the feature followed by steep left handed roll down into a really tight righthander switchback that exits into either a spine roll or a chunky set of stairsteps. JD impressively flashed the entire thing after a quick look see of the line options. I kept having problems at the bottom as I could not get through the bottom right hander smooth enough to get onto the spine roll or drop into the chunk stairs with enough speed.
WARNING: While the thumbnails are not so bad, clicking on them may reveal a pretty icky shot.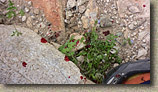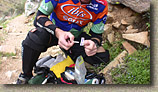 Below the Spiral Staircase is another just mean section known as "Jack Hammer". It was somewhere along this section that I blew a move and went off the bike and unfortnately smacked into a sharp-edged rock with my face. OUCH!!!!! I knew it was bad as soon as it happened as I could feel the left side of my face move in the "wrong" direction and then go numb. Behind me was Kevin and when he gave the question we all get asked sooner or later "Are You Okay", I had to respond with "No, I'm hurt bad".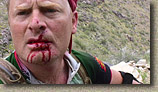 Like myself, Kevin has been offically trained on Wilderness First Aid and he did a great job sizing up the situation and getting all the supplies out and starting the work of patching my lower and upper lips back together with some steri-strip wound closures. I know the poker face and measured repsonses first responders are trained to give in situations like this and I knew Kevin was concerned. I'm sure some of you are already thinking "Did he film that?" Yes, I was filming when it happened. It is mighty hard to see you own face so I used the camcorder with the screen flipped so I could see the damage myself. It was not pretty at all. After getting patched up, Kevin and I walked down the rest of the trail. It was a gnarly hike. It was not too far before we met up JD and Greg who where waiting for us. I could see the concern in their eyes as well.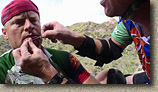 We had some gear spread amongst a couple of cars, so JD and Greg went on ahead to get everything setup for my exit. I walked some more until the trail got pretty tame in comparision to the rest the trail. This was around the 11.8 mile mark. Once I was riding again I made a point of going very gingerly as I did not want to elevate my heartrate any higher than absolutely neccessary as I was still leaking. We soon crossed a drainage and shortly after that we came to the junction of the South Trail (at 12.1 miles) that headed off to the right. We continued straight to stay on the Goat Camp trail. (It was well signed) About 3/10ths of a mile further down the trail the Bajada Trail split off to the left. Once again we stayed straight to on the Goat Camp Trail. Through this section we came upon a few hikers who obviously had not learned the tactful mannerism medically trained folks and gave some quite truthful responses like "Holy S#$T" and Oh My F#$king God!
We rolled back into the parking lot for a total of 12.9 miles. Once off the trail, I got my chamois off as I knew I would otherwise have to stew in it on for a long and end up with a bad case of monkeybutt. We cut the fairwells and end-of-ride chit-chat short and JD got me to the ER straight away. This was the first time I had heard the term "Though and Through" used outside of a CSI show on TV. Both the upper and lower lips where lacerated in that manner with the lower getting the worst of it. I walked out of the ER four hours after arriving with 19 stitches (some inside and some out) and a hankering for a smoothie!
Jerry thankfully had taken a catnap while waiting for me and he drove back to Orange County so I would only have to deal with about an hour of driving from the OC down to North County San Diego. It was way freaking late when I got home. Even though the Novacaine had long since worn off, a good portion of my face was disturbingly still numb. The ride was an awesome ride and I was really digging the beauty of the place as well as the brutal ruggedness of the Goat Camp Trail. Despite a bummer ending to the ride and the weekend, it was a great trip. I'll certainly be back -- With a full-face helmet :-)
Aftermath (April 2008): Things since then have healed pretty nicely considering. The scar on the upper lip will most likely not be too noticable. The lower lip on the other hand will certainly be noticable. This was the most painful injury I have ever had to deal with. I was off the bike as well as doing any serious excercise for about three weeks. My lips and mouth were sensitive enough that direct sunlight, the slightest of breeze or heavy breathing were painful affairs. I am so glad to have that behind me. I received a ton of well wishes and I am sure I failed to get back to every one. Thanks to all the well wishers and those who sent good vibes my way. I certainly help lift my spirit.