Phoenix's South Mountain - Day 2
Well today we got in some more substantual riding on South Mountain. I had been on a portion of this ride during a little winter jaunt last year but this weekend was the most time I had spent on this famed mountain yet. While this ride was only a little under 12 miles long, don't let the the low digits fool you, this ride can beat you down. There are lots of ledgy rocks and tough lines to session on going both up and downhill as you check out the Mormon, National and Geronimo Trails.
Getting There: For driving directions, 4330-4512 E Pima Canyon Rd Phoenix, AZ 85048 to get you to the Pima Canyon Trailhead.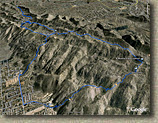 While my GPS data here is just for the stuff I have done, check out the the GPS Trail Maps website which has pretty much all the GPS data you would want on the South Mountain Trails.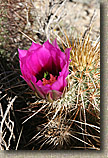 Ride Notes: Starting from the Pima Canyon trailhead we traveled up a very mild grade fireroad for about 1.2 miles at which point the road ended. From there we turned north and dropped into a wash and almost immediately came to the junction of the National and Mormon Loop trails. You could go up the National trail as well but it is steeper and a bit more technical climb than the Mormon loop. We continued north on the Mormon Loop Trail. In about a 1/10th of a mile you come to the junction of the Javalina trail that goes off to the right and uphill. We stayed on the Mormon Loop trail which turned in a westwardly direction as it continued to gain elevation. The desert was still pretty green and there where plenty of blooming flowers to be seen.
The climbing on the Mormon Loop trail was not bad but there were plenty of not easy spots. At 2.5 miles we came to the upper junction of the Mormon Trail coming in from the right. Remember this spot as you will be back here later. We turned left and downhill to head towards the National Trail where we turned right at 2.9 miles to climb the National trail.
I had done this section of National before but going in the downhill direction. It was a bit trickier this way. This is a pretty rugged trail that challenges you often. We were in no huge hurry so we sessioned a few of the marque sections including "The Waterfall"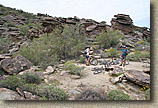 At 4.6 miles we arrived at the Buena Vista Lookout for some quick snacks. There is a long rock wall just after you come off the trail that screams " cop a squat". I was happy to accept that invitation. The National trail continues on westward towards the section we rode yesterday but that was not our route for today. From the lookout we turned north from the parking area onto the Geronimo Trail.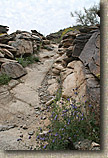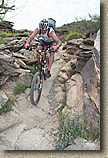 You ride along the top of a ridge for just a short bit, before you make a slight right and start the descent. Don't worry if you miss the turn. The ridgetop trail will soon deadend at another lookout. The Geronimo Trail has some gnarly bits and is much narrower and rugged than National. It is quite apparent that this trail sees far less traffic than National as well. I was digging this trail. There were plenty of tight and technical switchbacks as we shed off a bunch of elevation. At around 6 miles we came out by a Boy Scout Camp facility.
From there we hopped on a surface streets (East Dobbins Rd) and rode east. The road bends to the north and becomes South 20th Street. You will soon turn right onto East Euclid Ave and take it down to a T-intersection with 24th Street. Hang a quick right and you will be right at the Mormon Trailhead. (You should have 6.7 miles on you at this point). There is a water fountain at this trailhead and it is a good idea to check your water at this point.
The Mormon Trail is a technical beater of a climb. We did a combination of climbing, sessioning the really tricky stuff and hike-a-biking what we could not master. The features of this trail required the use of pretty much your whole tool bag of technical climbing skills. While none of it required trials type skills, it would have helped. I can not count how many times I had to do something like; finesse over this rock, power over the next, trackstand followed by a lunge. It was all good stuff but quite taxing. We had a great time trying stuff and feeding off of each other's successes.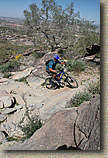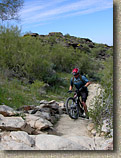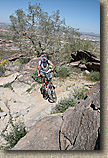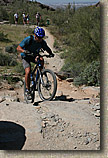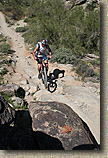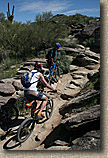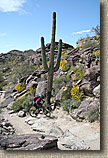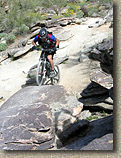 At 7.8 miles we arrived back at the junction of the Mormon Trail and the Mormon Loop trail where we were at earlier in the day. We went down the hill again to the National Trail but this time we turned left and went down National. The next 1.3 miles of National is much like the rest of the trail with lots of rock ledges and tricky stuff to get up, over and down.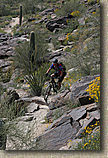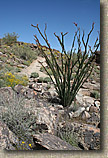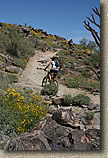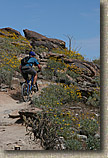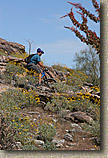 At 10.3 miles we were back where the Mormon Loop, National and the Pima Canyon fireroad all meet up. We cruised back down to the fireroad for a total of 11.5 miles for the day. We were soon back and Greg's place enjoying tasty beers before heading out for some good Italian food.
Onto to Day Three - Goat Camp