AZ Spring 2008 - South Mountain - Day 1
I was ovedue for an out of town trip so a quick run out to Phoenix for the weekend was in order. Jerry and I would be doing the carpool thing out to Phoenix. I was up at his casa in Orange County bright and early in the morning we were soon headed east. Jerry works vampire hours so he snoozed while I drove. We made pretty good time and by early afternoon we were at Greg's house which was to be homebase for the weekend. Already at Casa del Greg was Kevin who I had not seen in a little over a year. Greg and Kevin and spent the eight days galavanting around a few of the western states hitting up the MTB hotspots. We gave them a buzz when we were an hour out they had just gotten in from a quick morning spin on South Mountain. Things would work out that we would have enough time for a semi-quick loop on the mountain that would include a portion of the National and Telegraph Pass Trails.

Getting There: I was able to be blissfully unaware of really where the hell we were going since Greg was giving us the full local guided tour for the weekend. I did however check against my favorite guide book for Arizona to make sure that it loops was in there, and it is. Cosmic Ray's Fat Tire Tales and Trails Guide Book has this ride covered. The coin you have to throw down for this book is well worth it, even it is just to learn some cool words like Pogo Geek and H.O.H. The Telegraph Pass Trailhead is located at Desert Foothills Parkway (north of Chandler Boulevard) and Sixth Street. This is on the south side of South Mountain. There are some much bigger loop option to be done on the mountain, this was just a little squeker of a ride in comparision to what you could do.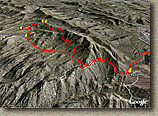 Map: Here on old school is a 3D shot from Google Earth of this ride. Plenty of elevation change considering this is short ride.
Data Files for this National Telegraph Trails Loop: GPX, GDB, KML - Confused?
The trailforks icon to will take you the south mountain riding area page that has all of the other goodies on the mountain.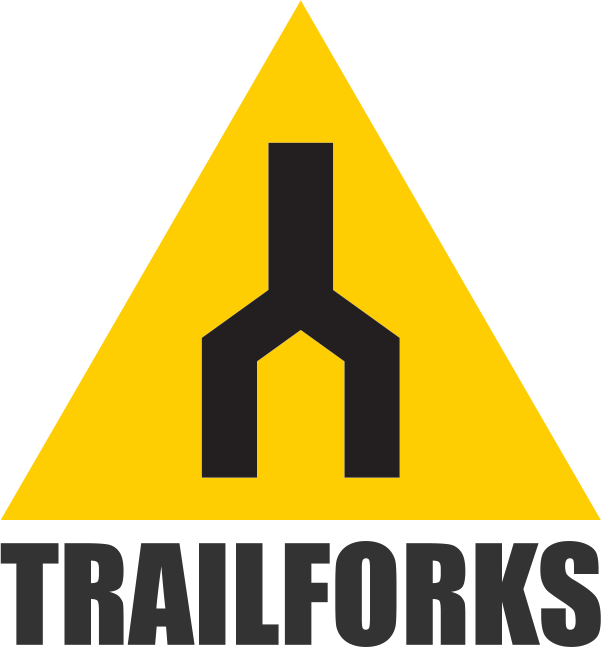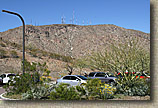 Our loop started on the Telegraph Pass Trail. The trail starts off as a concrete pathway for about half a mile before it turns into a real trail. There are some Hohokam Petroglyphs that are well worth a quick visit at a well marked spot.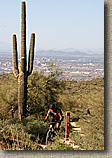 At the top of the Telegraph Pass trail comes out onto the paved Telegraph Pass Road (Around 1.2 miles). The National Trail also comes by the same spot. You should notice it coming down from the steep hill on your right just as you finish the climb. You will be coming back down that way later in the ride.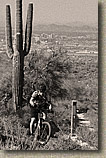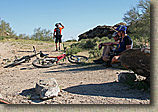 We then hopped on the road (East Telegraph Pass Road) and went up the hill to our right. After about 1.5 miles we hung a right onto North Buena Vista Road. Just under a half mile we hung a right off of the road onto the Holbert Trail. This was the most upper portion of the Holbert trail that was fairly mild to climb. From what I understand Holbert gets steep and a little nasty further down the mountain. For use however it was not a difficult climb. After just .4 miles on the Holbert trail it came out on South TV Road and joins up with the National Trail just on the other side of the road.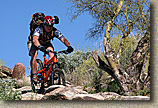 For our loop when hung a right on the road and real soon peel off to the right when National crossed the road. The next section of National was a bunch of fun. There was nice rocky technical bits and and the trail sees much less traffic that section of National east of the Buena Vista Lookout. The next two miles back to the top of the Telegraph Pass trail was just a heap of trail fun. Along through this section when came across, a teen hiker who had become separated from her parents. She was lent a cell phone to call her mother, but there was no answer. She was in good shape considering her predicament, both mentally and physically.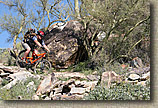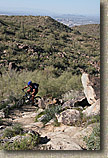 Since we were in no hurry, we told her we would ensure she got back safely by taking our time and guiding her back to the pass. Stopping to shoot a few flicks here and there made the escort easy and upon arrival back at the pass the park rangers were just gettign ready to hit the trail in SAR mode. Her mother was there as well and it appeared they had become separated by a side-trip down a spur trail that the daughter had missed. Both the rangers and the mother were very thankful for our help and we certainly made a good impression for the mountain bike community that afternoon.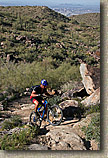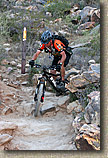 Going down the Telegraph Pass trail was mucho better than the uphill direction. While some of the stuff was much easier to clean going downhill there were a couple of moves with a high pucker factor. Once back at the trailhead we dashed back over to Greg's house for a couple of cervazas before heading out to a nearby Mexican place for some yummi grub. Our friend Gary managed to break free from the MTBR Spring Fling party and join us for dinner. It was good to catch up with him as I had not seen him in a long time as well. Unlike most of my trips where I'm usually in a coma within an hour after dinner we actually stayed up quite late catching up on things.