Soquel Demonstartion Forest
Day Two of the Norcal 2007 Trip.
Nestled up in the Santa Cruz mountains Soquel Demonstration Forest (Often referred to as just "Demo") is the closest thing to the feel of the North Shore I have found here in California. Nearly all of the trails at Demo Forest are on the north side of the ridge created by Santa Rosalia Mountain. You can have a truck load of fun here and there are plenty of hucking lines for those that feel the need for some air. From what I saw (and what I read about for the trails I did not get to) there is very little in the way of mandatory air as nearly all the stunts are options. This allows for intermediate rider can get around here just fine, while more advanced riders can go faster, bigger and more adventurous.
Map and Other Resources: The Virtual Parks Organization has a okay map that is focused on the neighboring Forest of Nisene Marks but it does show a pretty good big picture of the area.

My map is a combination of two different rides here, a GPS file from a friend and a pretty close hand-drawn trail or two. The TOPO file. The Raw GPX file.
What is this stuff? Check out the GPS How-To.

Here is an excellent map from the Stewards of Soquel Forest. While my descriptions below reference my map, if I could only print out one map, this one would be it.
Directions: This ride is located between San Jose and Santa Cruz, so from either city head towards the other on Highway 17. When you get to Patchen Pass (The Summit), exit onto Summit Drive. Take Summit east/southeast about 10 miles. Somewhere along the way Summit Drive becomes Highland Way. There is also quick right-then-left intersection at Mt Bache Road and Spanish Ranch Road. Highland Way is prone to landslides and about 3/4th of a mile or so before we got to the trail head there was a Road Closed sign. After surveying this section and seeing several cars riding on the road we proceeded down to the trailhead. There is a small trailhead right on the side of Highland Way next to a bridge. There have been some car windows broken in this lot in the past so you may want to cross the bridge and follow Hahn Mill Road about 1/4th of a mile to a large gravel parking lot. There have been no problems reported there.
Ride Notes: (I rode Demo once before in 2002 but really did not get to see much as we ended up getting rained on and we did not do a particularly good route for what we did do.)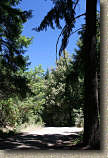 This time we parked in the gravel lot on Hahn's Mill Road (Waypoint SDF-20). Once on the bike we headed back to Highland Way, hung a right (SDF-0) and started a gradual to moderate climb along the road. At 1.9 miles (SDF-2) turn right onto Buzzard Lagoon (Ormsby Road goes the other direction here). Some where along here you will cross into The Forest of Nisene Marks. At 2.9 miles (SDF-3) the traditional route has you turning right and uphill onto the unsigned fire road (Some sources call this Santa Rosalia Mountain Road, while others call it Aptos Creek Road at this point). It is too bad that all the single track in the upper area of the Forest of Nisene Marks is now off-limits to mountain bikes as you used to be able to continue straight and slightly downhill on Buzzard Lagoon Road for about

3/4ths of a mile and picked up the Cusacks trail on our right (SDF-4). This single track was super fun as it twisted it way along the contours and popped you back out on Aptos Creek Road at SDF-8. Anyway, ranting of cool singletracks you can't ride anymore aside, you will follow the fireroad until around 4.2 miles you come to gate that you will go around and continue uphill. Shortly after that you will flatten out and then start downhill. You will start noticing bits of trail off to your right. These are not on the map and while some of them just meet back up with road others seem to head off down the north slopes in a hurry. You will want to stay on the main fire road until at SDF-9 you will see a large trail map sign on your right and viewpoint on your left. This is the official start of the ridge trail.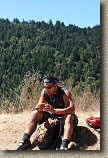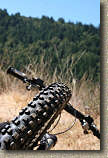 The ridge trail roller coasters with more downs than up when heading west. You are nicely shaded pretty much the entire time. It will not take long before you will start seeing various freeride type options. Most of these you will have to pay attention as they are made using the natural materials from the forest. While it is mostly log rolls and jumps, once you get an eye for the stuff you will see more of it. However, on your first time out here you will most likely miss quite a bit of the stuff. On some of the more interesting stuff we blew by, we stopped and screwed around a bit.
You have five options for coming down off of the ridge trail. They all involve steep descents down to Hahn Mill Road at the bottom.

Hahn Mill Road is a fireroad that gradually gains elevation if you are going east so you will be climbing to return to your car. The more westward of a trail you take down off the ridge the more climbing you will do back to your car. You longest climb back to your car would be 4.1 miles and 1,200 feet if you take the Sawpit trail down.

Corral Road. At .6 miles from the start of the Ridge trail you will come by the turnoff for Corral Roadd. It is a single track at this point, but after descending about half a mile it will turn into a fireroad that will join up with Sulphur Springs road after about another mile.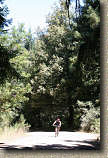 Sulphur Springs Rd. .9 miles after the turn off for Corral Rd, the Ridge trail will could out into an open area were the Ridge trail quickly ducks back into the shaded forest off to your left. This open area is the top of Sulphur Springs Rd. The road is 1.5 miles long starting off of Hahn Mill Road. It is freaking steep. If you are coming up from the bottom at .4 miles you will come to the junction of Corral Rd on your left. Some people use Sulphur Springs Rd as a way to get up on the ridge. You can either slog up Sulpur Springs Rd all the way to the Ridge Trail or you can hang the left and take the Corral Rd trail up to the Ridge. Corral is less steep but longer. Either way you are going to have to pay to play. In 2002, we went up Sulphur Springs to the Ridge trail, then took the Ridge trail east to Corral Rd and then back down. DON'T go that way. It is no fun, particularly in the rain.



Braille Trail. From the junction of the Ridge Trail and Sulphur Springs continue west on the Ridge Trail for about .4 miles to the Braille Trail turnoff on your right. We had intended to come down the Braille as part of our second loop out here but ended up not getting to the second loop. Here is what I know about the Braille trail from my online digging and firsthand account from folks. This trail is billed as a hugely fun trail will lots of built up stunts like teeter-tooters, log jumps, and other stunts. All the hard stunts have go-a-rounds. The word is that the stunts on this trail are not as natural appearing as the other trails at Demo. The Braille trail also started out as an illegal freeride trail and through a good bit of advocacy work was brought into the legitimate trail network of the forest.



Tractor Trail – From the top of the Braille trail it is about .5 miles on the Ridge trail to the top of Tractor. This was another trail that was going to be on our second loop. We planned on going down Sawpit, up Tractor and down Braille. Oh well it did not happen. Once again from what I know Tractor is a real speed demon of a trail. I do not have it drawn on my map but it goes between SDF-13 and 17.



Sawpit - We took Sawpit down on this ride. The ridge trail between the top of Tractor and the top of Sawpit gets more technical with some roots here and there. Sawpit itself has lots of on-trail options of jumps, log rolls and drops. While I was quite impressed with the stunts that were on this trail, I was even more impressed with the care that had been taken to keep the natural appearance of the forest. There are many stunts, even the big ones that you could easily miss. It is obvious that this trail has seen some high quality trail TLC. My hats off to those who help maintain it. Sawpit reminded me of some of the trails I saw on the North Shore. While it is certainly not the shore, the flora of the area combined with exceptional use of the natural resources certainly adds to the feel of the place. The overall descent down Sawpit can be a real screamer as it dumps over 750 feet in about a mile.
Sawpit was over far too soon and we started our four mile climb back to the parking lot. By the time got to our first set of options to go back for a second loop that would include either the Braille or Tractor we opted to save it for another day. No matter how you look at it you will have to pay to play at Soquel Demonstration Forest. It is however well worth it. That night Cris made some pasta with this really killer sauce he whipped up that was to die for. We made a point to prep the bikes tonight as we would be busting out early in the morning to move to our second basecamp for the trip, Truckee.
Video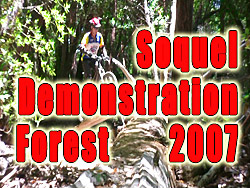 Here is the video of this ride. The light was extremely harsh on this day making for some less than ideal footage. This 4 minute and 35 second video is 58MB.