The Coast to Creast Trail is a multi-use trail that passes through the San Diequito River watershed from its source on Volcan Mountain near Julian to the Pacific Ocean at Del Mar's Dog Beach. The intended 70 miles trail is very much still a work in progress with about 45 miles built to date. If you have done much riding at all in the northern part of San Diego County you have probably riddden some portion of this trail. A fair portion of the existing segments of the trail are already covered on the site. The trail passes the through the following riding areas: San Ysabel Open Space Preserve, The Black Mountain Loop in Pamo Valley, San Pasqual Valley (Raptor Ridge), and Lake Hodges North. The 77 mile route I describe here covers a diverse group of beautiful terrain from the mountains at elevations over 5,000 feet down to the ocean. While this ride can be done in a single day for those accustomed to putting in long miles, I did this ride as my introduction into bikepacking trip as an overnighter with six other folks and the overall experience was great that was certainly greater than the sum of the individual trail segments.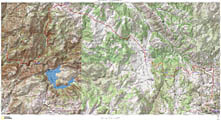 Maps: The map here is a four page PDF document. It is formatted to be printed on 8.5" by 14" paper. It is a rather busy map at that size, if you can print at a larger size that would be better. The fourth page is a cuesheet that includes mileage marks for the waypoints and some directional hints. It is meant to be used with the GPS files.
Hazards: There are no stores within four steep uphill miles of this route until you get into Escondido near Lake Hodges at a gas station 53 miles into the route so water is a big concern. During dry years the creeks along the route will most likely be dry. The pasture lands in Pamo Valley have water tanks setup for the cattle than can be used if you use a water filter and/or purification tablets. Setting up a water cache in Pamo Valley as part of your shuttle logistics to Julian is also an option. You could also just carry a much of heavy water with you.
Directions:
Julian: The start of the ride is Main Street in Julian which turns into Farmer Road as you head northwest out of town. From town you will take Farmer Road a little under 2 miles to Wynola Road. Turn right, then make a quick left continue on Farmer Road. Get directions from your current location.
Del Mar's Dog Beach: The end of the ride. Parking here can get pretty full but this is going to be where you end at the end of the route. For overnight parking you may want look someplace near here but not on PCH. Get directions from your current location.
Pamo Valley: Someplace near the junction of Pamo Rd north of Ramona and the junction with Forest Service Rd 12S04 (Google incorrectly calls it 12504) is a good place to cache water if you are going to cache water. Get directions from your current location.
Land Use: This route I describe goes through a mixture of both private, Indian reservation and various public lands with various easement and land-use polices. While I describe this as an overnight camping trip, where to camp can be a bit tricky. The San Dieguito River Park which manages the Coast to Crest trail does not officially allow camping. They also do not have land-use authority for land they don't own. You certainly should not try camping on private property. Primitive dispersed camping is allowed in certain undeveloped areas of US Forest Service lands which the Coast to Crest trail passes through. About half way through the Coast to Crest trail route is such a section of USFS land. A portion of the Lower Santa Ysabel Truck Truck (FS 12S04) between Pamo Valley and Boden Canyon (C2C-16A and C2C-16B in the GPS files) is on USFS land and dispersed camping is allowed. Dispersed camping access can seasonally change due to a myriad of reasons such as fire danger and certain endangered bird nesting seasons so its best to check with the USFS prior to scheduling an overnighter. The area I just described is part of the Palomar Ranger District of the Cleveland National Forest. Their office is located at 1634 Black Canyon Rd. Ramona, CA 92065 and they can be contacted at (760) 788-0250. If you do end up camping make sure you practice low-key leave no trace camping.
PHOTO CREDITS: Some of the photos here are courtesy of the partners in grime on this trip. Kevin Gyberg, Carl Shelton, Ken Kugel, Greg Coleman and Chad Willkle. Chad has a nice write up about this trip on his website, AdventureOvernights.com
Ride Notes: (For areas that we rode through that I have already have a page on the site, I will talk in less detail compaired to previously unpublished areas. I alternate between past-tense descriptions of what we did and present tense directions for you should do frequently.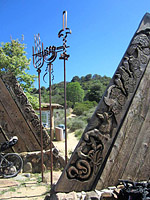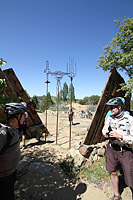 After working out of the logistics of meeting up in Julian, a group of six of us setup for bike packing pedaled out on Main Street/Farmers Rd for about 2.4 miles out to the start of the trail at Volcan Mountain Wilderness Preserve (CTC-02). Full disclaimer here, we did not climb all the way up to the top of the mountain as it is a steep out and back on double-track. The top of Volcan Mountain is the "Crest" of the trail. We went up to kiosk of the preserve which has a pretty funky artsy vibe to it. After checking it out when went back out to to Farmers Road and hung a right and zipped down the paved road to the Santa Ysabel Open Space Preserve East trailhead (CTC-03).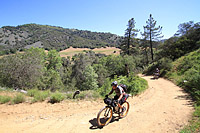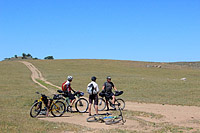 It has been quite some time since I had ridden out here. I had nearly forgotten just how pretty this area is with a mix of open fields and oak trees. The first climb was rather steep and with all of the bikepacking gear I quickly found myself out of clicks on my shifters. The climbing mellowed out when we got up into the Kanaka Flat area and our first farm road junction (CTC-04). I had my first gear failure somewhere between here and this junction. My flip-flops and ballcap that were strapped to my seatbag went off on thier own adventure. I should have run the elastic strapps through them instead of just cinching the straps down. We turned west for some rolling ups and downs on doubletrack with more ups and than downs.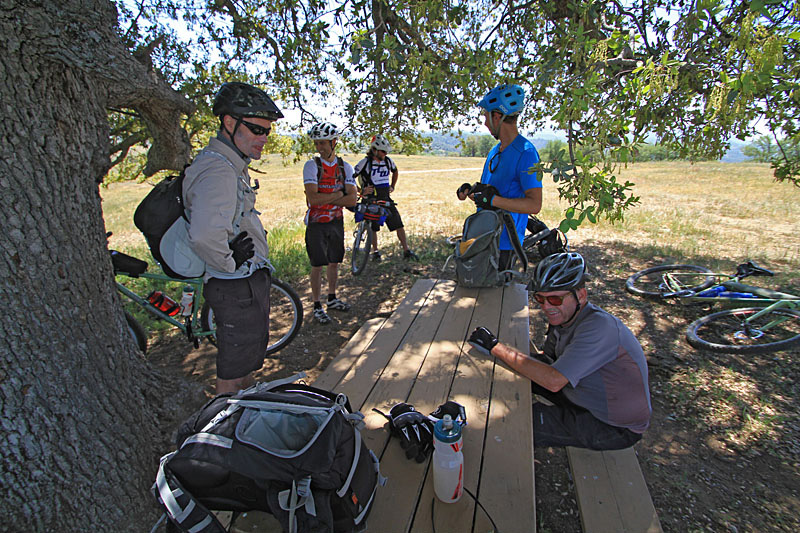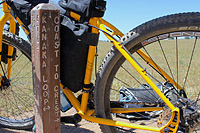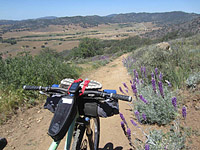 The crew took a quite break (Left to Right: Kevin, Carl, Greg, Chad and Ken) at a nice picnic table at CTC-05 where we had nice views all around including the observatory on Palomar Mountain. We did quick bit of descent from there along the farm road that got rocky in spots. At C2C-06 there is a trail that heads off to the south but you will continue along the main farm road which bears to the right which will soon have you climbing up to a fork in the trail at CTC-07. While both forks will lead you to the same spot, the fork to the right is the Coast to Crest trail so take it. It climbs gradually to the north and then bends around a hill and descends into a small meadow/three-way saddle at C2C-08. From here you will turn to the right (east) and start a rather steep descent down into the Sant Ysabel Valley and the lower staging area of the preserve at Highway 79 (C2C-09). We had done about 12.1 miles so far at this point.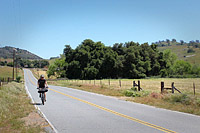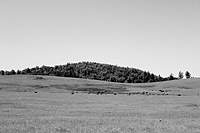 There is a massive section of trail that is not built from here. The trail is eventually supposed to goacross Highway 79 in this area and then work into the Santa Ysabel Open Space Preserve West. The San Dieguito River Park was working on obtaining an easement with the owner of the farm, but he passed away and an agreement with his surviving family has staled. There is a 0.4 mile section of the Coast-to-Crest trail built in the west preserve but it is just part of loop in the preserve at this point without an ingress or egress outside of the preserve. For this route we turned north on Hwy 79 for 6/10ths of mile and then turned left onto Mesa Grande Rd (C2C-10). This is a paved road that does not have much of a shoulder. The good news is there was no where near as much traffic as you would see on highways 78 or 79. We got our climb on as well some descending over the next 6.8 miles. The open fields, oak trees and pasture land puts this road segment in the "not bad" category. It was some pretty countryside when we did it and I bet early springtime here would be amazing.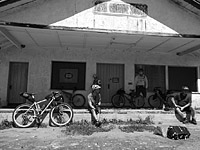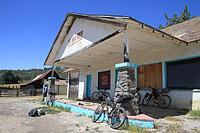 We took at break at the junction of Black Canyon Road at the old Mesa Grande Store (CTC-11). It has long since been closed and boarded up but it free to take a load off out front and that is exactly what we did. Black Mountain to the east of Pamo Valley was within view now and it was cool to see this mountain from this new angle to me. From here we left the pavement for the dirt of Black Canyon Road. Other than a slight uphill bump early on this was 6.6 miles of an 8% grade that twists and turns along with some long views down the canyon in many spots. This was my first time on this section of the road. It was really cool that this thing just seemed to descend forever. About 2/3rd of the way down the canyon we passed through the small Mesa Grande Indian Reservation.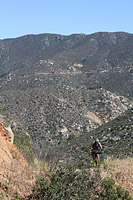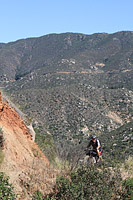 At CTC-12 (Mile 26.1) we made a switchback right off of Black Canyon Road and downhill onto the Santa Ysabel Truck Trail. The truck trail descends down to the nearly gone remenants of an old campground. Other than some overgrown flat spots, there is really nothing left of it. After rolling through the old campground area the truck trail crosses Santa Ysabel creek before gaining some elevation. The Santa Ysabel Truck Trail is part of the offical Coast to Crest Trail system. There was some work to be done here as we worked over the south slope of Black Mountain and around to its western slope. At the junction of the Black Mountain Truck Trail (C2C-13) we stayed to our slight left (downhill) to start and exceptionally zippy descent down into Pamo Valley. The truck trail comes out onto Pamo Valley Rd (C2C-14). We turnned left and pedaled south on Pamo Valley Road (mostly dirt road). Pamo Road is not part of the offical Coast to Crest trail. If you are going to be filtering water from the cattle water tanks, you should start checking out anyone you see. (Waypoint C2C-WS1 is one that was usable during our transit through here). Note, that there is barbwire fencing all along here with private property signs. I highly doubt you will get any flack for filtering some water from a cattle tank. The hillsides above the valley used to be open shooting areas so there was plenty of red-neckery going on out here in the past so the property owners had good reason to keep plenty of signs up.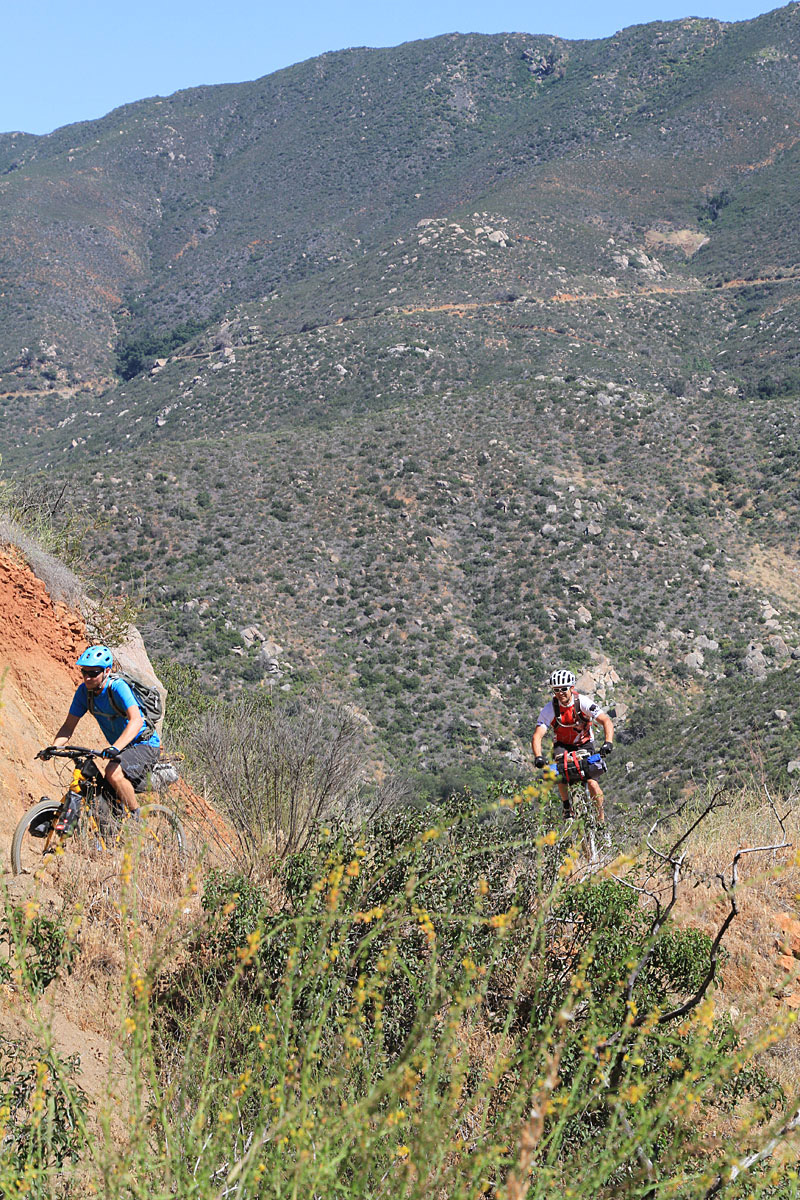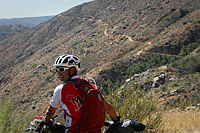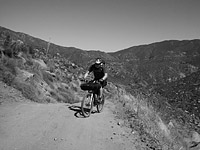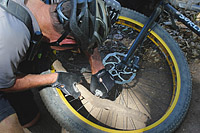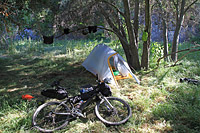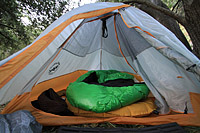 At C2C-15, we took a truck trail on our right (I believe the kiosk here says Orosco Ridge). Shortly there after there is a tee-junction of dirt roads (C2C-16). To the left is Lower Santa Ysabel Truck Trail (FS 12S04) and the the right is Orosco Truck Trail. If you are camping this is a good area to start looking for a camping spot. A couple of notes about camping in this area. The forest service currently allows primitive dispersed non-open flame camping in the area. The Orosco truck trail and the Pamo Valley Road are open to vehicles. The Lower San Ysabel truck trail (FS 12S04) is closed to vehicles so the further west you go the quieter camp will be. The lowland along the creekbed is one of those crazy areas where the cool air just seems to settle at night. It got to 35 degrees on the night we camped in the middle of April. A spot just a little bit up out of the creek bed would have probably have been 10-15 degrees warmer. (I was digging my goose-down sleeping bag).
Pictures from Camp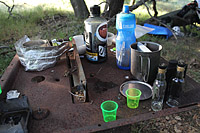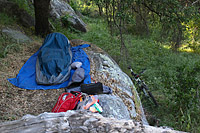 We did a touch under 35 miles for day one. Tasty sprits seemed to find their way into most of our packs. Since every ounce counts we felt it wise to lighten our load for tomorrow as much as possible :-) All of my gear worked pretty much as expected and there were certainly some lessons learned. It was great to have my first backpacking trip be with some veterans of it as I learned a lot and it was good to see the diversity of gear setups. I slept really well that night and awoke to the sounds of turkeys gobbling in the distance. Not long after that a lone gunshot rang out that reminded me it was turkey season. I did not hear any more turkeys after that. I had under estimated my fuel requirements for my alcohol stove but I did have just enough to get a couple cups of coffee made to go with breakfast. Coffee just tastes better outside. We leisurely broke camp and headed back on the trail.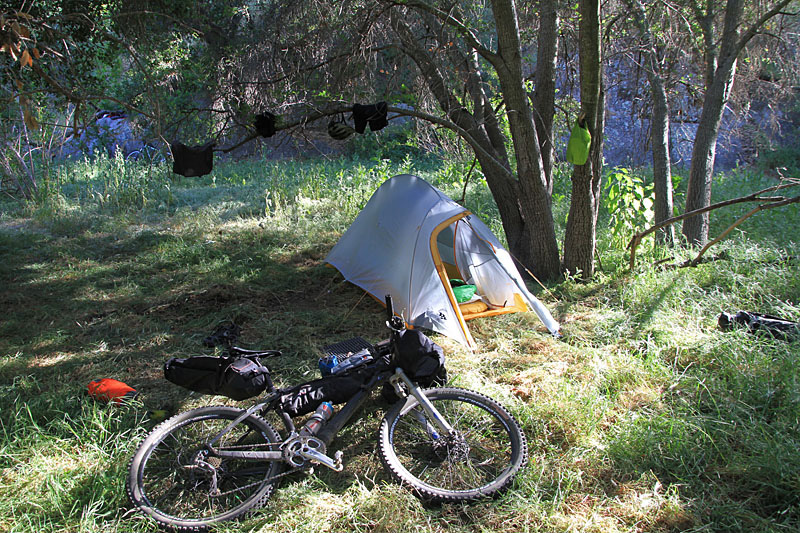 DAY 2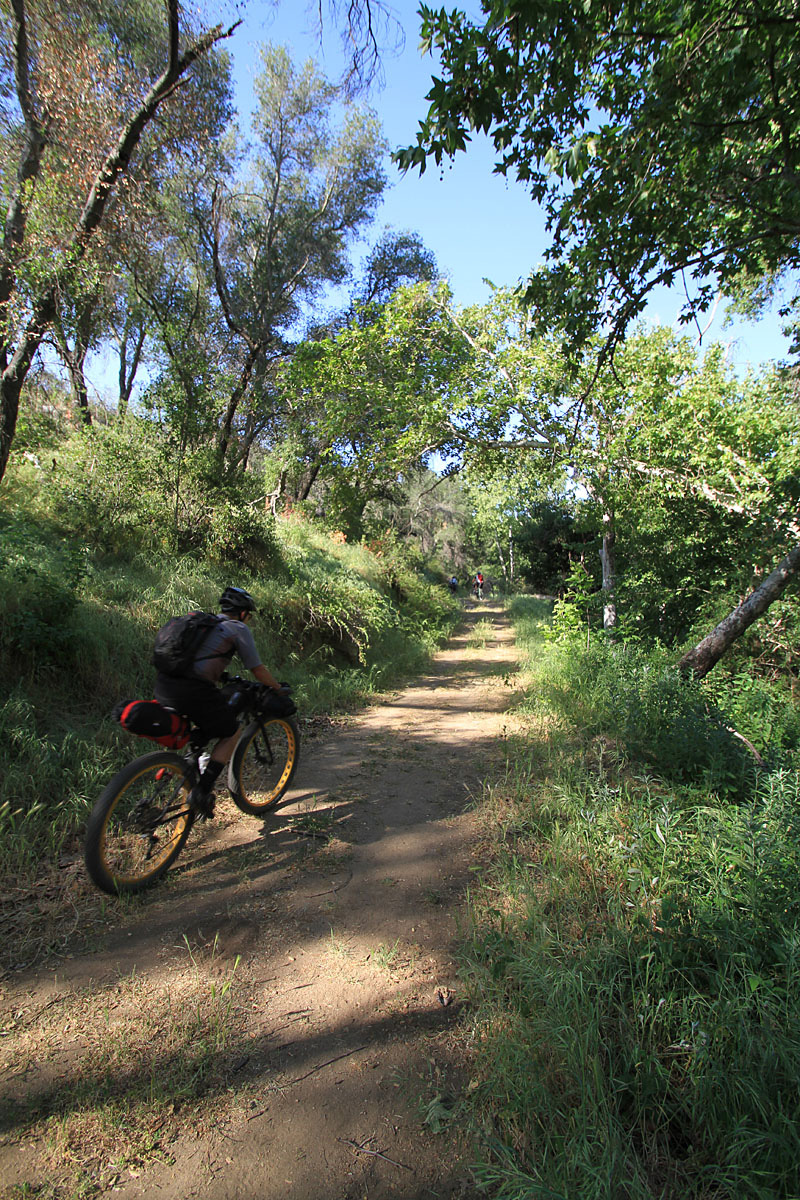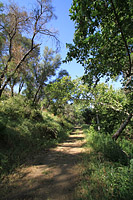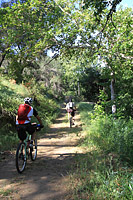 Forest Service Rd 12S04 is referred to as the Lower Santa Ysabel Truck Trail by the San Dieguito River Park. Some maps refer to as the Lower Santa Ysabel Road. Just west to the junction of Orosco Truck Trail (C2C-16) there is a locked gate to keep vehicles off of the road. After just a bit of climbing, we were treated to a very mild grade descent. Mother nature is doing a really good job of reclaiming this this old forest service road back to trail. Near the eastern end you get to ride under a canopy of oaks and other large trees that border the Santa Ysabel Creek watershed. Near the western end of this trail it is more open with the truck trail looking more like singletrack than dirt road. This is part of the offical Coast to Crest Trail and it is a good section as it is so much more natural than the split rail fencing and gravel that you see in other part of the Coast to Crest trail system. The Lower Santa Ysabel truck trail comes out into southern end of Boden Canyon at C2C-17 where you will bear slightly to the left. Note: Google Maps and Earth, has the names of the truck trails through this area kind of jacked up which they show as both the Orosco and Gueito truck trail. Neither of these jive with other maps that show this as the Boden Canyon truck trail/road (FS 12S02 on USFS land). This is mostly an academic matter since I have only seen one trail marker in this area. The truck trail between the Lower Santa Ysabel Truck Trail to highway 78 is not part of the official Coast to Crest trail at his point. We did take this truck trail up to Highway 78 (C2C-18).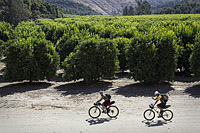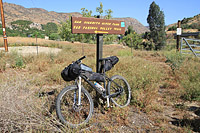 We had to cruise down highway 78 for a couple of quick downhill miles where we hooked with some farm roads at C2C-18-SPV to travel along the orange groves. If you keep the Santa Ysabel Creek bed to your right, the farm roads will lead you to a trail that will take you under the Highway 78 bridge over the creek (Wayoints C2C-19 and 20) and will take you to the Bandy Canyon trailhead of the San Pasqual Valley Trail that is part of the offical Coast to Crest trail. The trail starts out heading east along the edge of an orange grove and then turns south to cross the valley after which it then turns to the east again (C2C-21) paralleling Bandy Canyon road.
This area is called an agricultural preserve which looks a whole lot like farm land to me! (I'm thinking there is more grant money and tax breaks in an agricultural preserve) . There are a few sections of the trail in the valley that are right beside the road with split wood fencing between the road and the trail along with non-native blue gravel for a trail surface. While I would normally be ranting about how lame this type of trail construction is, the scenery of the valley offsets these sections other shortcomings. (Micro-Rant: There is absolutely no neccessary reason to ever use blue/slate gravel on a trail in Southern California. There are tons and tons of native rock and soils available around the county for this purpose : End Rant)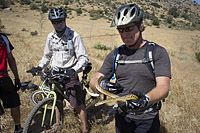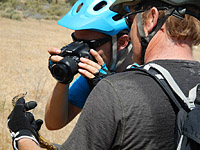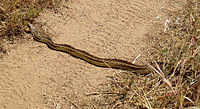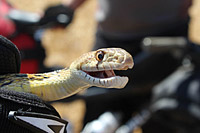 We fondled one the locals as we passed through (Gopher snake)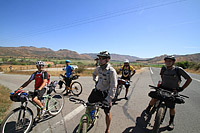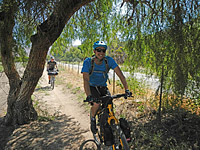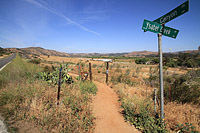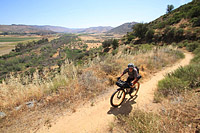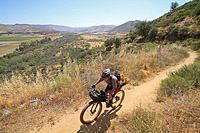 More views through San Pasqual Valley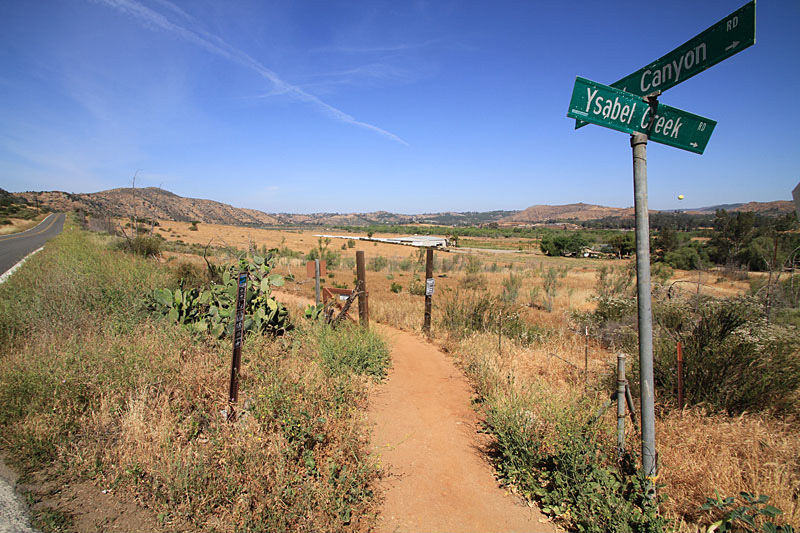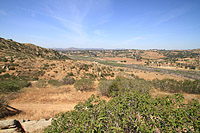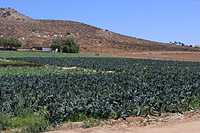 The trail will eventually route away from Bandy Canyon road and start climbing up to Raptor Ridge. This is good climb that is plenty of work particularly if you are sporting bikepacking gear. The views of the valley get better as you climb so make a point to over your shoulder or pause for a look back. The climb will wrap around the north finger of the ridge and get its steepest just before it tops out at a viewpoint (C2C-22). The next section is fun of bit of descending singletrack back down into the San Pasqual valley where the trail transitions back to doubletrack.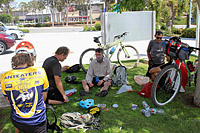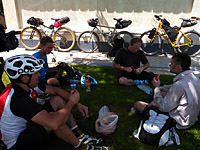 The doubletrack heads south along the foot of Raptor Ridge before turning to the east (at C2C-23 & 24). The doubletrack will cross over to the north side of the valley and follow farmland fencing into the Lake Hodges area. Just before the Sunset drive trailhead (C2C-27) we diverted over to the Chevron gas station for a resupply water. After the resupply we rode the north side of Lake Hodges over to the Del Dios community park (C2C-27 to 30) where we continued on the trail that is now heading south.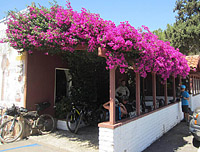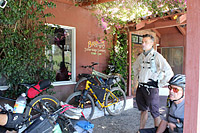 We did take a break at Hernandez Hideway (C2C-31) to debate wither or not to knock back a Margarita (or five) and some tacos. We all decided to hold off until the end of the ride. We continued along the trail that eventually took us out to the the Dam access road at C2C-32 where hung a left and followed it until shortly before the dam where the trail splits off to the right and goes past the dam. (C2C-33). Beyond the dam the wide gravel trail parrallels highway S-6 for a short bit before dropping down into Del Dios Gorge below the dam (C2C-34) where you get a mostly zippy to easy cruising for about a mile down to a steel brige across the gorge (C2C-35). There is a bit of steep climbing along a powerline access fireroad up to where you l pick up the Santa Fe Valley trail at C2C-36.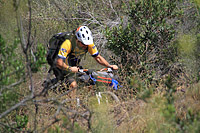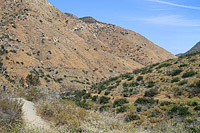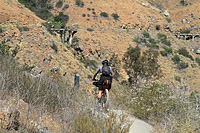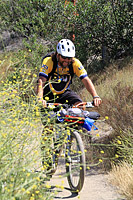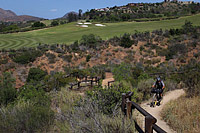 The Sante Fe Valley trail undulates along the south side of Del Dios Gorge before bending to the south-southwest. The watershed area narrows through here and you have the Bing Crosby estates and its golf coursee on one side and the backyards of swanky/corfortable looking homes on other other side of the canyon. At C2C-38 you will start some climbing bits on a sizable set of switch backs first up then down and then back up again. Once we got to the top of the second series of switchbacks you will once again be off of the official Coast To Crest trail. At the second powerline pole after the last switchback (C2C-40) You will take a singletrack off to the right (west) that will take you a short ways out to doubletrack where you will turn to the left. Just before you get to Artesian Road (C2C-41) you will hang a right on a singletrack that drops you into the Lusardi Creek area.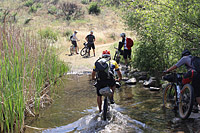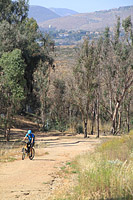 The singletrack will come out onto and cross the lightly used road into the Lusardi Creek Preserve at C2C-42. There is a kiosk at the entrance. You will follow the doubletrack southeast along the Lusardi Creek drainage for about half a mile where you will then cross the creek (C2C-43) and the start a steep climb up to San Diequito Rd at C2C-44. There was stinging in the legs on this climb. Note: Shortly before you get to San Diequito Rd, there is a connector trail over to the Lusardi-Santa Luz Loop (You are not doing this on on this route). For future reference the Santa Luz Loop can also be picked up directly across San Diequito Road from where you meet it at.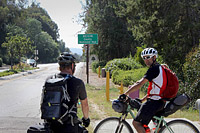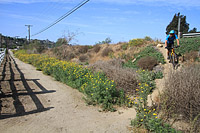 From here we hung a right had to do a five mile stretch of downhill and flat pavement along San Dieguito Road. There is is a good bike lane/shoulder pretty much the entire way. You will hang a right on to El Camino Real (C2C-45) where you will travel north across the San Diequito river bridge to to connect to the next segment of the Coast to Crest trail. Be extremely careful going across the bridge as it is narrow and their is often heavy traffic. There is a social trail just beyond the bridge to drop onto the trail at C2C-46 but the offical entrance is a little further up the road.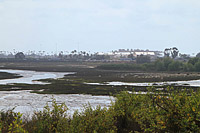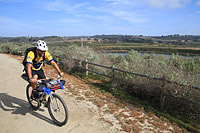 The next segment is along the San Dieguito Lagoon where were you can see the tops of the Del Mar rack track in the distance. The trail which is a wide pathway through here follows the north side of the large wetlands restoration project that the Army Corp of Engineers did some years back. The trail will pass by another trailhead at San Andres Drive at C2C-47. From the San Andres Drive trailhead the trail will route you under Interstate-5 and past the end of driving range. Shortly thereafter the trail will transition onto the San Diequito Lagoon Boardwalk before coming out onto Jimmy Durante Blvd. You will cross Jimmy Durante Blvd, hang a left cross the bridge and then pickup the Del Mar River path at C2C-49. Follow the footpath toward the ocean. At C2C-51 you will need to cross the railroad tracks. Don't get hit by a train! Pickup the foot trails on the west side of the tracks and follow them out to Pacific Coast highway (C2C-51) hang a right and cross the bridge. After the bridge figure out how to cross Pacific Coast highway and go onto Dog Beach (C2C-52).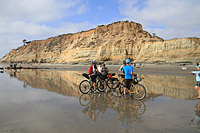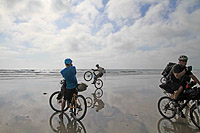 Now get those bike tires in the Pacific Ocean! While there are plenty of good places to eat in Del Mar and Solana Beach, Pizza Port Solana Beach is just a mere 1.1 miles up PCH. They brew tasty beer and make yummy pizza with outdoor seating to boot so you won't smell up the joint! While mileage on your GPS and/or bike computer may vary we came in anywhere from 77.4 miles to 78.2 miles over the course of the two days. We climbed about 4600 feet and descended 8800 feet.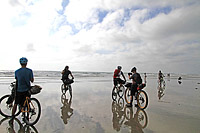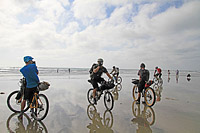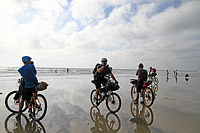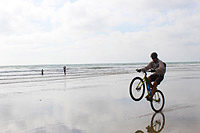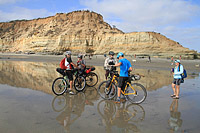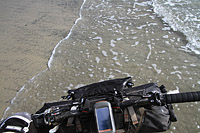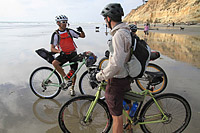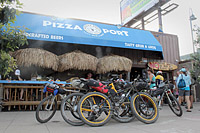 While I had ridden most of this route before I had a new found appreciation for this route that made it greater than the sum of its parts. It will be interesting to see how the trail comes together as the remaining segments are constructed. While the wide pathway format used down by the heavily populated coastal segment is okay, I am hoping that the eastern backcountry segments that will undoubtly see far less traffic will be true narrow singletrack.