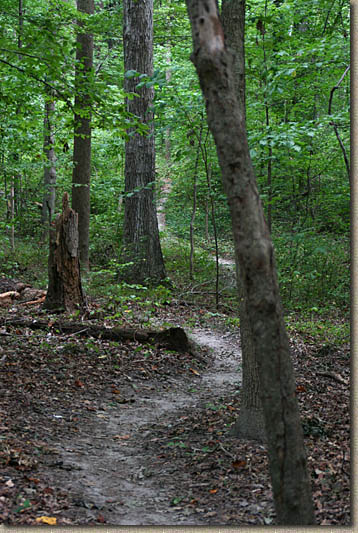 In September of 2008, I spent about three weeks in the tidewater area of Virginia on a work gig. I brought along my bike and I managed to have a whole bunch of fun. The routine at the end of most days was to get to a trail after work and ride until dark.
One thing you will not find a whole lot of in this area of Virginia are significant hills. With that being said, the folks here typically take advantage of every undulation in the terrain making some mighty fine singletracks. The further inland you go, the more hilly things become.
I rode plenty of great trails that bobbed and weaved around streams, trees and logs. I was amazed at are rarely straight for more
There are some really great resources for finding rides in the area. Some of the one is used are:
Eastern Virginia Mountain Biking Association - This is good forums based site that has lots of information about the area as well as reoccurring group rides. I had a chance to chit-chat with some of the board member of the association while I was there and they are doing great things for mountain biking in the area. From this site you will be most certainly end up at the Cycling Central Virginia forums as well as the GPSTrailsource.com sites. These sites are great for find out status and directions to the trails. You will also find GPS data for downloading. Well worth checking out.