Trabuco Canyon
Trabuco Canyon Trail may only be 5.5 miles long but it sure felt a lot longer. It is a strenuous climb with technical terrain to boot. You will get to use many skills on this trail, from dodging boulders to navigating loose rocky sections, many of the sections require just as much finesse as power to clear. Most people will certainly feel tested at the top of this trail.
HAZARDS: This is NOT a Beginner/Intermediate trail. This is a strenuous climb with many technical sections. There are also many loose sections were the penalty for failure is high.
Directions: (From San Diego) Take the I-5 north. After passing through San Juan Capistrano and just as you near the Mission Viejo area, take the Oso Parkway exit. Turn right and take Oso Parkway east for 2.5 miles. Turn left on Antonio Parkway and take it north for 5.6 miles. Turn right on Santa Margarita Parkway and 2/10ths of a mile later turn left on Plano Trabuco Road. After .6 miles the road will turn to the left and become Trabuco Canyon Road. After traveling .8 miles and you will see a dirt road on your right just before a small bridge. Turn right onto the dirt road and take it 5.5 miles to its end. Park there at the end and the trail starts from there. The dirt road can be pretty rough, so ride with someone who has a truck. Some people park right at the beginning of the dirt road and ride their bikes in to the trailhead.
Here is the map and elevation profile of Trabuco Canyon. The profile is just of one direction.

Download the TOPO! File here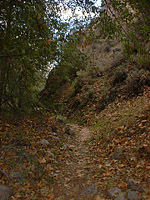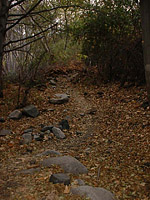 From the trailhead you will take the lower fire road that heads off to the right. You will travel on this fireroad for maybe a mile and you will then go through a gate where the trail is turns to singletrack. The trail is really nice rolling through trees as it parallels a creek. There some technical sections here and there to keep you on your toes. There are at least three creek crossing that a combination of large rocks to work your way around and small loose rocks to get over. Together I found them to be quite tricky. The creek can be dry in summer but is usually flowing during the winter and spring months. You are also going uphill then entire time. It does not look like much of a grade but combined with the loose technical terrain it requires extra energy to keep going.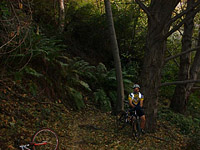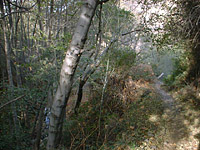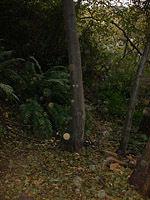 Various pictures from the first couple of miles of the ride.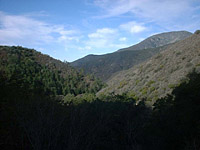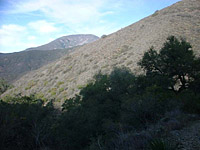 At 2.6 miles you come to a spot where the trail comes to a T. The main trail heads off to the left, while the trail to the right goes up to Yaeger Mesa. Mostly considered a hiking trail there are a few intrepid riders who have ridden this trail. After hanging the left you will quickly come to the junction of the Trabuco Canyon and the West Horsethief trails at 2.7miles. Stay on the Trabuco Canyon Trail by going to the right and navigating a rocky technical section.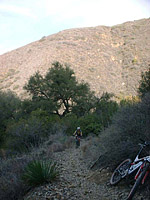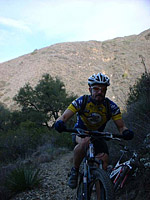 The grade immediately is "kicked up a notch" while the terrain continues to tax your legs. The grinding continues on for a couple miles but it feels like more. Sometimes the trail downright skinny while it hangs along the edge of some steep drop offs.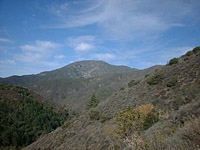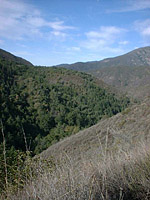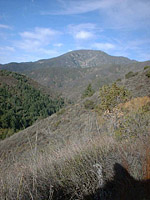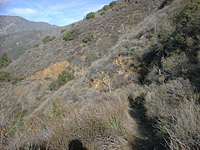 Views looking back down Trabuco as you grind your way up.
Up near the top of Trabuco there is a off shoot trail that goes up the side of a steep hill. The trail stops at the top of the hill so it is an out and back hill. It is fairly steep and rutted but is a lot fun do go down if your willing to hike your bike to the top.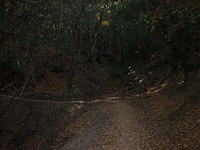 As you near the top of the trail around 4.4 miles you you get to enjoy the canopy of trees and other vegitation as well as the grade mellowing out. At 5.5 miles you reach the top of the trail and the junction of Main Divide. Take a break and then bomb back down the way you came for an eleven mile trip. If you are a little more adventurous you can hang a left on Main Divide and then go down West Horsethief or you can go even further on Main Divide and hookup with the Holy Jim Trail for an outstanding loop ride. Either way you should have a good time on this ride.
2005 Update
I finally got my butt back up to Trabuco way too moons of not riding it. This time I decided to go up West Horsethief to Main Divide and the over to the top of Trabuco. Trabuco is in really good shape and there is flowing water in all of the creek beds.