Champagne Pass in Laguna Mountains looking west at Cuyamaca Peak

This ride will fit into most anyone's idea of an epic ride. It is long, with some rough terrain, but rewards you will stunning views and technical single track. This ride takes you through grassy meadows, pine forests, rocky exposed cliff sides, and chaparral on mostly single track. This ride is grueling over the long haul but you feel like a bad ass when you get done with it. The ride is a combination of quite a few trails strung together. They are: East Mesa Fire Road, Deer Park trail, Indian Creek Trail, Pine Mountain trail, and the upper portion of Noble Canyon. This route is also part of the truly epic Stagecoach 400 route/endurace race that encompasses 385 miles of some of SoCal's mountains, deserts and coastal area trails.


The e Deer Park trail that meanders through some beautiful meadows and hillsides of the Cuyamaca Mountains.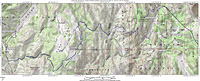 Here is a PDF map of the ride sized to be printed on legal sized paper.

Elevation Profile.
Hazards: This place is hot in the summer. Technical single track with some very nasty cliffs/drop offs just off the trail in spots. While I love solo rides, but I don't think it would be smart to do this as a solo because if you get hurt you will be out in the middle of no where and this is not a main stream trail. This place could get really hot in the summertime.
Directions:
| | |
| --- | --- |
| | From LA - North San Diego County: From I-5 or I-15 take the 78 East into Escondido. Follow the signs closely as the 78 makes a few turns through town. Once through Escondido continue east on the 78 into Ramona. In Ramona the 78 will turn left. Continue along the 78 east into Julian. In the Julian the 78 will turn right. Continue east on the 78 for about 3/4ths of mile and then take HWY 79 south. Take the 79 south past Sunrise Hwy, Lake Cuyamaca, the Park Headquarters on the left, and park in the the Horse trailer parking area on the left. |
| | From San Diego area: Take I-8 east past Alpine. Take HWY 79 north. Park in the only large parking lot on the right hand side. You will probably see a few horse trailers there. |
Ride Report: (This was from my first time doing this route in 2002. I have done it a handful of times since then and as of 2015 it is still valid.)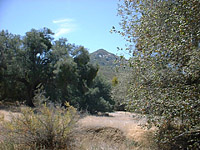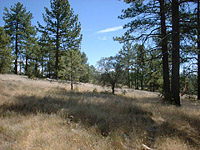 This epic ride was done on my 34th birthday. The ride started in Cuyamaca State Park about an hour east of San Diego. Normally I like to ride early or late as I am not a big fan of the heat. This ride however started at 10AM because one of the guys must have planned on having the brown bottle flu after the 4th. So I meet Michael Paul, Sorni, and Dave at the large horse staging area on the east side HWY 79 inCuyamaca State Park. Guess who is a no-show. Mr. "I need to start at 10AM".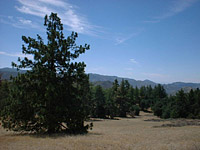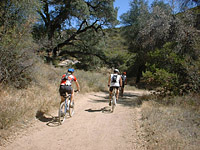 So we started out by heading south on the East Side Trail and then hooked up with the East Mesa fire road. Shortly into this climb nature started calling Choices, choices, I want to give this climb a good attack, but I had pressing matters. I decided to do the climb, then take care of things. Well I was properly motivated and I kicked ass on the climb and business was taken care of by the time the restof the guys got to the top. I keep alittle TP in my pack for just such occasions. Michael's pack is a little on the small side so he had asked me to carry his sandwich for him. Lucky for him I had enough TP otherwise he would have gone hungry on this ride :-).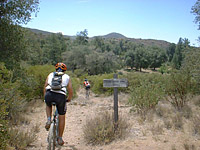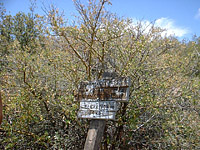 From this point we roll along the fire road a little further until at around mile 5 Granite Spring trail peels off to the left by an information kiosk. From this point we are on single track that goes roughly north across a meadow. At around 7.5 miles we get a break from climbing as well turn right onto Deer Parktrail. This is fun single trail that has you cutting around pines at the top and eventually switching over to scrub brush towards the bottom. At around 9 miles we get to the border of Cuyamaca State Park and the Cleveland Nation Forest and go through a horse/cattle gate. Suddenly the trial changes its name to Indian Creek Trail. (Talk about bureaucracy). The next two miles are a downright mean climb.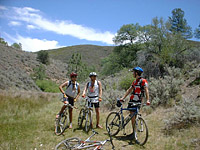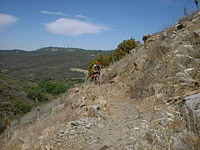 The grade is only about 14% but the trail has many technical sections that make you work even harder and the temperature has climbed to around 90 degrees. We all struggleto varyingdegrees up the to top of this first climb. We are around 11 miles now and we are also at the junction of Pine Mountain Trail. This is where we all realized that we had bit off a little more that we had originally planned on. After debating whither to turn around here or continue on, we decided to continue on because we did not have enough water to get back to the cars, so we were committed to getting to the top of the Noble Canyon trail. Take Pine Mountain Trail or Indian Creek? We decided to enjoy the Indian Creekdownhill.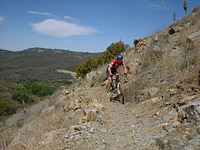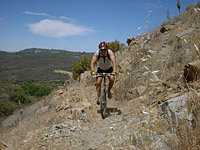 We had a lot fun on themoderately technical downhill run that turned uphill all to soon. After about half a mile of moderate climbing we came to the junction of the Noble Canyon Trail. We hung a left and continued our death march uphill. After two more miles of mostly climbing we reached the upper trailhead of Noble Canyon at Sunrise Highway. After a rather lengthy rest and bladder refill we hopped on the road and went east for two miles. We then hung a left into the Pioneer Mail Picnic Area and hooked up with the Pine Mountain Trail. We immediately were back into the mostly technical uphill single-track scene. The views were quite stunning as we climbed and climbed. We peaked out at the 20-mile mark and shortly there after we rejoined the Indian Creek Trail. This completed our loop portion fo the this lollipop shaped ride. The next 2 miles were pretty technical with a couple of gnarly sections. The difficulty of this section was compounded by the fact that we were all pretty tired and beat up by the sun. We all made it down without exfoliating any DNA.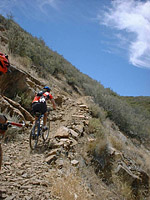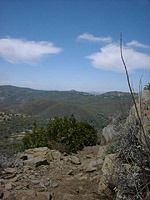 From this point we reentered Cuyamaca State Park and that fun downhill on the way out was now kicking my asson theway back. I had not fed myself properly through the ride and I was paying the price now. I was having a tough time with the technical stuff. After finally calling for an "undue" rest stop, I recovered and the rest of the ride was less painful. Our group pace was by now downright slow, but no one was jockeying for the lead and no was complaining. As we reached the top of Deer Park Trail and into the open meadow again the computer ticked over 24 miles. Normally we would have been bombing the single-track but everyone was pretty content just to roll right along.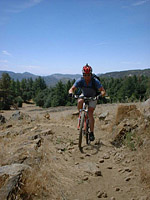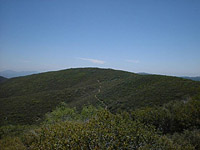 Once we joined back up with East Mesa fire road we were all looking forward to a long downhill. What we got was a gradual 1.5 mile climb that seemed to go on forever and was pretty rough on our baked legs. By the time we got to downhill portion of the fire road we just wanted to get done with the ride. The fire road was not as much of a rest as we thought because with the current fatigue level you had to be extra careful as the road throws a little loose sand and ruts in at all the worst places. Once at the bottom we were back on the East Side trail. The last half of which was painful for fully cooked legs. This was a hell of birthday ride which had 3 hours and 42 minutes of in the saddle time over 31 miles with 4,570 feet of mostly rough climbing. As I was driving home (And late for my own party) with most of my muscles hurting I was thinking, 31 miles on my 34th birthday. Hmmm if I tweak the start point of the route a little I could squeak out 4 more miles and I could do a 35-miler on my 35th birthday next year. Sounds like a plan.
The 2003 the San Diego wildfires devastated some our best trails. The entire trail system for this loop was burnt. Here are some photos of the Indian Creek area. You can check out the Noble Canyon page for some additional fire damage photos.
The two pictures below where shot by Mark Costantino on November 2nd, 2003
The Noble Canyon/Indian Creek intersection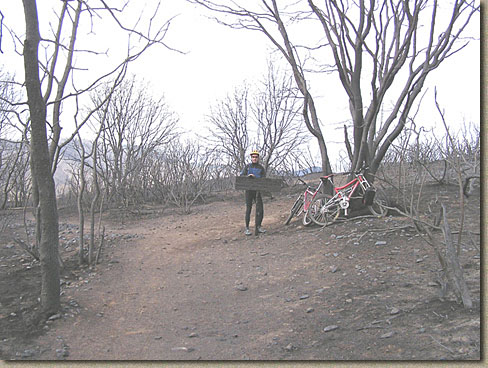 East side of the Indian Creek trail from the Noble Canyon Trail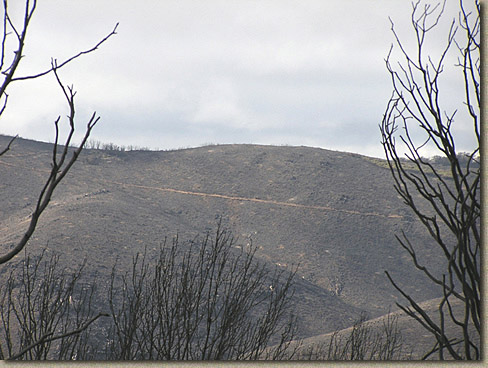 Recovery
Indian Creek Trail reopened in the summer of 2004. Make sure to take a look at the 2007 pictures below.
I was going to go through my original ride report above and edit it to better suit my current style of writing. However when reading through it I liked that it could almost pass for a blog entry so I decided to leave it intact and add the updated information here. The major changes to note here are that I would now do the Pine Mountain, Noble and Indian Creek loop portion in the opposite direction. At the top of Champagne Pass, hang a left onto the Pine Mountain trail and enjoy a mostly gradual downhill cruise to Sunrise Highway. Continue the rest of the loop going in that direction. To really add to this loop, add a diversion out to the Laguna Meadows via the Big Laguna Trail.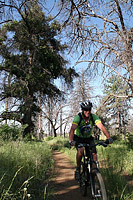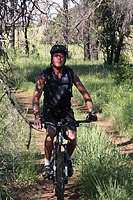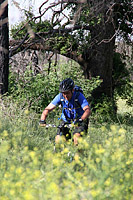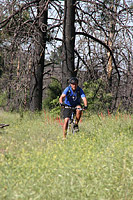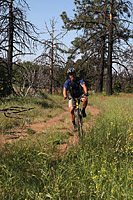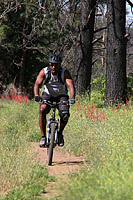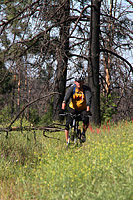 The crew working their way the East Mesa fire road. There were quite a few new faces for me and I was glad to ride with all of them.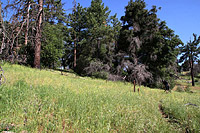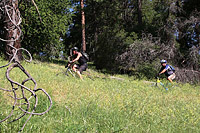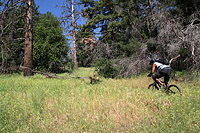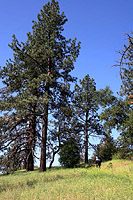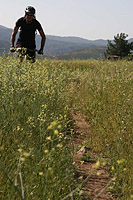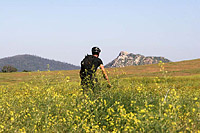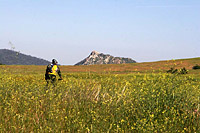 If you do not get a little jazzed about riding through stuff like this, you should get a road bike and an indoor trainer.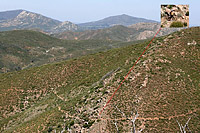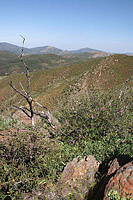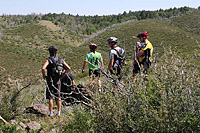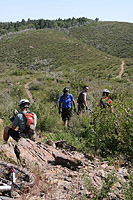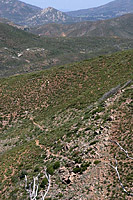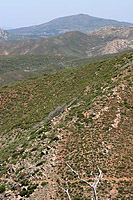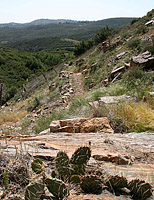 The loose and often technical climb up the Indian Creek trail can really sap your energy. The group pretty much splintered from here with some opting to turn around here and make the ride an out-and-back, while another group choose to go down Indian Creek and make a smaller loop than originally planned. Three of us opted to take the Pine Mountain trail and get up into the Laguna Mountains.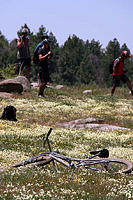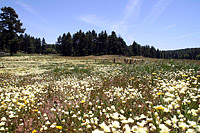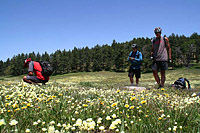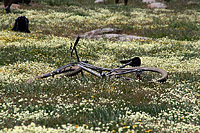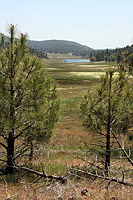 Once at the top of Noble Canyon we took the diversion over to the Big Laguna trail (BLT) to get a bit of a wild flower fix. If you are looking to add this option check out the Laguna Recreation Area and "Tour De Noble" pages. Combined with this page you should have enough maps and directions.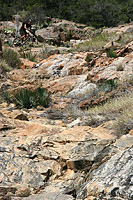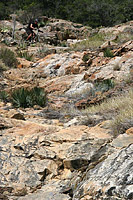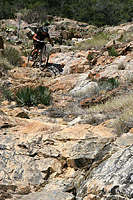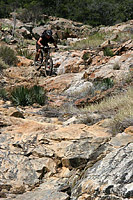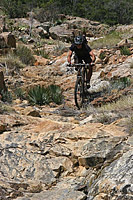 On the return trip Steve, stopped to play on the Indian Creek "Waterfall". It is much harder than it looks and he is on a rigid bike.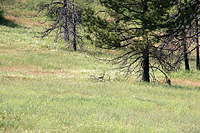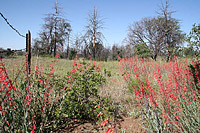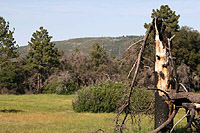 A few more views and critters from along our way back to the East Mesa trailhead and the end of our 37 mile adventure for the day.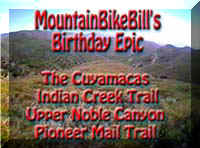 Here is an old school lipstick style helmet camera footage from my birthday ride described above, This was 31 miles with 4,500 feet of climbing with the high temp of the ride being in the low 90s. Needless to say we were pretty whooped when done. 20MB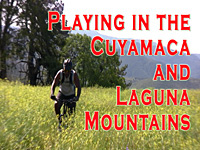 We spent a day playing in the Cuyamaca and Laguna Mountains on May 19th, 2007. Our 40 mile adventure, included the route described on this page as well as some additional parts of the Laguna Mountain Recreation Area (BLT). A portion of this route is also part of the "Tour De Noble". There were plenty of spring time flowers in bloom made this a beautiful day to be out on a mountain bike. While the flowers are not as explosive as in this video, much of the route in this video was quite colorful in the spring of 2015. This 8 minute and 29 second video is 114MB in size.