Oat Hill Road in Calistoga
Foreword: In June of 2002, my work took me to the San Francisco Bay Area. As you must have already figured out, I did some mountain biking. I had a Friday, Saturday, and Sunday to get in some riding. Downtown San Francisco was my "base camp" and I put on quite a few miles on the rent-a-wreck I had. Friday I rode Oat Hill Road; Saturday I rode Skyline Wilderness Park; and Sunday I rode Wilder Ranch.
I had heard some really cool stuff about this trail. I had also seen some kick ass pictures and video of this trail. I love to do scenic rides and my technical skills have been improving so I decided that I should check this place out. Calistoga is located at the north end of the Napa Valley. I had heard this town was serious yuppie swineville on the weekends with really nasty traffic anywhere near town so I opted to make this my first ride on the Friday. Judging from my brief drive through town and the after ride lunch I had in town I would say this is a pretty cool place on the weekdays anyway.
Since I first posted about this ride, several people have asked me about bike rentals in the area. While I had my rig with me, you can rent a bike right in Calistoga from Palisades Mountain Sports. They offer either comfort bikes or full suspension rigs. If you are going to rid this trail save the comfort bike for the wine tasters. They have Kona and Santa Cruz rigs they go for $30 for a full day.
Directions: Get to Calistoga via either 128 or 29. From the junction of these two roads, turn east into town. About 1/2 mile to the east of town is the intersection of Hwy 29 and Silverado Trail. There is a dirt lot to the left of the of this intersection (Northwest corner) park here. The "road" starts as a single track going uphill on the southeast corner of the intersection.

Here is the Oat Hill Road map and elevation profile. The profile only includes the way up.
Ride Report: This was my first day of riding during my Bay Area visit. I got off to somewhat of a late start so by the time I got into Calistoga and parked at the trailhead it was around 10AM and it was already getting a little warm. I started off the ride by leaving my digital camera in the car so the only thing I had to document the ride with was my video camera. This old miners road is a real treat. It is a five mile climb up into the Palisade Mountains. While it is called a road, many of the sections have been reclaimed by mother earth and are now single track. This is the case at the very beginning of the ride where it starts off looking a lot like single track. After about half a mile of single tracking it, the road opens up a little. The road is hid under a canopy of trees until you get somewhere around the 2 mile mark. After that the road is more exposed. The further up you go the more technical the "road" gets. Often times the road goes across lava rock flows where you can clearly see grooves in the rock made from the many passages of the miners carts and wagon wheels from years gone by. The last mile is just downright "WOW" with lots of rocks that require some good bike handling skills. There were a few sections were it was first figure out the maze and then actually try to follow your "solution" line. Overall this ride was the most physical and mentally demanding 10 miles (5 up and 5 down) I had ever done. Once you do get through the really technical stuff at the top you hate to come down. I went back and forth many times through the upper sections for not only the challenge but the fun factor as well. This video does a very poor job of showing the steepness and size of the rocks and drops. Pete Fagerlin has some really cool pictures and videos of this trail that does an excellent job of showing off this trail.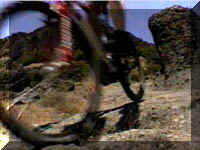 Oat Hill Road Video - June 21st, 2002
24MB