The San Juan Trail
The San Juan Trail is located in the Cleveland National Forest about 12 miles east of San Juan Capistrano, CA. The trail route I took on October 30th, 2001 was for a total of 19.1 miles. This Trail is usually rated advanced/difficult, but I am definitely an intermediate rider but I think as long you are willing to walk the sections over your head you should be safe.

Download the TOPO! file for this ride HERE:

Here is a map of the trail derived from the TOPO file.


Here is the elevation profile of the ride up and around. It does not include the return trip back down the hill.


Directions: From the I-5 in San Juan Capistrano take Ortega HWY (74) East for about 12 miles. Turn left on Camp Road. There is a sign for the Lazy R Ranch as well as a CDF Fire Station on the corner. Go down the road for about 1/2 mile until you reach a large dirt parking lot in the trees on your left. The trail is right beside the road.

Ride Report: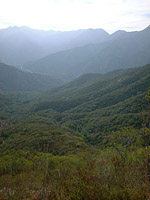 Moments after I roll out of the parking lot at an elevation of 800 feet and onto the trail I am faced with my first of ten or so tight switchbacks. Most of them have sufficient room to allow you to make the turn if you pick the right line. The uphill portion of most of these ten are rutted so if you are not on the right line you will find yourself dabbing or doing a balancing act as you try to pedal up in a rut. I have a decent handle on uphill restarts but I certainly improved on that skill on this ride. At around 1.6 miles I reach the top of a ridgeline that provides a view of the valley to the southeast. The view was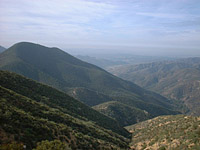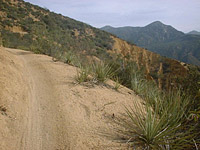 incredible and my lungs convinced me to stop for a minute and take it all in. As I proceeded, I found that after the first couple of miles I was all warmed up so the going was easier. As I continued to climb up to a ridgeline I encountered a few more switchback and some near-cliff side riding. There was a couple of turns where the trail was very narrow and the best approach would be to have momentum to carry you up on the side of the hill and around
because there no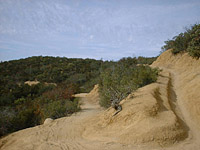 where to put your foot down for a dab. On one of those turns I decided that the penalty for failure was too great for my current confidence level so I dismounted and walked. I had to push the bike in front me because there was not enough room to walk beside the bike.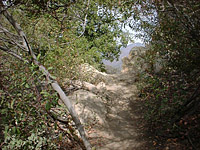 Continuing onward and upward the trail started to get rockier and more technical. At around 4.5 miles I pedaled up to a saddle where Los Pinos Peak to the northeast came into view. From here I enjoyed a fleeting break in the climb as I did a short gradual downhill on a very tight section of rocky trail. Before I knew it I was back at the climbing and the trail progressively got rockier with larger rocks protruding out/into the trail. As an intermediate rider I do not have a lot experience navigating over larger rocks, but on this trail the larger rock sections are not all together so I felt more inclined to go for it. I actually surprised myself on a few of these that I managed to get up and over. However, I did have my share of dabs and bike pushing in these sections.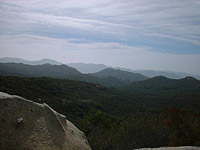 At 6.6 miles I reached the junction of Old San Juan Trail with the "New San Juan Trail". This spot is also known as Cocktail Rocks for the large table sized rocks right at this junction. I assume it is called Cocktail Rocks because I certainly felt like celebrating after climbing up from 800 feet to this point at 3,200 feet.
From there I veer left onto Old San Juan and roll along smooth singletrack until around 7.4 miles I came to a sharp short rise that brings a valley of oak trees into view to the north. As I continued along the trail I hit my first prolonged downhill since I hit the trail. As I descend down into the grove of trees, the trail became pretty rutted and sporadically rooted. A rooted trail was not at all what I had expected to see and I was totally stoked with the diversity seen on this trail to this point. After being speed deprived for the last 7.5 miles the descent felt like I was screaming. This is also about the time I noticed I had a big ass grin on my face that just would not go away. As I rolled out of the downhill section I found myself in a beautiful grassy meadow surrounded by chaparral oak trees. This could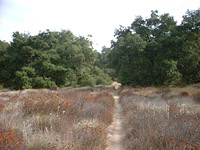 have been a quick spin area, but I had to stop and take it in the meadow. A minute of looking around and it was decided, I will definitely be back here in the spring time to see this meadow when it is green with wildflowers blooming. The trail veered right here and once I was rolling again I found that the trail cut through a couple of nearly connected meadows. Soon the trail left the meadow and went into an oak forest punctuated by a couple of dips that I had to navigate. These dips looked like they may hold water in them in the spring. At around 8.5 miles, roll into another meadow and I see a rather steep hill ahead, but just before I thought as was going to have to get back into lung bust mode I intersected with the San Juan Trail. I happily hung a right here and shortly there after I passed the junction with the Chiquito Canyon Trail on my left. I continued straight and rolled through some more chaparral that gave way to thick sagebrush that in some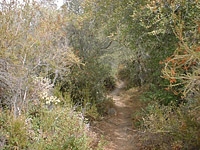 parts made a "veggie tunnel" out of the trail. It was right about here when I realized that my two pinky fingers have been getting scratched up from the brush along the trail in the tight sections. It was not the section alone that had beat up fingers but a compilation of the last 10 miles or so of singletrack that was the culprit. A small price to pay for such a wonderful ride but I made a mental note to wear full-fingered gloves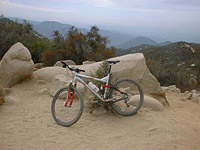 next time or spring for those bar-ends I have been eyeing. As I come out of the tunnel area I pass the Viejo Tie Trail on my left. I keep going straight and after some rolling ups and downs I proceeded up a tight rocky climb that was probably the most technical portion of the whole trail. I had plenty of dabs in this section that brought me back up to Cocktail Rock at 12.6 miles.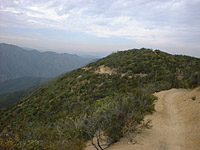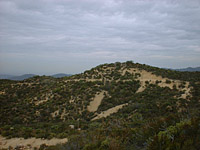 At this point, I broke out my knee/shin guards from my pack and strapped them on for the downhill to come. Now I know some people balk about wearing these things because they make you sweat but after eight stitches in my legs and nearly a month off of my bike I decided that I could live with them. After putting on the guards, I lowered my seat about an inch and half and got rolling again. The trail coming from the other direction and downhill had an entirely different feel to it. Watching your speed was the name of the game here because many of the turns leave you with nowhere to go but down if you go wide on the turn. With momentum to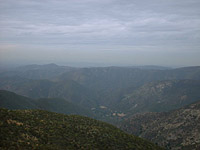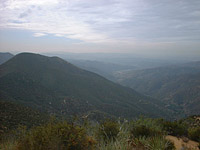 spare, that technical turn that put me off the bike on the way up was a breeze going the other way. The views are just as stunning on the way down, but you best stop to take a look around. A split second peek off the trail can get you off line and in trouble. One such peek resulted in getting myself into a rut which caused me to demonstrate my running dismount skills. The switchbacks were definitely easier on the way down. All and all the 6.6-mile downhill was a great way to finish off a 19.1-mile singletrack ride and it left me totally jazzed and feeling like a million bucks. You would have needed a crowbar to pry that silly ear-to-ear grin off of my face! I will definitely be back.
December 22nd, 2001 Ride:

I had some mechanical issues on this ride. My shifting got pretty cruddy which made things a little difficult. At one point, I did a slow motion endo with an on-my-feet dismount. Considering that my bike ended up in the "maintenance" position I think it was trying to tell me that it needed some TLC.


On this trip we took right at cocktail rock to stay on the San Juan Trail. This section of trail was quite technical in this direction with some nice drop offs. We then took the Viejo Tie Trail to the Chiquito Trail. The Viejo Tie Trail has some really technical sections that included some challenging obstacles. Jeff had a pretty interesting endo on this section of the ride. Once the Viejo Tie trail ended at the Chiquito Trail we turned left and did a small climb back up the San Juan trail were we hung a right. We made out way through the meadow discussed above and back to cocktail rock. After that is was sweet downhill time baby!!


Here is a pan shot from about 3 miles up the trail looking west on a ride done on July 5th, 2003. The highest peak in the distance on the far right of the picture is Santiago Peak which I climbed on my Harding Truck Trail to Holy Jim Loop. The highest peak in the distance on the far left is Santa Margarita Peak which I reach from the Tenaja Truck Trail.
Dennis (aka Ogre) from Ogrehut.com was down in SoCal visiting relatives for the holidays and was looking to get in some riding. I scrapped up some of the Loco Locals and we hit San Juan.
October 14th, 2007 Ride
WOW! Today was the best conditions I have ever seen at the San Juan Trail. My buddy Miles, who first rode this trail in 1986, was in agreement my assessment. There had been a descent rain within a day or two of our ride and it packed the trail down perfectly. There was enough moisture in the trail to be tacky but not enough to drag on you while climbing. The weather was also awesome, 50 degrees when we started and about 72 when we finished. It was a perfect great workout bit of climbing to Blue Jay campground followed by a real grip it and rip it return back to the bottom.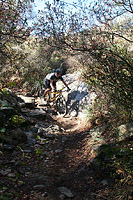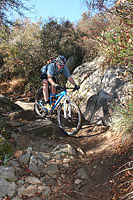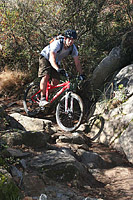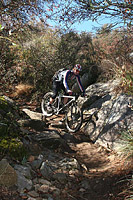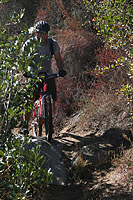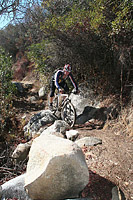 Along the "New San Juan" and Viejo Tie Trail on our way up to Blue Jay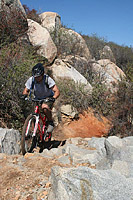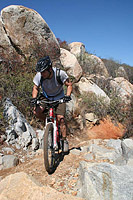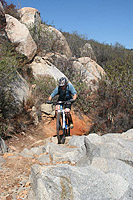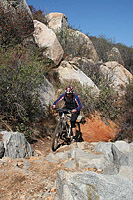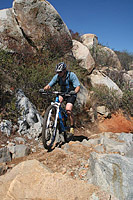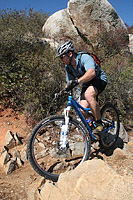 The technical climb on the way back past the creek. Notice Billy sporting his brand new spiffy blue 29er. Billy just move backed to area after a two-year hiatus from San Diego. It was great to catch up and get in some riding again. You might recognize Billy as he was my cohort in trail-crime during my 2005 Fruita-Utah trip.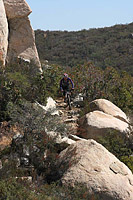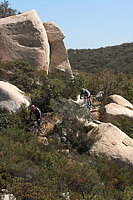 Miles and Billy almost back to Cocktail Rock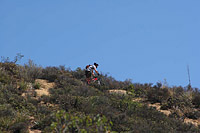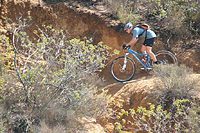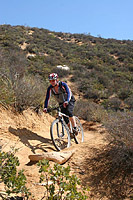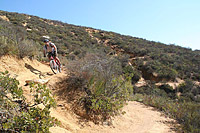 I somehow found the will power to stop for a couple of picture on the descent
This was simply one kick ass day to be a mountain biker!
Video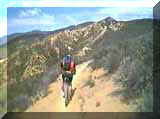 This video was taken on a blistering hot day in August of 2002. 27MB
Check out my other videos