Gooseberry Mesa 2006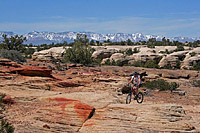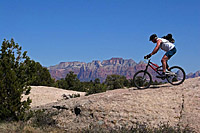 Located outside of Hurricane Utah, Gooseberry Mesa is one of those places you have to ride it to believe it. The mixture of singletrack and griprock is pretty awesome with lots of swooping and flowing lines across fields of solid rock. The place has very little elevation change but you will do enough short quick ups to peg your ticker on plenty of occasions. If you have never ridden on the stuff before it can be pretty crazy at first because it almost defies logic that you can climb some of the stuff.
Check out the trip report from last year's road trip as well as the additional pictures from Gooseberry 2005.
| | |
| --- | --- |
| | The term Slickrock comes from the fact that these rocks are slick for horses to walk on, but it absolutely the opposite for bike tires. The traction on this stuff is pretty unreal, the best way I could describe it is riding on 20-grit sandpaper. We are not horse people here so ever since my trip here last year, I have been referring to the stuff as "Griprock". |


Almost out to The Point along the north rim.
Directions: From St George, Utah, head north on Interstate 15. Exit on highway 9 and take it east into Hurricane. Turn right onto highway 59. Check your mileage at this point, you will need it later. At the next intersection highway 59 turns left and heads uphill and out of town. About 5-6 miles later you will actually pass by "The Point" of Gooseberry Mesa on your left. Keep on driving. After about 10 miles from town you will go by a gas station on the left. A few miles later be on the lookout for a "Scenic Byway" sign. Just after that sign is a dirt road on your left that turns back about 120 degrees. Your mileage from where you checked it back in Hurricane should be 14.7 miles. Take this dirt road that can often be very messy in Spring for 2 miles where you will make another left hand turn. Follow this road for 3.6 miles then go left at a fork and continue for another mile until you come to the main parking lot.
For a map, Utahmountainbiking.com has some excellent trail resources and you can purchase both guidebooks and maps through some of the folks they partner with.
Ride Notes: Last year I rode about 80 percent the advertised trails, and this year I also rode about 80 percent of advertised trails again but covered the 20 percent I missed last year. Here are the pictures from the ride.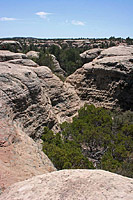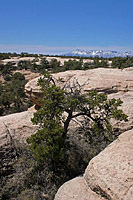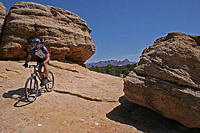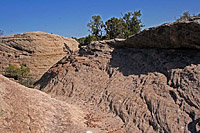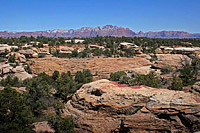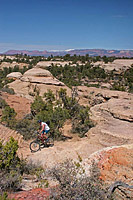 Scenes from along the South Rim Trail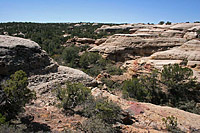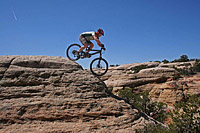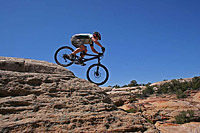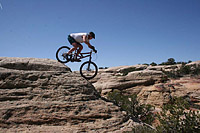 Mandatory photos on "That Spine"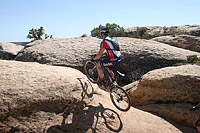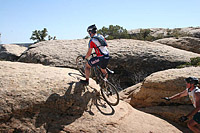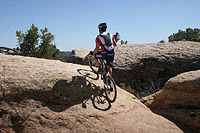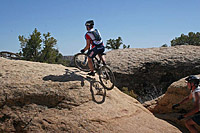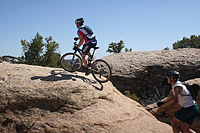 Here is a sequence of shots of Mike getting up a particularly steep rock (Steeper than it looks). The three on the right are a failed attempt. Even with the incredible traction you get on these rocks you still need to a good bit of speed to get up some of them. The picture on the left shows the compression of the front tire as he hits a bit of a dip in the rock. The next picture shows both wheels off the ground from springing off that dip. The right three show Mike getting it done. Jerry is playing spotter.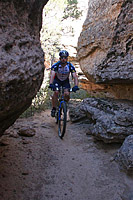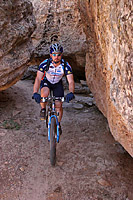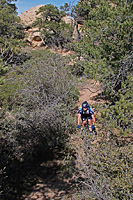 Mike along the Hidden Canyon trail.

Zion from Gooseberry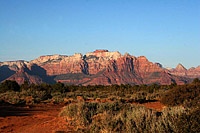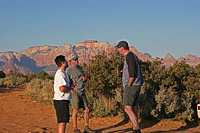 The afternoon light and the recanting of the day's conquest over smuggled in beer.
This ride was Day Two of my Nevada - Utah 2006 Road Trip