Area Overview/Coming to San Diego?
So your coming to San Diego and want to get in some riding. Well we have some good riding to offer you down here. To start with this is the general breakdown of how I have divided up the area of the county as far as organizing the trails is concerned. This roughly matches menu structure to the left.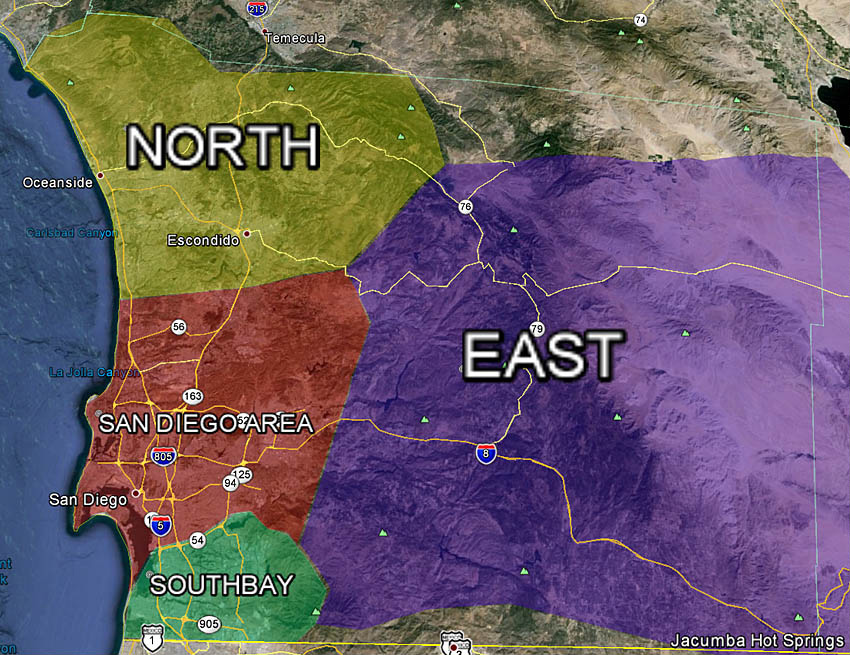 Where to Stay
I'm assuming you have a vehicle so where you stay is really not that big of a deal as you are going to have to some driving to get to the trailheads.
Where to Eat/Drink
Okay, I have done some traveling over the years and have noticed a little something about cuisine. If you for sure want authentic Japanese food, go to Japan. If you want real Korean food, go to Korea. If you are looking for authentic Thai food, got to Thailand. Now if you fancy authentic Mexican food, then San Diego is the place for you! Outside of that you will find good stuff here no matter what you like. Just about any Mexican joint that can get high marks on Yelp in this neighborhood is going to be okay. Additionally if there is some place that fits right in for a good post-ride grub place, I will typically mention it in my right for the indvidual ride.
Now for those of you who fancy great beer, congratulations you are comign to Beer Town USA! Our craft beer scence is simply insane! Grab a copy of our local Beer Rag, WestCoaster and prepare to be overwhelmed with the offerings
Where to Ride
Ok there are million variables to work with here, so here is just a few recommendations.
Now Noble Canyon is sort of a must do if you are coming to San Diego and enjoy technical riding. Now I know this page is about San Diego County, but I would be remiss if I did not suggest that you take a drive north into Orange County and ride the San Juan trail. If you can only ride two trails while here I would make it Noble and San Juan which I consider two of Lower Southern California's "postcard" trails. FYI, You will often see Lower Southern California loosely referred to as LoSoCal on many of the Mountain Biking forums. LoSoCal is roughly everything south of the LA area. Orange, San Diego, and Riverside Counties.
Where to get a Bike
Bringing your own bike is always great but it is not always possible. The awesome folks over at the San Diego Mountain Biking Association have been keeping a more up to date list that I have been so I just check out thier list of Bike Rental places.
Looking for someone to ride with?
Hooking up with a local is always a good idea. Many of the local bike shops offer regular shop rides and San Diego has quite a few bicycle clubs. Check out SDMBA, Dirttreaders and MTBR's SoCal Forum.