The Hub Trails - Idyllwild
Nestled in the San Jacinto Mountains the small town of Idyllwild has plenty of mountain biking opportunities. I have been riding here since about 2003 and I have found new trails on all occasions.
**** TRAIL and MAP UPDATES IN PROGRESS - SEP 2015 ***
Here is map of the area. Click here for a higher resolution version of this map (1.14MB). Click here to download the TOPO! file for this ride.
Directions: (From the San Diego Area) Take the I-15 North into Temecula. Take HWY-79 North 24 miles to HWY 74. Take HWY-74 East 17.75 miles (through Hemet and up the hill) to HWY-243. Take HWY243 about 3 miles into Idyllwild. Make a left turn onto Tollgate Road. Follow Tollgate Road about 1.7 miles to its end where it turns to dirt. Park and Ride. You will need a National Forest Adventure Pass
Ride Report: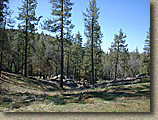 The area that I checked out was originally known as Alvin Meadows on the Chamber of Commerce's site. I called that as well on my site for over 10 years, but the locals refer to the much larger area as "The Hub" Trails since the trailhead is pretty much the hub for a series of trails heading off in nearly all directions. The local bike shop wa named after this trail system. It is situated just inside of the San Bernardino National Forest on the outskirts of town. The local mountain bikers has done a fabulous job of making and maintaining a network of really sweet single track that offers a wide array of scenery. Normally I like to describe a particular route but there are so many options here I could not possible describe it. The design of the place makes for one general rule of thumb. You climb up fire roads and go down single track.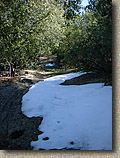 I will however discuss one of the routes we took. When you look on the map above, take note of the most northern point I was at. There is a rather steep fire road that works it way up to the top of the ridge. It is well worth the climb to get up to the top of the ridge. The climb is out in the open as some years back there was a forest fire on the ridge. The forest returns at the top of the ridge so as you are climbing you can easily see your destination. As you get back into the trees look for a trail off to right. When you first look at the trail it goes straight up a very steep hill (which is most likely the last thing you want to do at this point) go up this way about 20 feet and you will see a single track that peels off to the right and along the ridgeline. This is the top of the "Optimater" as some of the locals call it. Definitely take the time to get up here because from this point all the way back down to where you came from is Grade A fun stuff. Up near the top are some log rolls as well as some steep twisting descents that will take you into a beautiful
forest where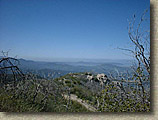 you will get to use some Body English to dodge lodge pole pines. This trail will eventually take you back down near the area will you started. When you come out onto a fire road hang a left and go about 50 feet up the trail to another single track on your right.
From this point just ride and take your pick of trails. The area is set up so you can just keep going down and crisscrossing from one single track to another. They all eventually dump you out onto one over several fire roads in the area. The locals say you can't ride them all in a weekend so get out there and explore.
I was told by some locals at the trailhead that there is a regular Saturday morning ride that starts from the trailhead/parking area at 8AM. If you are going to try this ride it may be helpful to hook up on one of these rides. The ride is put on by a local bike shop, but I do not know the name. (I'll update this once I fine out). With a group of locals or on your own it would be very difficult not to find some sweet single track in this area.


A view heading up the fire road


A view a little further up near the top of the fire road.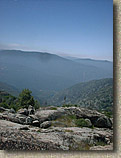 Here are a few more pictures of the Alvin Meadows area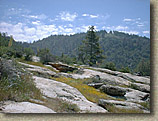 After lunch in we decided to scout the Ernie Maxwell Trail right in town that we want to use on an Idyllwild to Hurkey Creek ride I am planning later in the year. (More to follow) We started off at the north end of the trail in Humber Park at 6,409 feet and enjoyed a 2.5 mile down hill that dropped at little over 700 feet before coming out on South Ridge Road. Since this was a scouting ride we turned around and we back up trail. I recommend not riding this trail on a weekend as it is very popular and you will have to watch out for and stop for hiker at least a couple of time on this stretch of trail.
Video
| | |
| --- | --- |
| | I simply love Idyllwild. The awesome people who are putting these trails together really know what they are doing. This video was mostly shot in the Herkey Creek area but include stuff closer to the town itself. I consider this video to be Idyllwild Volume II as none of the trails in my Idyllwild 2005 video are included in this video. This 13 minute video is 179MB. |
| | |
| | This video is from a couple of trips to Alvin Meadows in September and October of 2005. This 60MB video runs 8:25 in the WMV format. |
Webster Trail
There is a quite technical trail in the Alvin Meadows area that is a real blast but it is for experienced riders only. It is annotated on the map as a red dashed line. To get to you must climb up the big fireroad like you where going to the top of the Optimater (described above). You will continue past that trail for about 1/4 mile on the fireroad until you see the well marked Webster trail on your left. The trail starts off fairly gradual in the woods with sweeping turns and switchbacks. As you continue on it opens up into chaparral, and it gets more technical with rocks, ruts all while the grade steepens. This trail cashes out over 2,000 feet of elevation in around 2.5 miles with most of that occurring in the 3/4ths of mile. This trail sees very little use which adds to its difficultly with overgrown bushes sneaking onto the trail. The trail eventually dumps you out at really pretty stream that is flowing even in the heat of the summers. At this point the trial is non-existent. You will have to boulder hop and walk down the stream for about an 1/8th of a miles before you will pick up the trail (more like a well used game trail) on the east bank (left if walking down stream). From here you will follow (as in hike) a the faint trail that switchback up the side of a dreadfully steep hill back up to a fireroad.
WARNING: This trail is no joke. You are out in a pretty remote spot where most likely nobody may come by for days. I would not ride this alone. Also in the summer water can be a huge issue. A water filter or tablets would be could to have here as you could resupply while down at the creek. After a grueling hike-a-bike out of the bottom to the fireroad you will still have 4.5 miles of fireroad climbing to do to get back to the parking area. With that said it is an experience worth doing at least once.
I was long overdue for a return to this area so I pulled the trigger and spent a good portion on the day spinning some gears with some of my fellow cohorts in grime. I should have gotten here about a month earlier as the grasses have already started turning brown. However the area was certainly not void of colors as many wildflowers were still in bloom. The trails are in even better shape than they were in March of 2003 when I last rode here. There has even been a few additions to the place, not all of which we rode.


We did a bit of exploring early on that included a bunch of climbing all the way up into Pine Cove before we started heading back down into the Alvin Meadows area.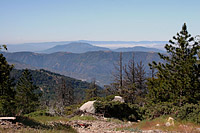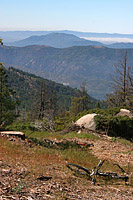 Here are some of the views from up near Pine Cove. I would have taken more photos but I was gasping too hard to operate the camera.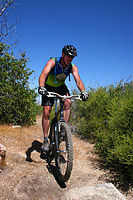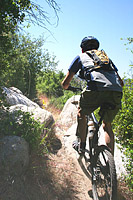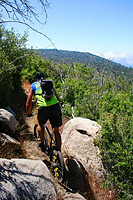 There are dozens of awesome spots to take shots, on the way down "Optimater" but on all occasions to date, I was having way too much fun to stop more that just a couple of times.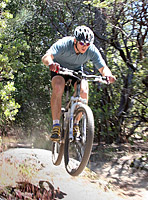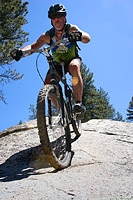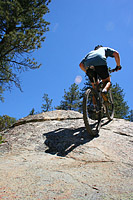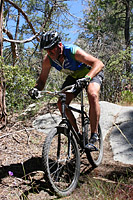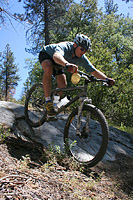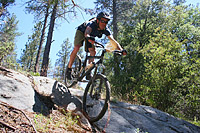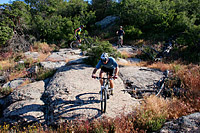 Once back down into the main area we had a blast on the well laid out singletracks which offer a wonderful mix of trail features.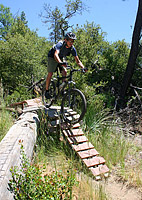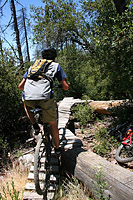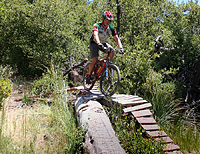 We even found a North Shore style bit of trail that had a functional obstacle that takes you up and over a huge fallen tree.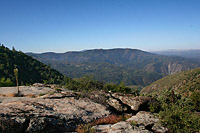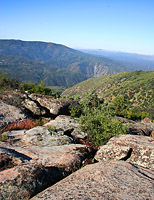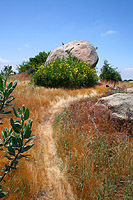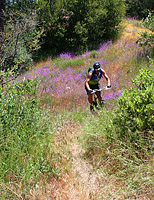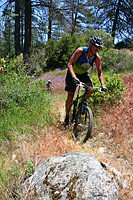 This is a place where you should become inspired by either the trails or the views from them.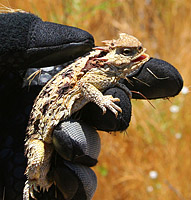 This critter seemed a little horny.
More Idyllwild Stuff