West Horsethief
West Horsethief is a singletrack that is most often used as either part of a loop with the Trabuco Canyon Trail or a quick way to get up to the Main Divide Truck Trail. Either way this is one steep trail gaining about 1,400 feet in about a mile and a half. While I would not call this a technical trail, the grade and the tightness of some of the switchbacks are enough to have most people getting in a little hoof time going up this.

Here is a map that shows both Trabuco Canyon Trail as well as West Horsethief.
Here is the TOPO! file.

Hazards: If you are sensitive to poison oak, make sure you take precautions such as leg warmers, sleeves, or the various blocking creams that are on the market as well as a good after ride scrub. While there is poison oak just off the trail on Trabuco as well, West Horsethief tends to be a little narrow down at the bottom were the poison oak thrives.
Directions: Take the I5 North (from San Diego) and exit El Toro Road and head East. El Toro turns into Santiago Canyon Road. Make a right on Live Oak (Cooks Corner) and follow that 4.5 miles. After you cross Trabuco Creek turn left onto the dirt road and take it 5.5 miles to its end. Park there at the end and the trail starts from there. The dirt road can be pretty rough, so ride with someone who has a truck. Some people park right at the beginning of the dirt road and ride their bikes in to the trailhead.
Ride Notes: From the trailhead follow along the Trabuco Canyon Trail for 2.7 miles. You know you are getting close when at 2.6 miles you come to a T-junction in the trail where you hang a left on the predominant (and marked) Trabuco Canyon Trail. At 2.7 miles you should see the West Horsethief trail heading off the left as Trabuco makes another rocky creek crossing. If you start going up a really steep section and have not found West Horsethief yet you have gone to far.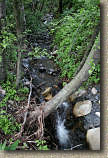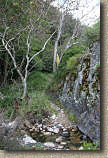 West Horsethief starts off my following on a forested creek bed but soon climbs above the trees and starts getting steep. While the steepness of the trail is not always obvious you can count on your legs and lungs to tell the truth. While brutal to ride up it is a manageable hike and quite pretty. After about 1.5 from leaving the Trabuco Canyon Trail, you join up with the Main Divide Truck Trail at an elevation of 4,100 feet. From here you have the option to turn left and head over to the Holy Jim Trail or you can turn right and travel 2.6 miles to the upper end of the Trabuco Canyon Trail. Doing a Trabuco - West Horsethief loop will get you in a elevation packed 12.4 miles.
Here are are some of the various pictures taken along West Horsethief.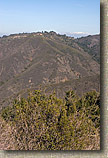 Here a view of the West Horsethief Trail as viewed from the Bell Ridge Trail taken in Feburary 2008