Little Creek Mesa is a real hoot for those who love great techish singletrack, playing on slick rock, incredible views and have a since of adventure. While located only about 15 miles outside of Hurricane Utah (as a crow flys), it will take you about an hour to get there from town. The slickrock with drops, ledges and rollers coupled with twisty forested singletracks that often run along the rim of the mesa are a real treat. You will need to have good navigational skills as the trail are marked only with rock cairns that are not always easily spotted. Danger awaits the overzealous who freeform on the rocks without snooping around first. There is little in the way of serious elevation change here, but there are lots of short and strenuous sections. If you have not done Gooseberry Mesa before, I recommended you you get in a ride there first. Gooseberry is pretty well marked and it will help develop your navigational senses on this type of terrain that will make your experience at Little Creek Mesa much more enjoyable.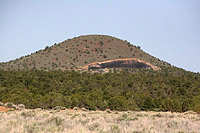 Directions: From St George, Utah, head north on Interstate 15. Exit on highway 9 and take it east into Hurricane. Turn right onto highway 59. Zero/check your odometer at this point. At the next intersection highway 59 turns left and heads uphill and out of town. About 5-6 miles later you will pass by "The Point" of Gooseberry Mesa on your left and you will see Little Creek Mesa off to your right. Keep on driving. After about 10 miles from town you will go by a gas station on the left. A few miles later be on the lookout for Little Creek Mesa Road on your right at 14.6 miles. Now ZERO your odometer again as you make the right hand turn onto Little Creek Mesa Road. I'm going to reference this spot for the rest of the way. Also take not of the large knoll to the south with the cinder pit. This is your best visual reference in the area (pictured above right). The road will be going to the left and behind this knoll. At 0.3 miles the road turns left and there is a 400W sign. At 1.2 mile the road turns right. At 2.2 miles the road turns right. At 3.2 miles keep left. At 3.5 miles you go over cattle guard. At 3.6 miles keep left. At 6.7 miles you will come to a 4 way intersection in a slight low spot in a fairly open area. Make a right hand turn off of the main road. At 7.6 miles a road merges in from the right, stay on the road you are on by bearing to the left. At 8.5 miles you will cross another cattle guard. At 8.9 miles you will reach a slickrock area where you will park off to the left. It will be blatantly obvious if you go to far as the road will suddenly become a high clearance type road.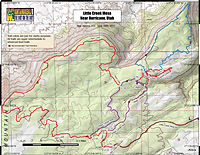 Map: To the left is an updated map of the area (updated from my orignal 2008 posting). The naming convention follows the map available Over The Edge Cycles in Hurricane which is slightly different that what can be found at UtahMountainBiking.com. This is a navigationally challenging ride. A really good set of eyes, not just for following cairns but also for visually orienting yourself is a must. A GPS is pretty handy on this ride so you can see when you are not on the track. My GPS files include some the freeform play as well as some missteps so take it with a grain of salt. Data Files: GPX, KML.
Ride Notes: (From Day One of the 2008 Utah-Colorado Roadtrip)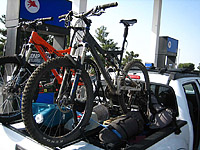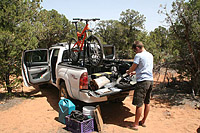 The trip started off dark and early with my alarm going off at 3:35AM. I had packed everything the night before with the exception of the bike. I got up ( I can't really say I was awake at this point), and got moving. I knew I would be mostly brain-dead at this time of morning so all of the fretting and list checking was done last night. I met my long time riding bud, Bill O'Neil in a parking area near the I-10 and I-15 interchange where he would be leaving his truck for the week. We had done very little coordinating of camping stuff as we have done enough of these type trips in the past to just be able say "The Usual". We soon had all the necessary stuff moved to my truck and we where northbound.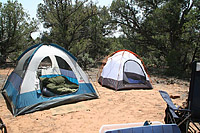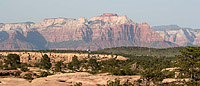 We made really great time and before we knew it we crossed into the land of 3.2% beer and awesome singletrack. Our destination for day one was Little Creek Mesa which is the mesa southeast of the more famous Gooseberry Mesa near Hurricane Utah. Getting out to the mesa can be a little tricky. I had some directions, but since they were created some new road signs they have gone up. I have the updated stuff reflected here.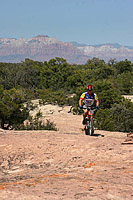 Once we got up on the mesa we went to the trailhead, which is not marked, it is simply where people park. There were four vehicles here and what looked to be about a dozen folks milling around. From there we backtracked at bit and found a suitable spot to setup camp a little off the beaten path. We had camp all setup in about an hour and rode our bikes back the trailhead.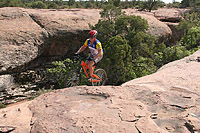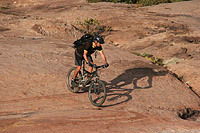 Neither Bill or I had ridden here before and where armed with a sketchy maps, a couple of GPS tracks and some verbal advice from a few recent riders. This place can be an entire weekend's worth of riding, but we had just an afternoon to snoop around. If I had been thinking a bit before this trip I could have setup for some friends to show us around, but what the heck, it was really cool to be in find mode, vice be shown mode.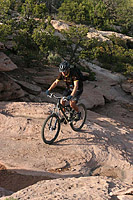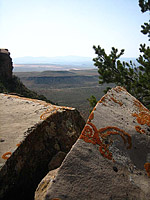 Shortly (0.2 miles) after rolling down a bit of doubletrack from the trailhead we hung a right onto a bit of forest singletrack marked by a set of stacked rock cairns. Get used to looking for these as they are pretty important for finding you way around here. It was not long before we came out onto an expansive field of slickrock. There are cairns to be seen both to your left and right. Our intention was to do a big loop from here and retrace our way back up the singletrack we just came in on later in the day. We took off to the left and enjoyed a great mix of both forested singletrack and sections of slickrock.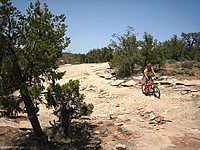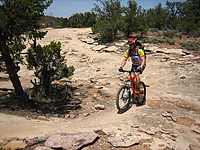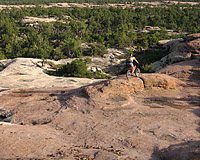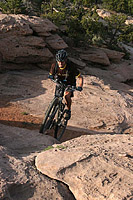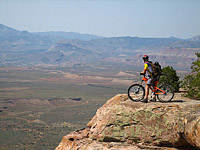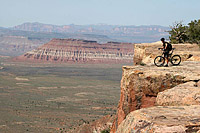 The singletrack eventually spent a good portion of time right on the western rim of the mesa. To say the views were expansive is quite an understatement. Falling off of this mesa will result in certain death. The trail never really get precariously close to the edge but there are a few spots that will pucker you up a little. Looking back at it now, later on in this trip I would have my exposure meter totally recalibrated but that is another story.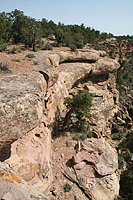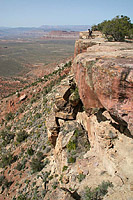 Besides the great views and tight singletracks, I really enjoyed the investigating mindset you have to stay in while out on the slickrock. The route finding here varies from interesting to downright difficult. There are plenty of options for free-forming lines on the rock. Before you do that, take a look around and make sure you stay off the untrammeled cryptobiotic soils. The are a vital part of the ecosystem here and one bike track or footprint on this stuff can take a hundred years or more to recover. There are only about a million awesome lines out here to chose from that will not mess with the fragile soils here, so please pick one of them.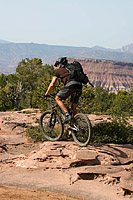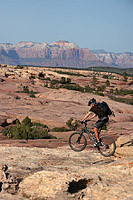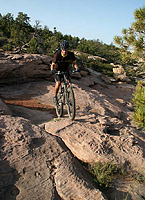 Some Slickrock Play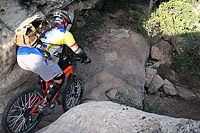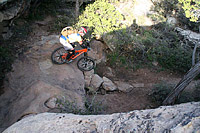 This was my first return to significant technical riding since my Goat Camp crash and I could tell that my confidence level was not fully restored. While I passed on something I know deep down inside I can do, I made some great strides in facing my demons and by the end of the ride I was feeling much more confident on the bike.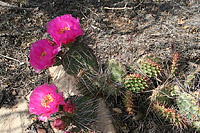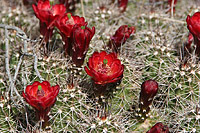 I saw more cacti blooming out here than I have seen in all of southern California last year.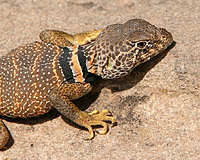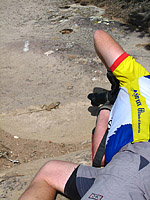 This was one very cool lizard. Quite the camera ham as well.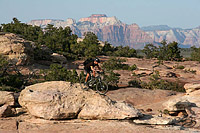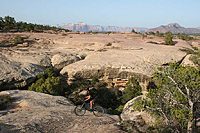 We spent the afternoon cairn chasing, free forming on the rock and on more than several occasions, scratching our heads. While I would like to say that from one cairn you can see the next, it is not true 100% of the time. We certainly missed some stuff, as we knew we would. In particular we missed the spur that goes out to a really cool point. Oh well, there is next time. You bet there will be one of those. I'm going to come back here sometime for an entire weekend. We made our way around the loop and retraced our way back to the camp with about an hour or so of daylight left. We were the only people on the mesa when we came back by the trailhead. We enjoyed a few of our smuggled in beer and a hearty camp dinner before crawling into our tents. It was clear night that was hovering between cool and brisk. I left the rain fly off and fell asleep while checking out the stars. Tomorrow we would be pulling up camp and heading to Moab.
Onto Day Two - Amasa Back in Moab
Pictures from Spring 2013
I spent a day playing on Little Creek Mesa in the Spring of 2013. Here are some pictures from that outing.
Pictures from the Spring 2015 Outing here
This was day three of a spring 2015 roadtrip to St George.