Spring of 2005 Roadtrip
This was my first extensive MTB road trip and what an awesome time I had. The trip had been delayed once before due to weather, but I finally pulled the trigger. The delay worked out as one of my riding buddies, Billy, hit his spring break so I had some company for the road and trails. We both made sure to give no actual return date to our wives, only a rough estimate of six days or so. My wife knew better. We ultimately rode for 8 out of 9 days of the trip and sampled what must be some of the finest singletrack in the country. I'll definitely be back to all of these places.
Day 1 - Friday - St George Bound
Billy was over at the house bright and early and we got everything packed up and and were head north by 8AM. Phone calls were made in route and we made plans to meet displaced Fruita Freak, JD, in St George, Utah. The ride up went quick but the weather looked ominous as we neared the land of 3.2% beer. Upon arriving at said Freak's room, and right after the "Nice to meet you", he asked "Are you ready to ride?"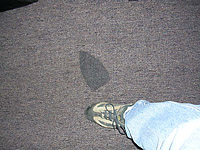 So we scrabbled to jump into a hotel room and throw on some riding clothes. It was spring break weekend so the hotels had some inflated rates but we managed to find a reasonably priced place with some very swank accommodations. Our room even had a designated iron storage location :-)
Before we knew it we were headed for Broken Mesa. We were chasing daylight so I brought nether the helmetcam nor the digital camera. While bad weather was all around us things looked good at the trailhead. Normally this ride is done as a loop but with limited daylight left we did the ride as a shuttle with my truck going to the top. The road is pretty freaking rocky in spots requiring quite a bit of care with my 4x2 truck. The trail was awesome but I could tell I was not a sea-level any more as I was getting a little winded on the initial climb. There are some nice technical sections up near the top of the climb that gave me more difficulty than it should have. That's when I realized that my rear shock was nearly out of air. In the rush get out on the trail I had not checked it and none of us brought a shock pump. So with a much lower bottom bracket height that I prefer and tweaked geometry, I rode on. This trail was absolutely incredible with sweeping views and narrow lines with great rock features here and there. With all of the rain over winter the trail was quite narrow and in some sections the trail was merely short grass instead of long grass. Before getting off the mesa we did get sleeted on a little but this did not even cause a dip in my already pegged fun-o-meter. The trail that takes you off of the mesa is a rocky bit of trail that requires your close attention and is and absolute blast. I was so jazzed about this trail that the fire road climb up to lower trailhead could not get rid of the ear-to-ear grin I had going. A hell of an opening ride!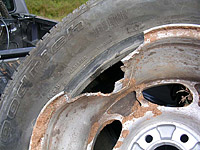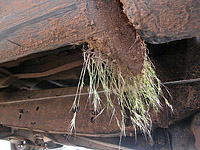 JD took me up to the upper trailhead to retrieve my truck and on the way back down I blew my left front tire on a rocky section of road and found myself in the dicey situation of trying to maintain control of the truck. Everything went into slow motion as I tried to keep the truck on the road. I thought I was out of the woods when the front end suddenly jerked hard to the left and I realized I was going into the bar ditch. Now these ditches are wide and slant away from the road at a significant angle. This particularly section also had a bunch of large rocks lining the side of the road which I plowed through. I was afraid the truck was gong to roll at this point so I tried steering towards the down slope. Luckily, the truck did not roll and it came to rest about 20 feet off of the road. I had couple of busted wheels and tires, but I was unscathed and while not happy about the truck being busted up I was extremely thankful that things went as well as they did. JD and Billy soon realized something was amiss and recovered me and helped with arranging for a tow truck to get the truck out. Billy had to ride with the tow truck driver to show him the way. Needless to say the first day of this trip was certainly memorable. We had lots of great conversation over the events of the afternoon over some mighty tasty burritos in town.
Day 2 - Saturday - Church Rocks and the JD "special loop"
Our ride for this day was going to be in the afternoon after Mark from San Diego arrived. This gave me time to make phone calls about the truck and find out what the damages were. Two busted wheels and a shot tire for starters. Now this was Easter weekend so the usual hard to get things done on Sunday in Utah is compounded by the holiday. It was proving hard to find a wheel for my Ranger anywhere in town. Now if I owned a big honking truck I would have had 20,000 different models to choose from in town. The Ford dealer wanted more for two stock wheels than it would cost for four new after market wheels so I made arrangements to have a set of wheels express shipped into St George, but they would not arrive until Tuesday. The shop that I was getting the wheels from did manage to chase me down a scab wheel loaner and get it over to the folks that were working on my truck. The good news was that I would have a drivable truck on Monday,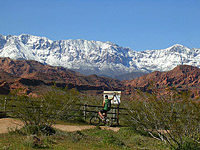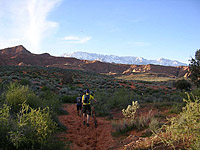 So Mark arrives and we are soon headed to the Red Cliffs area to ride the Church Rocks trail. While reviewing the map, JD and I were trying to figure out what would be a good series of loops to do. JD suggested that we "try out" Brackens Loop. (While recounting this story a few days later in Fruita, it was met with a few snickers as other folks have fallen victim to "trying out" trails with JD). When we got up to the start of the Brackens Loop we noticed that there were no tire marks heading off onto this trail. Brackens Loop turned out to be the preferred horse loop, as in long and very sandy. We were able to do just enough riding along this very scenic route to be continually lured into thinking pristine untamed singletrack was right over the next hill. Usually just over the next hill meant we might be able to pedal downhill in six-inch deep sand before slogging along some more. We did take in some great scenery, particularly when we climbed a rock formation to get a better look around the area. Just for the record, we were never lost, JD knew exactly where we were at, it was just we did not exactly want to be where we were at :-) Now I have taken my buddies off on exploratory death-marches on multiple occasions in the past so I found quite a bit of humor from the turn-around is fair play angle of this hike. We ultimately finished the loop in the waning minutes of dusk and were quite ready to return to town for more tasty burritos. Over dinner we got a really good laugh about the fact that some poor group of folks were going to see our tire marks turning off onto the Brackens Loop and say "Yeah, I bet there is good stuff this way".
| | | |
| --- | --- | --- |
| Billy checking out a line | We climbed a rock outcropping in an effort to find the pristine singletrack at the end of the sand march | JD cruising along the Prospector Trail |
Day 3 - Sunday - Gooseberry Mesa

The day started off by hooking up with St George local and bike handler extraordinaire Bryce who gave us the guided tour of Gooseberry Mesa. This was my first experience on Slickrock.
| | |
| --- | --- |
| | The term Slickrock comes from the fact that is is slick for horses to walk on, but it absolutely the opposite for bike tires. The traction on this stuff is pretty unreal. We are not horse people here so at the suggestion of Bryce, I will from now on refer to the stuff as "Griprock". |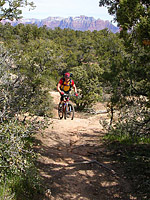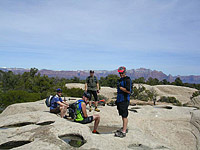 The mixture of singletrack and griprock was pretty awesome with lots of quick undulations across fields of solid rock. The place has very little elevation change but you will do enough short quick ups to your heart rate up. It was pretty trippy getting used to this type of riding as you could ride lines you would never even think of riding on different terrain. The parts I found the most challenging were the transitions onto some of the more steeper rock faces. We only sampled a part of the Mesa taking in the Practice Loop, the North Rim trail, The Point, a portion of the South Rim trail and Hidden Canyon. I am definitely coming back here as you could easily spend days playing on the Mesa and ferreting around for new lines. That evening we were all set for another round on monster burritos, but were denied due to Easter Sunday. We ended up stuffing our faces at Chillies while getting in some good laughs about my NFL camera man skills. More to follow on that. Another one of JDs friends, Martin, had blown into town and met us for dinner. He had ridden the Church Rocks area that day and decided to check out a bit of singletrack that had some fairly fresh tire marks on it. There were plenty of snickers around the table when we found out the trail in question was Brackens Loop. JD and Mark headed back to SoCal after dinner. JD was the hero of weekend as his help turned what could have been a real nightmare with my truck into semi-humorous footnote to the trip.
Day 4 - Monday - Hurricane Cliffs trail system
Bright and early the next morning I was off to retrieve my truck. A little sting to the plastic and I had a drivable truck again with a scab loaner wheel and my spare. I would have liked to been on the road to Fruita today but my replacement wheels would not arrive until tomorrow. It worked out for the best as the weather was pretty bad in Fruita that day. So Billy and I headed back out to Hurricane (pronounced Heruh-cun by the locals) to ride the Hurricane Cliffs trail system, which consist mainly of the Goulds Rim trail, the JEM Trail, and the Hurricane Rim Trail. These three trails form a 21.5 mile loop of which about 19 miles of it being mighty fine singletrack. We did this loop counter clockwise starting from the Hurricane Hill trailhead. We mostly climbed on the Goulds Rim, we bombed for what seemed like forever on the JEM trail and mostly climbed on the Hurricane Rim trail back the truck. Next time I'm going to do this loop in other directions as it will be great either way.

More Stuff on Hurricane Cliffs
Day 5 - Tuesday- Escape from Utah
We got in some awesome riding in the St George area but we were Jonesing for Colorado singletrack. This was our rest the legs and travel day. The weather reports for the day were really nasty for Fruita but it was due supposed to be clearing tomorrow. We hoped to be on the road by noon, but my wheels did not arrive until 1:30pm. We occupied some of the downtime by checking out some the dinosaur tracks at an under construction museum and hanging out with the very cool folks at the Red Rock Bicycle shop. Everything did get taken care pretty quickly once the wheels arrived and at around 3:30pm, after nice sting to the plastic, we burned gas at a less than economical rate towards Colorado. We went through some snow, sleet and rain in route but still made good time while on a series of sugar and fast food rushes the entire way.
Day 6 - Wednesday - Fruita - The Western Rim trail in Rabbit Valley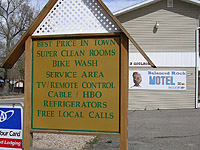 You know your are in a Mountain Biking town when your motel has these amenities.
Shortly after they opened, we swung by the Over the Edge bike shop to get the latest 411 on the trails. I had a bought a copy of the Fruita Fat Tire guidebook 9 months earlier so I already a good idea of what we wanted to ride. It was mighty freaking cold by San Diego standards so it did not take much for me to sit around and shoot the breeze over a mighty zippy cappuccino made right in the back of the shop. The area had gotten dumped on pretty good the day before and the weather report called for scattered snow flurries, rain and potential thunderstorms throughout the day with good weather the next day and beyond. We opted to check out the Western Rim trail in Rabbit Valley.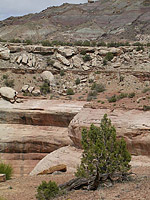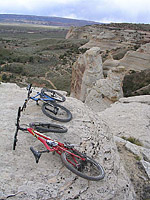 Rabbit Valley was a pretty cool ride. I liked the scenery but I was less than impressed with the shared use ATV trail #2 that was required medicine to get out to the Western Rim trail. We got a little snow flurries on us here and there and the wind was biting a little but as long as we were moving we were comfortable. We also learned an important nutrition lesson as we had eaten like crap the previous day and were definitely feeling the effects today. Our legs were getting a little pink in the middle but not being properly fueled compounded the problem. I used a lot more of the little ring than I normally would have otherwise. Once we got onto the Western Rim trail the scenery and trail became more to my liking as we were treated to some awesome views while often riding right along the rim of the canyon made by the Colorado River. Great Stuff! That night we went into Grand Junction for a little stuff-yourself buffet action where we stocked up on lots of complex carbs.
More Stuff on the Western Rim Trail
Day 7 - Thrusday - Fruita - Kokopelli's area trails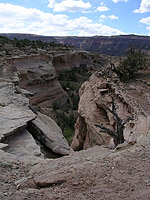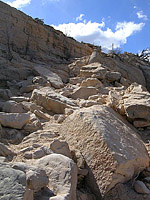 The weather was sunny this day but still good and cold. No big deal as we headed out at a reasonable time. What an awesome day of riding we had. The legs were a good medium rare today, but we had some descent energy from strapping on the feedbag the night before. We did Mary's Loop to Horsethief Bench where we took in some great views along the old double track. Horsethief is an absolutely incredible bit of singletrack. Fast and flowing with technical bits is enough to keep just about anybody coming back but the views of the Colorado river is like icing on very yummy cake. After Horsethief, we took Mary's to Steve's Loop and eventually worked out way up to the saddle where Mack's Ridge and Moore Fun meet. From here we accidentally took a fire road that took us up to a point about a couple hundred feet or so above Mary's. It was cool to watch an ant-sized rider riding along the singletrack below. After figuring things out we retraced our way back down the fire road and made our way onto Mary's again were we started heading back. We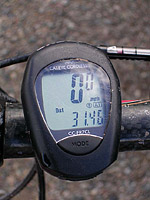 decided that we had to do another lap around Horsethief. This time we were were cruising so well that at one point I lost my hearing as the corners of my mouth were jammed into my ears :-) After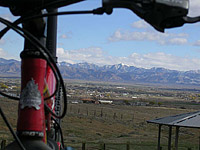 Horsethief we took Mary's back the way came and decided that we had a few more miles in the legs so we drained the our last bit of reserves on Rustler's Loop. Rustlers was mostly buff singletrack with minimal climbing but the legs at this point were complaining about anything more than the slightest of uphill grades. That evening I engorged myself on yummy pasta and I fell into a food coma before 9pm.
More Stuff on the Kokopelli's Area of Fruita
Day 8 - Friday - Fruita - 18 Road aka The Bookcliffs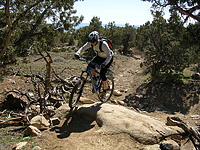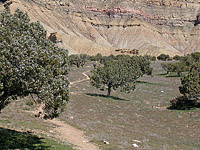 What an awesome singletrack playground. Ahh what flow these trails have. They were everything that the press had been billing them to be. I took very few pictures as I was having some much freaking fun it was hard to stop and click off some shots. We made a full day out of the place by riding Prime Cut, Joe's Ridge, Kessel's Run, Western Zippety, Frontside, Zippety, and Chutes and Ladders. We did Prime Cut quite a few times and did the Joe's/Kessel combination twice. We rode nearly 30 miles out here and were willing to do some more but the legs were well-done. We saw more mountain bikers today than we had for the entire trip. The temperature got really close to 70 and folks were rolling into Fruita for the weekend. I even ran into a NorCal riding friend of mine, Dennis from the Ogrehut, that I had not seen since a ride two years earlier. It was amazing how the population of town had swelled that evening with every other car havin a bike rack. The brewpub was roaring that night as folks recounted the day's adventures and laid out plans for singletrack conquest for the weekend. It was a great vibe!
More Stuff on the 18 Road Trails
Day 9 - Saturday - Homeward Bound - Church Rocks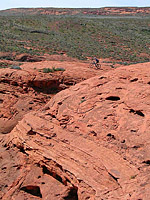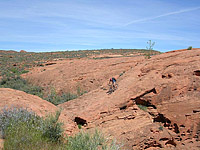 Reluctantly we were packed up and on the road headed home bright and early in the morning. We decided to break the drive up with a quick spin on Church Rocks in St George, UT. Since we had hiked all the way around the perimeter of it on Day 2 of our adventure we decided it was worth actually riding on it. The trail for the most part is a red griprock playground. We met some folks on the rock and when the conversion turned to them planning on checking out the Brackens Loop, both Billy and I nearly fell off our bikes from laughing so hard. We played for an hour or so and were back on the road with only about a two hour lay over. The trail is very accessible from the freeway and it is a really good way to break up the driving. I was home just before 9pm in time to give the boys a good night kiss and give my wife a big bag of stinky laundry :-)
Planning the Trip
| | |
| --- | --- |
| | For the St George, UT area rides, Utahmountainbiking.com is an excellent trail resource and I bought the Mountain Biking Utah guidebook and some maps through their site. When you get into town make sure to swing by the Red Rock Bicycle shop for the latest local updates. They are very cool and in the know on what going on in town. |
| | For Fruita you only need one thing, the Frutia Fat Tire Guidebook from Over the Edge Sports. The book will fit into a 1 gallon ziplock bag easily so you can jam it into your Camelbak and not have to worry about trashing it. |
| | I highly recommend getting your books ahead of time so you can read all up about them before you go. |