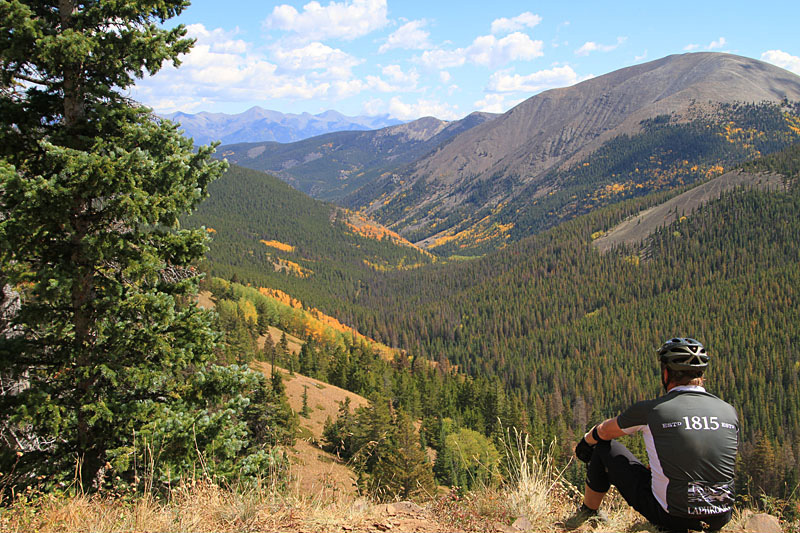 This is a big ride with big views. Starting at Monarch Pass summit at 11,320 feet you will travel south along the Continental Divide nudging up to 12,000 feet as you make your way to Marshall Pass to take in some Colorado trail goodness. You will then descend the sublimely beautiful Silver Creek trail and then enjoy some bench cut goodness of the Rainbow Trail before you drop down into Poncha Springs were you started your day by catching a shuttle. This 34.6 mile adventure will have you climbing around 2,300 feet and descending 6,600 feet. The numbers are pretty meaningless in comparison to the experience of doing this bucket list quality ride.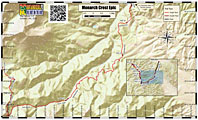 Resources: The PDF map to the left is two pages formatted to be printed on 8.5" x 14" paper. While my map will get you where you need to go, I highly recommend picking up the Monarch Crest Trail specific map put together by Absolute Bikes in Salida. The Latitude 40 map for the Salida, Buena Vista area is also much better than my map.
GPS Files: (The Waypoints in these are referenced in my ride notes below) GPX, KML
Directions: This is a shuttle ride and the easiest way to do the shuttle is the service offered by High Valley Bike Shuttle in Poncha Springs. The upper trailhead is the Monarch Pass and the lower trailhead is at the bike shuttle shop/gas station/mini-mart in Poncha Springs where you pick the shuttle up at.
Ride Notes: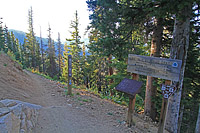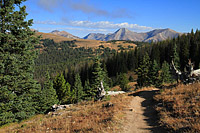 From the parking lot at Monarch Pass (MCE-UTH) take the doubletrack uphill and after 0.3 miles (MCE-01) take the Monarch Crest trail singletrack off to your right that is clearly marked with the Continental Divide and Colorado trail signage. I found it interesting that the Monarch Crest was missing from the signage. The opening doubletrack got a bit steep but the singletrack is more mellow. At 1.0 miles (MCE-02) you come out onto doubletrack and turn south. There are some steep bits to negotiate for the next 6/10ths of a mile before you get back onto singletrack (MCE-03).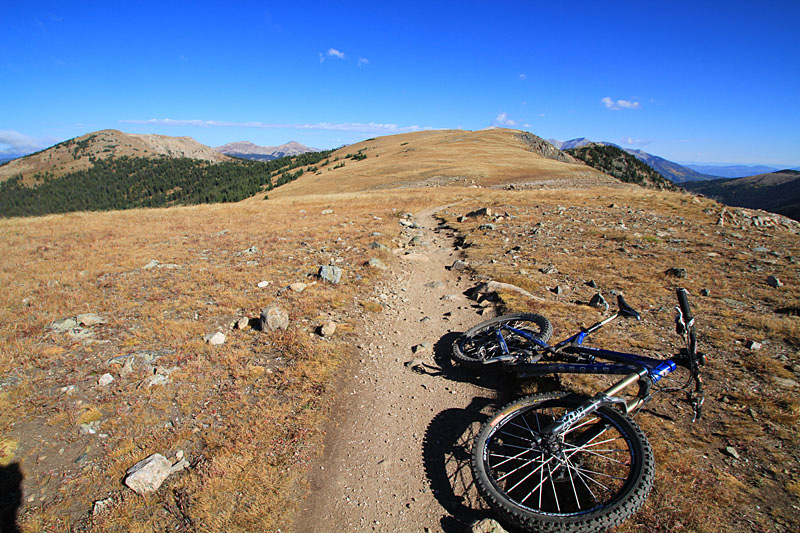 You are right on the Continental Divide at this point. I'm looking to the north in this picture. Rainfall to one side of this trail will attempt to make its way to the Atlantic, while rainfall on the other side of the trail will makes it way to the Pacific. Pretty Cool!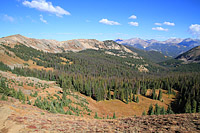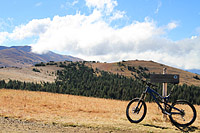 The singletrack beyond this point floats at or above the treeline with expansive views along the continental divide as you skirt Mount Peck (12,208 ft.) and Peel Point (12,145 ft.). At 5.1 miles (MCE-04) you will pass the junction of the South Fooses Creek on your left. At 5.9 miles (MCE-05) you will get a significant break in the climbing as you drop about 400 feet of elevation down to the junction of the Green's Creek Trail at 6.8 miles (MCE-06).
The is a shelter just to the north of this junction that is well worth a look to see. Continuing south on the CDT, COT, Monarch Crest trail you will be back on the climbing for a while. You will pass the junction of the Agate Creek Trail and Little Cocheyopa trails at 7.9 miles (MCE-07). After the junction of this trail you will start shedding off some elevation. You will cross at scree field at 8.6 miles (MCE-08) at then come out onto a doubletrack at 9.3 miles (MCE-09) near the site of an old mine. The doubletrack is mighty zippy from here and you will take it to Marshall Pass Road and trail head at 10.7 miles (MCE-10).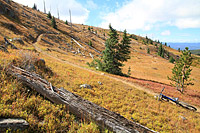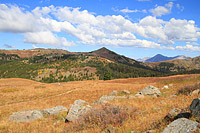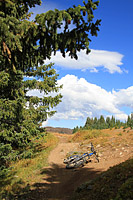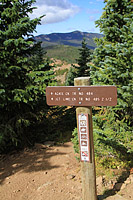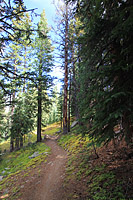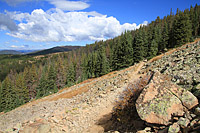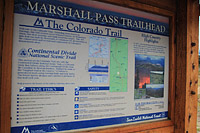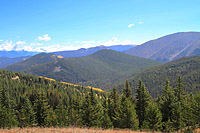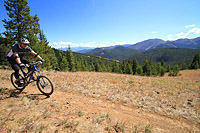 There is a dirt parking area, kiosk sign and pit toilet at the trailhead. From the parking area head south (uphill) on Marshall Pass Road (dirt). Just a tenth of the mile up the road, Marshall Pass Road bends to the right while a slightly steeper road forks off to the left (MCE-11). Take the left fork and climb where you will shortly cross over another doubletrack. Shortly thereafter you will see a singletrack heading off to left (MCE-12 @11 mi). It is is signed for the Colorado Trail. Take this singletrack.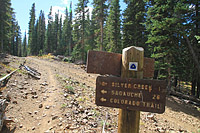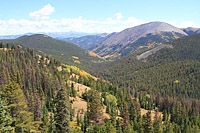 You are at 10,930 feet at his point and you some climbing up to 11,300 feet to over the next 2.4 miles. There are some nice single track sections through here. One minor navigation note is that at 12.1 miles (MCE-13) there trail switchbacks to the right and uphill while an older trail continues straight ahead. It was blocked off and mother nature is reclaiming the old trail. It is not your route. Beyond this point you will have a couple more undulations before the singletrack comes out onto a doubletrack at 13.4 miles (MCE-14). The first bit of the doubletrack is steep but it flattens out and then starts gradually descending. Views of the Silver Creek drainage start opening up. At 14.1 miles (MCE-15) there is an excellent viewpoint that shows the awesomeness that lies ahead. At little further down the doubletrack at 14.6 miles (MCE-16) you will come to the junction of the Silver Creek trail junction on your left. Take it and get ready for some superb singletrack.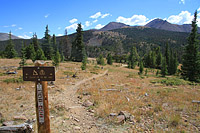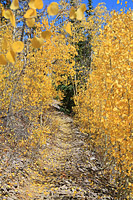 Oh boy oh boy oh boy! The singletrack quickly sheds off some elevation through a view switchbacks that are rocky in places before the trail enters a long kind narrow canyon with a meadow down the middle. The aspens were magnificent through here. At the end of the meadow the canyon narrows ups and you will be riding close by but well above Silver Creek as the trail become more of bench cut with rocky bits and more technical in spots. It does not suck by a long shot. Along this section there are numerous beaver ponds on Silver Creek and with your higher vantage point along the trail combined with the very clear water it seems like you would have a good chance of spotting a critter or two in those ponds. Or you could just keep zipping down the trail with the big goofy/joyful smile on your face. I went with the later option. Shortly after passing the beaver ponds the trail gets a bit steeper and for the most part scree as you descend down to creek level. This is the most technical bit of trail you will do on the entire route.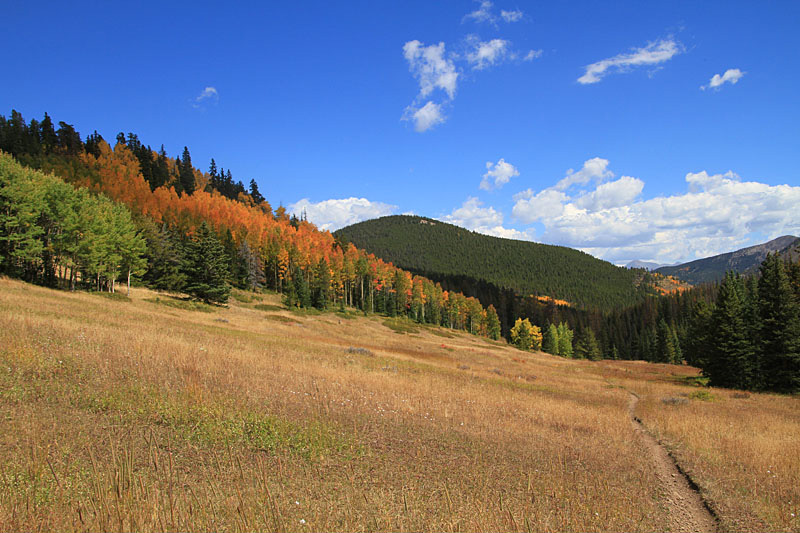 The meadow near the top of the Silver Creek Trail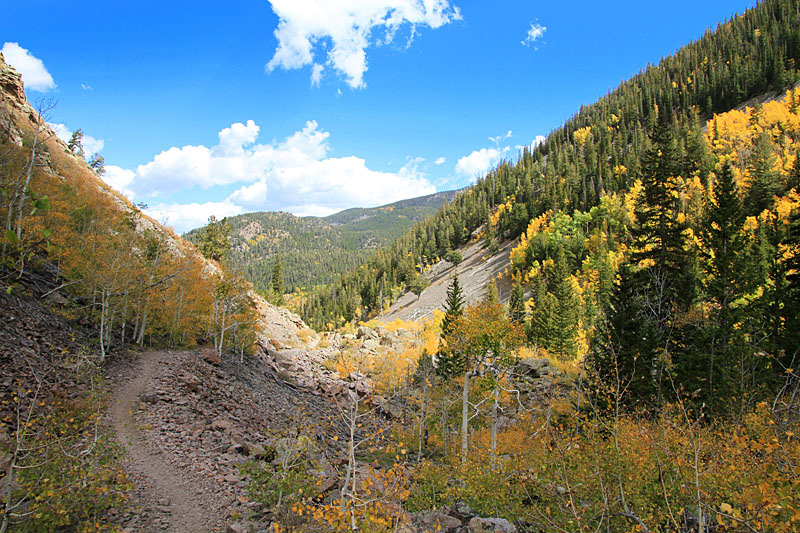 Where the canyon narrows up some.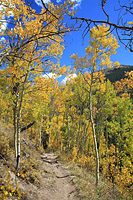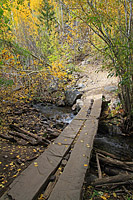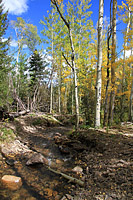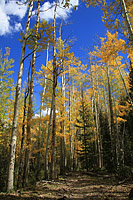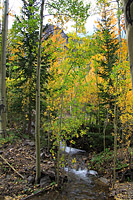 Once you drop down to creek level there is at least one bridge and the trail can be a little hard to follow but it just a small stretch of this before you come out onto a doubletrack for the Silver Creek Trailhead at 19.0 miles (MCE-17). Take the double track downstream (east) where it will shortly join FS-201 (at a bend in the road. Stay to your left. This should seem obvious since right would be a mean looking uphill. Less than a quarter mile down the road is the junction with the Rainbow trail at 19.2 miles (MCE-18).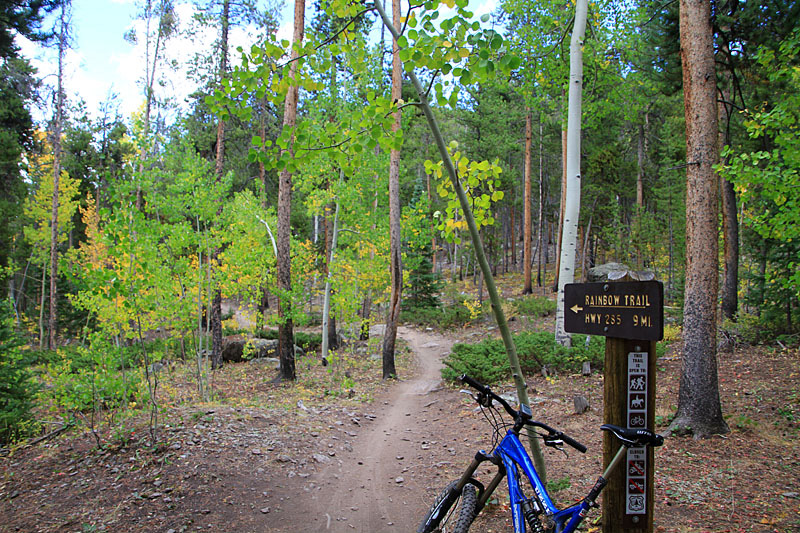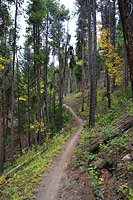 This is a good spot to assess wither you are cooked or not. The Rainbow trail is not all downhill by a long shot and if you are toast you could stay on FS201 and have pretty much an all downhill route back to Hwy 285 and back into Poncha Springs. (This is what I'm told). For those with some gas left in the take you will take the Rainbow Trail.This is a really nice bench cut singletrack in the forest that for the most part is buff with some root bits. There are numerous drainage crossings that have you diving down to cross the drainage followed by a short but steep climb to get back to the contouring. You will be mostly climbing for the first 1.5 miles and then you start mostly a flat to trending downhill contouring. You will whoever continue to have the steep drainage undulations. It is all great stuff but my tired legs were starting to wank. At 25.5 miles (MCE-19) you cross a doubletrack. There is a sign that Hwy 285 is 3 miles. There is a steeper bit of climbing just after that spots that messes with tired legs and your brain that just wants more of Silver Creek. The trail starts treading downhill again after this but you will get spanked again with another short section of climbing. At 28.0 miles (MCE-20) you will cross another doubletrack followed by another steep bit of climbing before you start the final descent where the trail gets steep with a trail that is a little scree-ish in spots that will make you be on your bike handling came going through the switchbacks. The singletrack will dump out on highway 285 at 29.5 miles (MCE-LTH). From here hang a left (downhill) and coast 5.1 miles down to High Valley Shuttles (MCE-HVS) back in Poncha Springs.