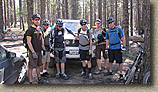 At roughly 7,000+ plus feet of elevation Flagstaff has cool to moderate temperatures while much of the rest of the state is blistering during the summer. Mount Elden and the San Francisco Peaks are prime riding areas, but there is a ton of place to ride. This was my second mountain biking venture here and once again I was thoroughly impressed. For this trip we were camping in near Schultz Pass on the East side of Mount Elden. Just two weeks after our visit here a wildfire broke out near where we had came and burned over 15,000 acres mostly northeast of Schultz Pass.
Day One of the 2010 Arizona MTB Trip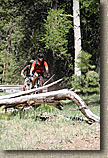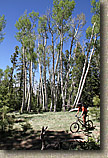 Day One was the travel and squeak in a ride day. I met Bill O'Neil at O-Damn Early on Friday near the I-10/I-15 junction where his truck would remain for the trip. We where soon making exceptional (and illegally) good time towards Flagstaff. We were in town by noon and after picking up some camp essentials were headed towards camp on Schultz Pass Road. Jeff had gotten a big head start on us the night before and shortly after starting up the dirt road we came across him. He had skillfully planned his ride that day so that he would be climbing the road back to camp while we were headed in. We loaded him and the bike up and continued up the road. Shortly thereafter we were flagged down by a couple of hikers who had gotten turned around on the mountain and where now a long way from their car. We dropped the tailgate and gave then a tailgate cruise back up to their car. It was nice to grab some good karma right out of the gate on this trip.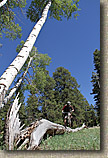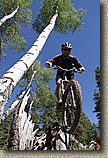 By 2PM we had camp setup and were ready to go catch a ride so Bill, Jeff and I headed out for a loop. We decided to climb an old double track simply known as "Climb 3". It is not on a lot of the maps, but it is in between Little Gnarly and the Sunset Trail. We were not long into the climbing when we started passing through some Aspens. I absolutely love these trees. I think they are some of the prettiest trees I have ever seen and I love taking pictures with them in frame. We found a fallen aspen that made for an interesting log ride. Aspens and a log ride, that is a combination worth busting the camera out for.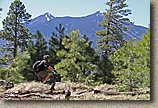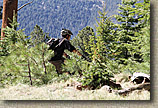 After a bit of play we were back on the climbing that took up past the Upper Brookbank Trail to the Sunset Trail. One this is for certain, my sea level lungs were struggling with the thin air. This was not a long climb but it sure had me getting in some quality time with my granny gear. Where we met up with the Sunset trail the elevation was around 8,700 feet. I felt like such a wuss when a couple of locals "tooled" by us on their singlespeeds.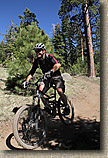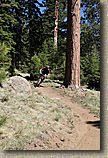 Once on the Sunset Trail there were some silly amounts of zippy fast single track fun to be had. The last time I was here in August of 2006 the trails conditions were superb as the summer monsoons had all the trails tacky and fast. This time the summer monsoons had not started yet so the trails were not quite prime. It was still a hell of a good time and plenty fast. The Sunset Trail comes out in the Schultz Tank area were you pick up the Schultz Creek Trail and continue the follies of gradual downhill swoppieness.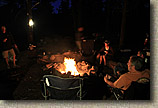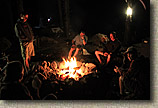 We eventually ended up down at the bottom of Schultz Pass Road where we had a chunk of dirt road climbing back up to camp. Once back at camp we sampled that various libations the we had brought with us. It was not long before the Orange County contingent of Dean, Art, Craig and Dell showed up. After a bit camp setup time, the Cowboy TV was fired up, libations were consumed and plans for single track conquest were devised. But mostly libations were consumed.
Day Two - Arizona Trail and Then Some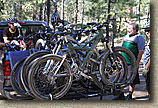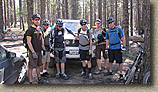 After such a fun opening night at camp our surly group of riders were amassed bright and early at the crack 10AM to head out for sizable XC loop put together by Dean. "I would be surprised if there is a thousand feet of climbing on this ride" turned out to be the quote of the day from Dean.
"The Crew"

Dean
Jeff
Art
Dell
Bill
Craig
DStepper
JFSH
Art23RockPile
Ladd Jasper
MrMountainHop
CalEpic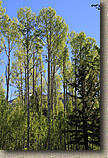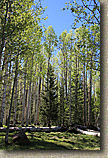 This ride started located on the west-soutwest area of the San Francisco Peaks. We left from the Aspens Corner Trailhead a little before the Arizona Snow Bowl Ski Area. The starting elevation was around 9,300 feet. Once again the scenic beauty of this place was pretty impressive. The plan was to do a big clockwise loop that would included chunk of the Arizona Trail that goes from Mexican Border all the way to Utah. I had ridden a section on the Black Canyon segment so I was interested to sample the trail a little further north.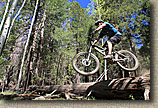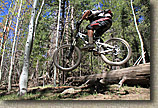 The opening trail was called Flying Fish. It was mucho fun with some log jumps and rollers here and there. There was one gap that caused everyone to stop and check it out for a bit. Everyone pretty much came to the same conclusion that this was the first full day of riding and there was no need to potentially bang ourselves on the first day. (I was not going to hit it either way but there was not need to show my cards if everyone was going to fold! ).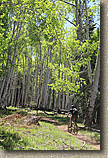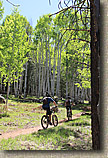 Before long the trail came out at another trailhead further down the Snow Bowl access road. From here we got in a small bit of climbing up to an old homestead. Climbing just seems nicer when you are doing it through an aspen grove. It did not suck to be us on this day, After checking out the old homestead we hooked up with a trail called Gimpy's Gully which ended up crossing over the Snow Bowl access road and continued downhill and to the west. There were some fun downs and some downright technical ups. This trail is also open to motorcycles so it was not always kind with the grades. Jeff is a moto-guy and his impression was that this was quite a technical moto trail. It was all good.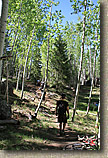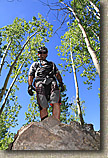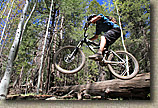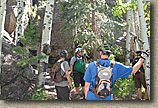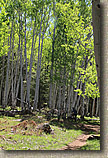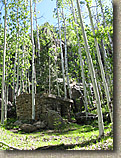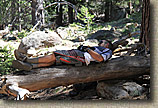 At some point I think we ended up on a trail called Mace's Revenge, which was also a moto trail. This trail eventually dumped us out into a meadow. At this point it was downright hot out. We would later find out that temperatures that day were near record highs. I was also carrying my helmet cam on this ride. It had been quite some time since I brought both the helmet cam and my DSLR on a ride and I must say it was dragging on me pretty well. We were not a bunch of hammer heads so the stopping to smell the flowers, taking some pictures and scope a roller or jump here and there kept the pack from biting into my shoulders too bad.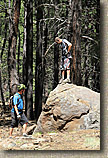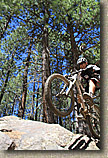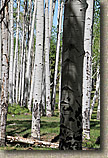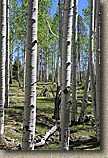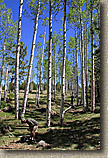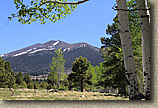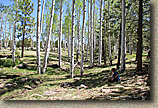 We eventually worked or way out to the southwest corner of the Hart Prairie. To say this was pretty would be huge understatement. The grasslands, aspens, the San Francisco Peaks in the distance made for some mighty might nice views. The trail soon brought us out to Forest Road 151 where we turned north and did some casual dirt roading for a a handful of miles until we hit Forest Road 418 where we turned east (right) and did some flatlanding and mild climbing for a couple of miles until we picked up the the Arizona Trail when it crossed the road. We turned right (uphill) and were back onto sweet single track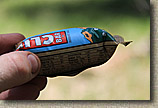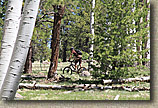 From here we would have miles of extremely mild climbing on some exceptionally pretty single track through a mixture of pine and aspen groves. Hats off to the builders of this section of the Arizona Trail for the routing of this trail through some extremely beautiful terrain. We stopped and had lunch at one particularly picturesque spot.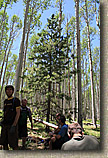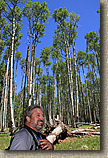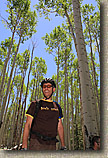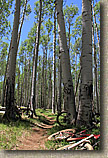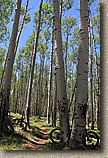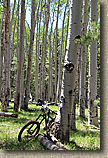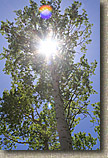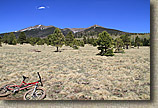 The Arizona trail crosses over the Hart Prarie but at a higher elevation than when we first skirted the southwest corner of the prarie earlier in the day. There is one spot that could trip you up where a trail head at the Arizona Snow Bowl splits. Hanging to right is the way to go and after checking out all the signs is should become obvious.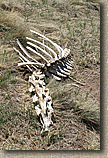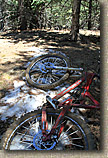 It was at this point in the ride that things went a little off-course. We had gotten pretty strung out. Dean was behind me my some margin and the rest of the group was way ahead of me. The video and camera gear along with my lack of conditioning as of late had me rolling at a scenic pace. It was sort of cool to be on a "solo" ride with a safety net.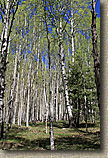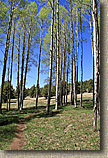 Near the end of the ride there is a trail that cuts steeply uphill back to the Aspens Corner trail head. I missed this turn and kept going on the Arizona trail which was signed as still under construction. I was really enjoying this section of trail as it was getting progressively more challenging, raw and untrammeled. Eventually it became completely untrammeled. At this point I knew I missed a turn and knew exactly where it happened. About 300-400 feet of elevation above, I was not looking forward to going back uphill. I had maybe a cup or two of water left in the bladder. I had an hour or two daylight left so I was not too concerned, but I should really try to not make any further mistakes, When I started to try and retrace my route back uphill I was not able to find the route I just came down. I eventually did but it was pretty brutal trying to go back uphill. I noticed a meadow below and according to my mental map I should find a trail down there. Civilization was also downhill from here. So I dropped down to the meadow and right onto a trail I recognized. It was the Mace's Revenge trail we had been on earlier in the day. At this point I was concerned that the guy were going to send someone out to chase me down as soon as Dean showed up at the trail head. Mostly likely they would send Bill out since he had been riding really strong all day.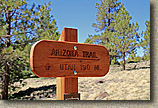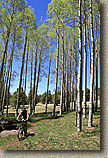 Now Bill and I have been riding together for a long time so he knows how I think. I surmised that the guys would figure out that I would mostly like get to here and take Mace's Revenge back to the road and get my way back up to the trail head via the road. So I set off. It was still really warm out so if the incline turned up much at all I got off and walked in an effort to conserve energy. When I was less than an eighth of a mile from the road, I heard someone behind me. It was Bill. It turns out Bill, I and the crew collectively had been on the same sheet of music as to where I missed the turn and what I was going to do. I love it when a non-plan comes together. I had gotten somewhat dehydrated by the end of the ride so I was not feeling particularly well. I even passed on the usual post-ride hop-infused goodness. It took several hours of rehydrated before I started feeling "normal" again. We finished off the evening shooting the breezing, telling stories and formulating plants for tomorrow's adventure.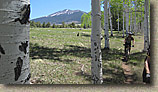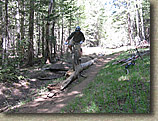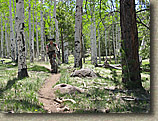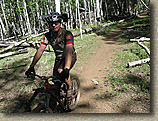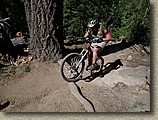 More Pictures from the Day (Courtesy of the rest of the crew)
Onto Flagstaff Part II