Puget Sound Area - Washington
Despite the large amount of annual rainfall and generally gloominess propaganda that is associated with the Puget Sound area most of the year, there are some great riding opportunities up here. When the sun is out this is truly God's country. The evergreens forests, snow capped mountains and the vast waterways make for some great scenery. You have to remember that for a place to be so exceptionally green it requires a good chunk of gray days to make it happen. With soils that handle moisture well you should really make an effort to get out on some trails if you find yourself up in the area. Unless you are a real weather weenie, you should be able to have a memorable adventure or two. I know I sure did.
Essentials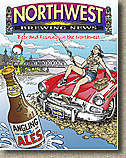 As an extra bonus, if you enjoy good beer then you are in freaking fermentation heaven here. The place has some of the best microbrews I have ever had the pleasure of swilling down. The one thing you need to get your hands on to take care of nearly all your hops investigational needs is the latest copy of the Northwest Brewing News. The paper includes a craft brewery directory for all of Washington, Oregon, British Columbia, and Alaska. It is basically like a great trail guide but for beer. After every new ride, I would whip this tome of hop knowledge out be on my way to a local microbrewery.
A couple of guidebooks I found helpful are Kissing the Trail: Greater Seattle Mountain Bike Adventures
and Mountain Biking the Puget Sound Area: A Guide to the Best Off-Road Rides in Greater Seattle, Tacoma, and Everett
. If you only want to spring for one book I would go for the Puget Sound area book. For maps of specific areas in this section, I have not bothered to create my own maps if an excellent map was already readily available.
If you use a map enabled Garmin GPS, make sure to get the Northwest Trails map set from Switchbacks.com. It does have a topographic map set of the entire state. It is not as detailed as Garmins 100K topos map set but it does have hundreds of trails in the map set Not all of these trails are bike trails and not all of the riding areas area fully mapped. But yeah it is free.
You can follow the menus on your left to see some the trails I have snooped on so far or you can mouse over the pictures above.