Seattle's I-5 Colonnade MTB Park
Wow! Colonnade is the grandfather of the urban Mountain Bike Park. This place just down right rocks. For those that have not heard of the place, Colonnade has gained national attention due to its novel concept and the excellent use of land. This model is starting to find it's way to other parts of the country. There is truly some thing for everyone here at this park. It is not all about getting in the air and steeps. There is stuff for the newbs and dews. One thing is for sure you don't measures technical trail features per trail here, it is more like a per foot thing.
Directions: You can put this address into your favorite Navigation Gizmo to get you there. 1800 Lakeview Blvd E, Seattle, WA 98102
If you are getting there downtown Seattle Go north on I-5: take exit 168A for Lakeview Blvd. Take a left onto Lakeview and immediately park on your left. The bike trails are on the west side of Lakeview.
If coming in from places to the north like Lynnwood or Everett on the I-5: take exit 168A for Boylston Ave / Roanoke St. Merge onto Boylston and go straight at the light. Follow Boylston south, paralelling I-5, veer left under the freeway, and then park on your right.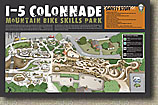 Ride Report: There is not whole lot to say other than this place is just awesome. It is amazing how the mountainbikers and the community took an underbridge eyesore and turned into a killer skills progression park and a wonderful place for young kids to learn about mountain biking and develop skills other than video games.
The day I rode this I had just picked up a rental bike from a nearby bikeshop for some riding over the next few days. There was only an hours or so of daylight left so I had not planned on riding, just taking a look. I had not checked into my hotel yet, so all my stuff down in my suitcase. Upon seeing this place I had to ride. Forget changing I grabbed just my helmet, shoes, and gloves and hopped on the bike. Polo shirts and MTBing, this could be a new fashion trend.
Man, this place is killer. I rode a bunch of it but got nervous ticks looking at some of it particularly with no pads on. If I lived up here I would make this a regular stop. I can see the conversation now,
Me: "Honey, I'm going to home depot to pickup a new gasket for the toilet. I'll be back in an hour."
Wife: "Why are you wearing a helmet?
Bottom line: You have got to check this place out.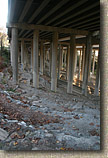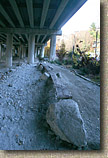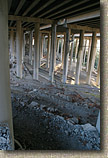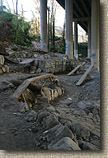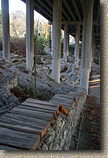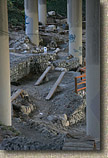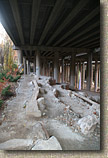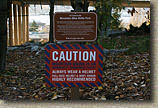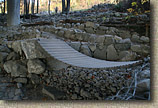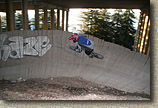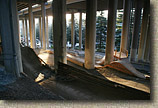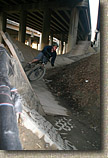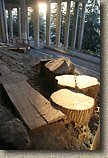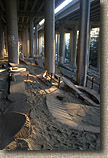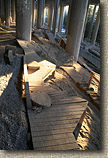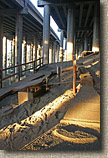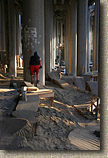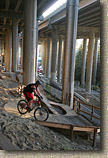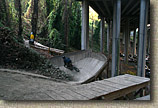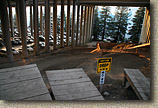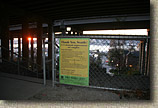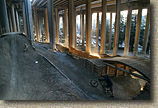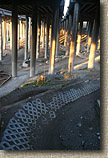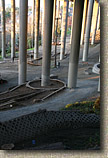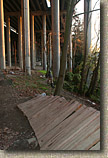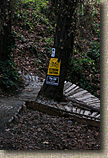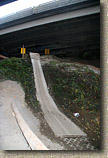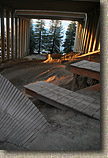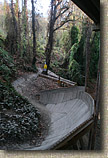 Videos
These are a few videos I have found on YouTube that either tell the story of Colonnade well or show off the features of the park. You can dig up a lot more easily, but these are some of ones that appeal to me
This is a nicely done documentery on the creation of the Colonnade park. Hats off to all the volunteers and Seattle City Officals who helped make it happen.
This nicely editied video uses some different angles to help show off some of the lines.
Some footage from the opening day of Phase II.