Indian River Park is located in Cheaspeake Virginia smack dab in the middle of housing developments. The area is more commonly known as "Ipswich" from the home development that boards about half of the park. It is a rather small plot of land and the topography is pretty much flat. I must say that I was surprised with what was out there. The trail builders have made exceptional use of what they have. Just about every small contour is used and the place has been spiced up with some bridges and stunts to keep thing interesting. For a west coast guy the greenery of the east coast was pretty darn cool. All together there is a somewhere in the neighborhood of 6 miles of singletrack here.
Directions: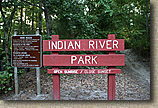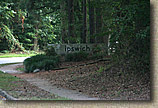 From I-64, take the Indian River Road West exit. Take Indian River Road for about 3/4ths of a mile then turn left (Gas Station on left) onto Level Green BLVD. After about 1 mile turn left onto Drew Drive. Take Drew for about 1/2 mile when it becomes Paramount Ave. Travel about 1/4th of a mile further and you will see the trailhead on your right. If you look down the street you will see the "Ipswitch" development sign. It is also worth noting that there are lots of ways to access this area from around the community. S Military Hwy and Rokeby Ave, Paramount and the Powerline crossing as well as Miller Ave and powerline crossing. If your first time out here is a solo effort, look at the place on Google Earth and then drive around the perimeter before hitting the trail so you know most of the places you will be popping out at.
Maps: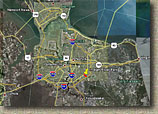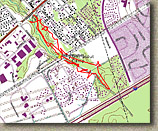 Here are a couple of maps and GPS files but you will not find much need for them. The trails are so intertwining and numerous it is best just to explore until you come out on a street, then try another permutation.
Here are some data files: GPX, KML, TOPO
Ride Report: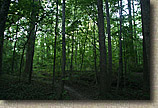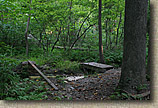 This trail system was just a 2 mile street ride from my hotel so I went to Ipswitch about five times during my three-week stay in Chesapeake. The first time out here was getting to know the place by sticking to the main trails. It did not take long to feel like I was hamster-wheeling out here. This was a wrong assessment, because there is a maze of secondary trails that can be combined for quite a bit of fun. I found myself trying to see just how fast I could get around this place.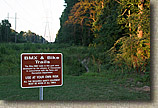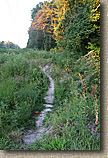 There is BMX area in the southeast end of the area with lots of jumps and pump track style stuff that you typically around the BMX area. Unfortunately this also included quite a bit of "snack trash". The area is also split across the middle by a set of powerlines. I found the stuff to the north of the powerlines to be the most interesting.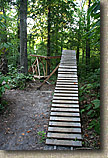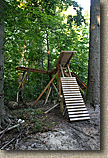 The more forks you take the more little loops you will find. One such spot I found had some pretty technical to downright insane type stuff. This monster is crazy. The raised platform is about seven or so feet off the ground. The teeter-tooter is also pretty short so you will have to wait for the drop. Props to the folks who built this thing as it is rock-solid. (I would later found out this was not legit and some folks tore it down)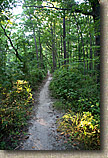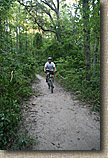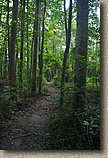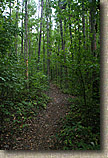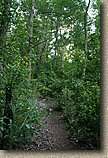 You can make this place as simple as cruising around on mostly buff and bushy singletrack or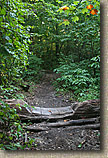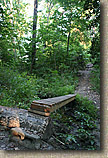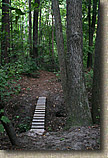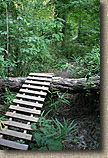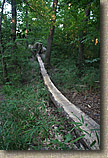 You can spice this up with some of the features that have been put into many of the off-shoot loops.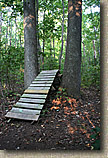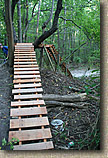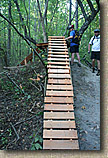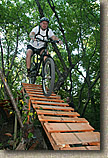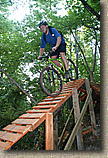 On one of my post-work rides out here I ran into some fellow Mountain Bikers (Dave, Kevin and Doug) and chased them around the trail network. It is amazing how by this point I had ridden pretty much all the trails here, but by following someone else the same trails take on a different feel. There are lots of permutations to the way you stitch the trails together.
Once again this place may be small but you get more fun out of it than the mileage states. I really can't call this a destination trail but if you are in the area it is well worth a look if you are limited on time.