Located at little west of Huricane, Utah, the Quail Creek Overlook Trail System offer a lot of full body technical workout for the mile. Riding this trail system was not on roadtrip itenary but when we woke up on day two of our Utah weekend we found that it had rained most of the night.    After consulting with the folks at Over The Edge in Hurricane, we changed our ride plans for the day to kept from mucking up the trails. Colloquially this place is known as the Boy Scout trails due to a nearby Boy Scout camp.
Resources: I managed to accidently delete my track after this ride so check out the map, GPS files and directions to here at UtahMountainBiking.com or Trailforks

Planning Notes: If I lived in the area, this place would be in my rotation particularly when I'm ready to give my slow tech skills a workout. If you are planning a roadtrip to the area, I would have this trail system in line behind quite a few of the other larger more iconic options in the area. This trail system is quickly accessible from I-15 so you are passing through this is option to streach out your legs with a quick ride. (Much like the nearby Church Rocks) For example St George is about halfway between SoCal and Fruita/Grand Junction so you could stop for gas, get in a loop or two, grab some lunch and be back on the road in a few hours. This is also a solid trail system to ride when the weather has the rest of the trails in the area wet and muddy.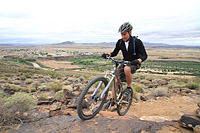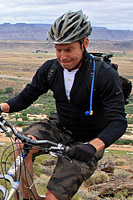 Oh my this place put down some techno-spank right out of the gate that included tight rocky single track with plenty of "power" moves. The trail system primarily includes four loops on three sawtooth escarpments. The builders have done a super job of laying out the system to maximize the use of a rather small chunk of land. Check at that face of pure determination! This place is advertised as an expert level trail system and I can't argue with rating, but I will clarify it.   This is a "slow-tech" wheels-on-the-ground playground. There is not a lot flow here and it is not a bad thing, its part of the character of the place that just seems to pack "It" into the miles. I particularly enjoyed the combination moves.   Things like a rocky climbs with ledge moves coming out tight switch backs.   There were plenty sections where you seem to be continually in a state of using body English.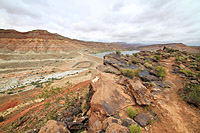 The most northern loop called Adventure Scout was by far the most technical of the bunch out there.   We ran into one of the primary builders of this trail system (Quentin – – Awesome Job Quentin!!) and he described a couple of sections as best ridden "Balls over Brains".  It is interesting to note that not following that advice could have you literally going "Balls over Brains" into some very unforgiving terrain.   There is a lot of effort per mile designed into this this place.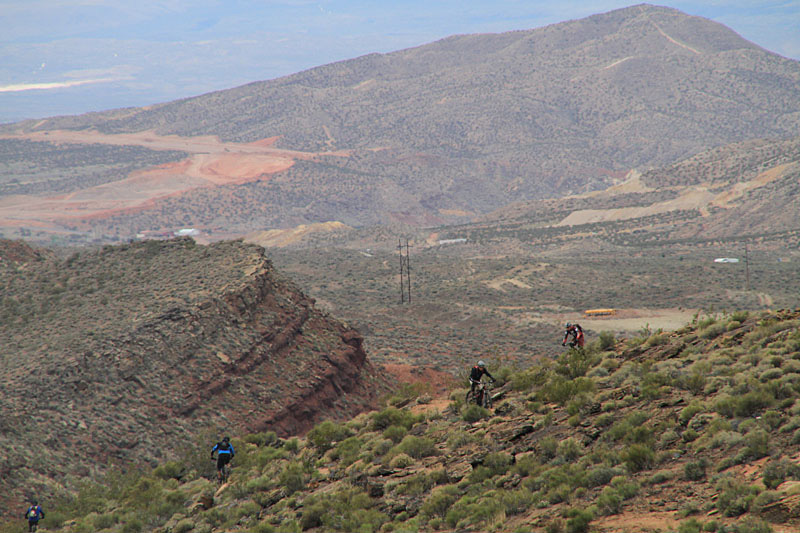 We only did a little over six miles and it felt like we had done twice that.   I really dug the combination of power moves and the bit of  mental "checkers" required to clean the stuff out here.
As we enjoyed a tasty smuggled in San Diego microbrew over lunch, we decided that we had enough gas in the leg tanks for an afternoon session so we drove down the St George to hit up The Zen trail.