Thomas Mountain located near Lake Hemet and the San Jacinto Mountains is a 17 mile loop ride that is a great aerobic workout as you climb over 8 miles up a dirt/fire road followed by and a great descent down the Ramona trail that will keep you on your toes while providing you with stunning views of the Garner Valley and surrounding mountains. Located very close to the Hurkey Creek campground as well being near Idyllwild this is a great ride to do if you are going to check out the riding scene in the area.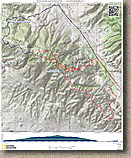 Here is a PDFmap of Thomas Mountain and the Ramona Trail
DIRECTIONS:
| | |
| --- | --- |
| | From San Diego area: Take the I-15 north past Escondido and take the HWY-79 South exit as you are coming down the hill into Temecula. Turn right (beware there is a sneaky no turn on red sign at the off ramp signal that got me a $135 ticket :-(. Follow the 79 for 17.5 miles to HWY 371. Turn left onto the HWY 371 and follow for 20.7 miles through the little town of Anza and up into the mountains. You will come to a T-junction with HWY-74. Hang a left here and take HWY-74 2.8 miles to Pyramid Peak Road. Hang a left here and go .4 miles to another T-junction at Hop Patch Springs road. Turn left miles and follow the road .8 miles where you will see a dirt pullout on your left just at the road turns to dirt. Park Here |
| | From LA and areas North: You will be going through Hemet so you may want to get directions from mapquest to Hemet and then continue east through Hemet on HWY 74 up into the San Jacinto Mountains past the turnoff for Idyllwild past, Herkey Creek Campground, Lake Hemet, and then be on the lookout for Pyramid Peak Road on the right 5.5 miles after the entrance to Lake Hemet. . Turn right go .4 miles to a T-junction at Hop Patch Springs road. Turn left miles and follow the road .8 miles where you will see a dirt pullout on your left just at the road turns to dirt. Park Here |
RIDE NOTES:
While some of the published routes for this ride have you starting on Thomas Mountain fire road from the northwest end near Lake Hemet, the ride descrobed here was done starting from the southeast end. On the map above I show the route we took in red and the route from Lake Hemet is shown in blue.

I first did this ride with Mike Kim on December 20th, 2003 with an early start. It was quite nippy by Southern California standards (around 40 degrees) at 4,750 feet. The initial climb was actually welcomed as it was guaranteed to get us warmed up a little. The fireroad was not too tough and we made good time up to the ridgeline at the 1.2 mile mark where we broke out into some welcomed sunshine..

Here is a panoramic shot take once up on the ridgeline at Point A (see map) looking south-southwest across the Cahuilla and Anza Valley at the Iron Spring (near) and Palomar (far) Mountains in the distance.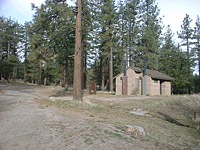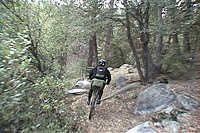 The next section of mountain road started out as chaparral and slowly gave way to sparse pine trees as we climbed up to Toolbox Springs Campground at 6,150 feet at mile 5.5. This is the "traditional" start of the Ramona trail. We did something different that added some more singletrack. We picked up the Ramona trail off to the right of the restrooms. (The picture to the left was taken from the trail). We then rode down the trail for maybe 100 yards and then hung a left onto another single track. I am unsure what the trail name is, but it is labeled with a USFS trail marker that does show it is open to Mountain Bikes.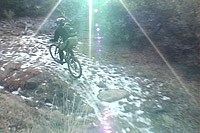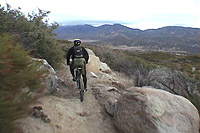 We followed this rolling singletrack (more rolling up than down) until at mile 6.15 it crossed a fireroad. We did not continue on the singletrack at this point. Instead we hung and left on the fireroad and went uphill. We rejoined Thomas Mountain road at mile 6.5 and continued uphill (to the right). (This section of singletrack was a nice break from the climbing, but next time I may just continue on Thomas Mountain Road instead of taking this side trip as you will go down that singletrack latter in the ride.)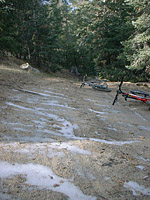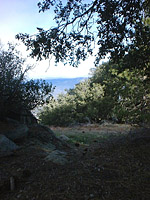 From this point the climbing became a little more intensive and the pine trees became larger and views just kept getting better. We also starting noticing the remnants of snow in the shade which is always nice to see in SoCal. At 8.3 miles we peaked out at 6,667 feet near the peak of Thomas Mountain. There is a trail off to the left that takes you up to the peak at 6,825 feet (we did not take it). From here Thomas Mountain Road turns downhill, but we only went a short ways (at little over .1 mile) to the first sharp turn where we picked up a single track. There is a trail marker right in the middle of the turn so it is somewhat hard to miss.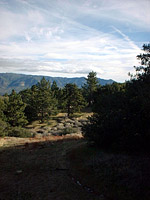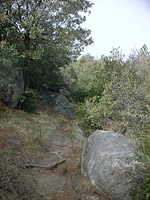 If I had to describe the Ramona trail in one word it would be CHANGE. Up near the top the trail is somewhat soft as you weave through pine trees on mostly buff trails. However there are small technical sections that pop here and there that can trip you up if you do not pay attention. There are also a few roots to contend with as well that could get you an unscheduled dismount if you start zoning out. The top of the singletrack started out rolling through a wide open meadow that cut through sparsely spaced pines that provided a very alpine feeling to the experience. The trail did have a few tight places and transited through dense brush along the hillside at times.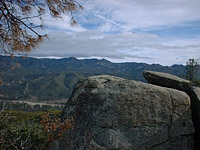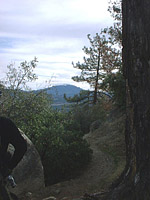 After 2 miles or so of fun singletrack riding we crossed Thomas Mountain fire road at mile 10.75 where we came out on before. This time we went straight across the fireroad and enjoyed this section of the trails going the other direction. We soon were back to where we had originally peeled off from the traditional Ramona trail. We hung a left here and the trail started to get a little more technical with rocks and roots as well as some tight switchbacks. The trail made you stay on our toes as sections of rocks would often pop up around corners they required you to stay fully engaged mentally. This added a really cool feel to the trail.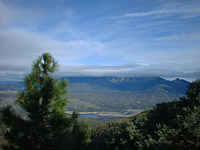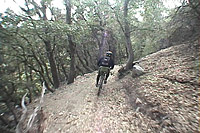 The upper portion of the trail has quite a few sweeping turns that offer stunning views of the Garner Valley as well as Santa Rosa Mountains off in the distance. It would be worth your time to take a break and take it all in at least once during the descent.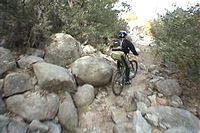 For many of the rock sections the adage "Speed is your Friend" is quite true because many of these rocks could get you an express pass to Endo City if you hit them going too slow.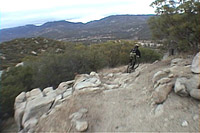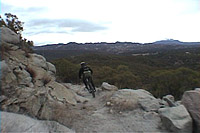 The further down the trail we went the more technical the trail got as it transitioned from pines to chaparral. The lower portions of the trail were quite reminiscent of Noble Canyon with lots of small rock drops and loose sections. The switchbacks also got harder as they became more armored with large enough rocks that required some interesting weight shifts while navigating the turn.

Ultimately the trail dumps out onto HWY 74 at mile 14.8. You will hang a right and take the highway for 1.5 miles until you reach Pyramid Peak road where you will hang a right and go .4 miles to a T-junction at Hop Patch Springs road where you hang and left and go .8 miles back up to your parked vehicle.
VIDEO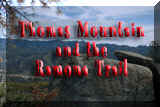 Here is a video of the ride on December 20th, 2003. 29MB