Lake Tahoe - 2005
Since I had been itching to check out Lake Tahoe for some time, what a better way to do it up than at a MTBR gathering. A gathering is usually a series of large organized group rides done in near a central area of a few days. This was my first gathering and I had little time to think of the event until the day before we were supposed to head north. I'm typically the type of person who checks out maps, descriptions, and other information to feel prepared for rides. This was quite different as I simply print out the post that had the dates and the meeting spots and planned on showing up and following the folks who know the way.
I have been back to Tahoe area handful of times in this years since this first visit. Check out items in the CA menu above as well as my blog posts.
A video recap the riding over the weekend
Thursday, July 7th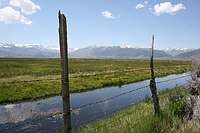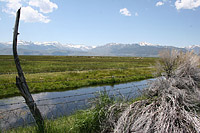 We started very early from San Diego. While long the ride up was fairly enjoyable with some great scenery along the Eastern Sierra Nevada Mountains as we traveled up Highway 395. We arrived in South Lake Tahoe at around 2:45pm. We were just late enough to miss the social ride yet early enough to setup camp and catch them at Mott's Tavern for the after ride refreshments. It was cool to meet some of the folks from MTBR as well as see a couple friends from before
Friday, July 8th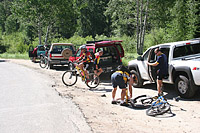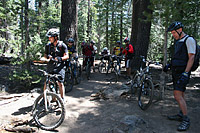 This ride ride included a climb up to and across the Christmas Valley along the the Tahoe Rim Trail (TRT), then on to Round Lake and even further up the TRT to Dardanelle's Lake. This ride had quite a bit technical features with lots of drops, ledges and other rock related goodness. The lack of sea level air was quite apparent as soon as we turned uphill.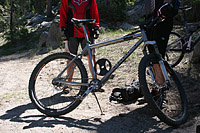 If you are going to spend a crap load of money on a custom single speed, it should stand up on its own, right?
Getting up to Round Lake via Christmas Valley
Round Lake
The climb up to Dardanelle's Lake

The downhill fun after leaving Dardanelle's Lake
Once we left Dardanelle's Lake we had some might great downhill action with lots of technical spots to challenge you.
UncleMTB and Fast Eddy at rides end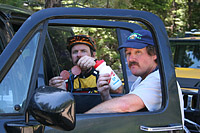 Saturday, July 9th
What a doozie! We started at Mount Rose and traveled along the Tahoe Rim Trail to the Flume Trail to Martlett Lake to Spooner Lake then to Diamond Peak. After that we headed towards Kingsbury Grade and picked up the Chinese Downhill to finish a 39.5 mile ride at elevation.
Staging for the shuttle to Mount Rose
The weather looked pretty darn nice when we left South Lake Tahoe, but it was quite a different story up on Mount Rose. The wind was hollowing and cold and there was rumbling in the ranks about wimping out. Lucky for all of us Cliff still had all of his clothes in his Hummer, and he had enough warm stuff to go around. It was trail fashion by Cliff for a while until things started warming up.
Once on the trail things got better. The trail was pretty darn awesome.
The Flume Trail
The may just be the prettiest trail I have ever been on. The views to the lake below and features along the trail were simply inspiring. While not technical there were some spots where a ill-timed dab could be a real bummer.
Martlett Lake
The Tahoe Rim Trail from Spooner Lake to Diamond Peak

Diamond Peak, 8,800 feet

Panoramic shot from the peak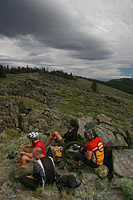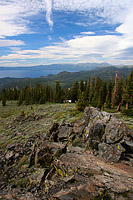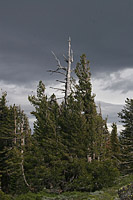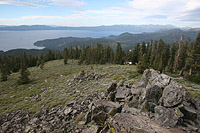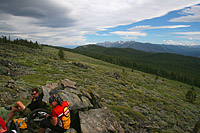 It was little breezy with just a bit of bit in the wind.
Cliff at the top of a steep climb just before the Chinese Downhill. We were all hurting at this point
JFR and Jim find a little air on the Chinese Downhill
Rides End
Sunday, July 10th
This was supposed to be the day for Mr. Toads Wild Ride, one of the most technical and fun trails in the area. After a wee bit of math we figured if we did this ride we would not get back to San Diego until 2 or 3AM and I had to be a work the following day. The fact that I was totally shot from the mega ride the day before had nothing to do with it:-)
I snapped off a few shots of the chipmunks around camp before we headed out.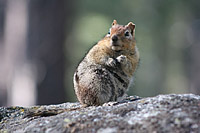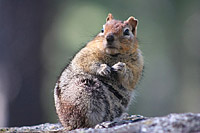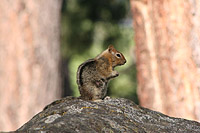 Billy doing a little freelance work for the National Geographic at rest stop at Mono Lake