Fantasy Island - Tucson Arizona
This was Day Five of the Arizona in Winter 2007 trip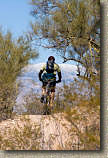 WOW! What a really cool trail system for being pretty much an in-town ride. This place is great for beginners and intermediates as well advanced riders who just want to go out and rip it up on some fast rolling single track. Having a six-inch travel all-mountain bike on this trail was like shooting ducks with howitzers. A bunch of fun but big time overkill as this place would be absolutely killer on a singlespeed. Having the bigger bike meant I just got a little more of a workout to maintain speed.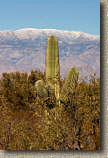 Here is a picture of the trailhead map. It is formatted to print on 8.5x11 sized paper.
But just use Trailforks!
Directions: From downtown Tucson take either Speedway or Broadway boulevard east about eight or nine miles and then turn right on Harrison Road. Take Harrison Road two or three miles until you get to the T-intersection with Irvington. Go Straight. (Really!, the trailhead parking lot is directly across from the T-intersection.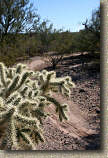 It is downright amazing how much trail they have managed to pack into such a relatively tiny chunk of State Trust Land. The area only covers less than three square miles, but the the trail builders have managed to get around 18 miles of singletrack out here. All of the trails are one way, and it is virtually impossible to get lost here. If you keep taking rights you will manage to hit all of the loops. If your group gets a little spread out you will most likely see them coming towards you in other direction about 50 feet or so to your left or right.
The trail has a eccentric funky vibe to it as there are a bunch of items that can best be described as either found bike art or garbifacts. I'm sure there are interesting stories to go with each one of the items you will see out there. They are all over the place, from witches hanging in trees to tombstones and SpongeBob Squarepants on the side of the trail.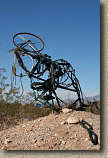 Here is the "Bike Windmill" on the Lone Catcus Loop.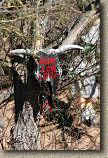 You'll know when you are on the Dead Cow Loop.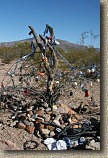 There is no mistaking when you get to the Christmas Tree loop.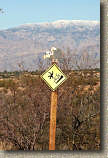 The sign for "The Shaft". For beginners this rocky gully crossing with a G-out at the bottom could be scary. If you are concerned about having your reflectors knocked off you may want to take the bypass trail that is offered.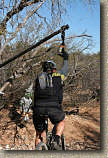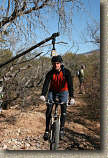 There certainly seems to be some rituals here as everyone who came by slapped the cow bell as they went under. Of course Bill had to smack it with his head.
This is the Over and Under spot where the trail goes over a small bridge and then wraps around and goes under the same bridge. The locals will notice there is something wrong with this shot. Artistic Freedom is what I'm calling it.
Here is a more detailed explanation.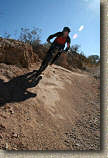 Here is bottom part of Half Pipe. It is a quick series of high banked berms down a wash. Mucho fun at speed.
We thoroughly enjoyed ourselves out here and this was my strongest day of riding fitness wise. (More a function of how sad I was at the beginning of this trip) We wasted little time after the ride packing up and after a quick burrito break we were heading westward back to SoCal. This was my second trip to Arizona in the last six months and I must say I'm really digging this state's Mountain Biking opportunities. I met some super cool people, rode some great trails and got myself good and motivated to get back into a sound fitness routine. The week following this trip I even dusted off my singlespeed and placed it back into service. Ahh it hurts so good. Now get off your computer and go ride!
Back to the Arizona in Winter 2007 main page