24 Hours in the Old Pueblo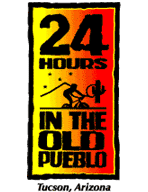 Presidents Day weekend 2003, four of us headed out to Tucson Arizona for the 24 hours in the Old Pueblo mountain bike endurance race. The team consisted of Miles Todd, Michael Paul, Bill Sornson, and myself.

Michael Paul posted an excellent review of the weekend on MTBR.COM. Since I doubt I could review it any better here his review of the weekend. Some of the pictures below were also taken by him over the weekend.
Michael Paul's Race Report:


We're back from our weekend in Tucson racing the 24 Hours in the Old Pueblo and it was quite the interesting weekend. The torrential rains that we had in San Diego early in the week were heading that way so we knew we were in for some moisture. We arrived about midnight Thursday night (the race course is about 10 miles south of B.F.E. so it took forever to get to once we got off the freeway!) to perfectly clear and beautiful skies.


We found a camp location and set up in the dark well enough to enable us to at least get to bed. I think we made it to bed around 2 AM. At about 4 AM the skies opened up and just let down a torrential storm. I took a look outside the tent and the rain was falling sideways so everything under the E-Z up was now wet. I settled back in my sleeping bag and began wondering just why in the hell did I decide to do this race if the weather was going to be like this!


Friday AM was more of the same. Heavy showers and ugly skies all morning. There were some breaks in the weather but overall it was a fairly crappy day. We were all beginning to realize how badly racing in the rain would be since it pretty much just sucked sitting around camp in it too.


We decided to head out for our pre-ride at 2:00 as that was the time we were going to meet some other people but we didn't find anybody else to ride with. Since the skies were looking pretty ugly I'm sure they didn't really want to ride in the rain and just sat it out.


The course was actually in wonderful shape considering the amount of rain. I guess I'm just used to the clay we have here in San Diego that sticks to everything but overall the desert was draining nicely. There were a few puddles here and there and one hill was sort of gooey but I was quite impressed with how well it drained. However, the course did meander through a ton of "dry" washes which I'm sure could fill up in a minute so if we did get heavy rain during the race some of those would get really interesting.


The course was listed as 18.5 miles long so we weren't sure what to expect. That's a LOT of miles of one lap of an endurance race like this so even if you travel at a quick rate of speed you're going to use a lot of energy. We knew for our pre-ride we'd just take it easy though. Fortunately the weather gods accommodated us with wonderful weather for the race itself. No rain and very pleasant temperatures made the whole weekend worth it!


There are no major climbs to speak of on this course but it's challenging in it's own way. The first mile or so was pretty flat but twisty desert singletrack so you could actually get moving pretty good at the start of your lap but still warm up. Much better than a course like Idyllwild where you're busting a lung up a hill after the first 500 feet! After the singletrack you end up on a fire road for 5 miles or so characterized by a series of seven short but steep rolling hills aptly nicknamed the "7 Bitches" They aren't hard but come lap 3 or 4 they'd hurt a bit. The 4th Bitch is characterized by a wonderful uphill jump that apparently has claimed many a collarbone in the past but I liked coasting a bit uphill and then hitting this jump just right. I even passed somebody on that spot on my first night lap!


After some fast big ring fire road riding you finally hit the fun singletrack. This singletrack sort of heads uphill but you're still pushing a big gear and going along pretty quickly. The challenge isn't the trail itself, but the fact that there are cactus right next to the trail just waiting to grab you. In San Diego, you can generally cut the corners and brush up against the bushes but if you do that on this course you'd be pulling hundreds of prickly things out of your body. It really made you stay aware on the course because I


definitely found myself starting to lean into the corner only to pull back a body part at the last minute. I didn't fare so well on my first lap though as I blew a turn and clipped a cholla with my right shoulder. I had a piece about 5 inches long sticking to my shoulder. I pulled it out and did final removal of residual items back at camp.


This singletrack is intertwined with some short sections of fire road but it makes up about 8 miles of the course. You finally get spit out onto a long stretch of fire road that has a bitch of a short climb to start. After pushing big gears through the singletrack for 25 minutes, this hill pretty much sucked. Nice and short but a challenge nonetheless. Fortunately there's a section of fast downhill fire road to recover on. The fire road begins climbing again but your still trying to push a big gear to maintain momentum. Unfortunately, after about a mile the road is characterized but a gooey section which makes traction and momentum a problem. The section improved during the race as racers kept using the same line so it wasn't as bad as I thought it might be.


This section of road turns into Powerline Climb which is just challenging enough to hurt after this many miles. The road is rockier than anything on the course so far and there are plenty of sharp transitions waiting to grab a front wheel and launch the rider ass over shoulders if you aren't prepared. At the top of the climb is a short fire road downhill before you hook up with the finishing section of singletrack.


There's a 2 mile or so gradual climb before you level out on the Mesa and hit what I though was some of the best sections of trail on the whole course (but then, I like technical fast singletrack). There were exposed rocks and some loose sections of short descents that made this section pretty darn fun. It's almost all DH back to the finish line so your pretty energized as well. This section is also pretty close to camps so there were quite a few people watching and cheering you on as you went by and approached the finish.


The only major problems were all mine. I had two flats but both occurred in the pits but the worst problem was that I borrowed a teammates Blowtorch head unit because mine has ignition issues sometimes (mine worked great on the first lap but didn't want to ignite when I was getting ready for my second lap). So, I'm about halfway down the third bitch when instant darkness! The light stopped working. I was close enough to the camp that I decided to turn around rather than risk riding the rest of the course (15 miles or so) in the dark. So, I had to head back to camp, swap lights and start out again. This burned about 30 minutes or so of time resulting in a less than stellar 1:56 lap time.


This race has a rule that if you finish your lap before noon, another ride must complete a lap or else you'll be DQ'd. Due to my night lap issues, we didn't think we'd be able to squeeze in an 18th lap but everybody did wonderfully in the AM and I came in from my fourth lap with about an hour 17 remaining in the race. Our next rider took off and he's more than capable of an hour 14 or so lap so we knew it'd be close. Well, he rounded the finishing corner with 90 seconds to go! So, our last rider did get in a fifth lap which probably helped us in the standings.


Not only did he go out for that final lap, but this was his best lap of the race by two minutes!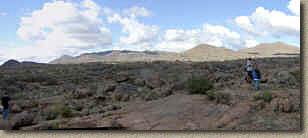 So, the final tally was 18 laps, no rain and a lot of fun. We came in 25th place out of 64 teams. The winning team was smoking with 22 laps!
Here are the Offical Stats for team S.C.U.M.B.A.G.S
San Diego County Unified Mountain Bikers And Gearheads
Miles "Got Gears" Todd
Bill "MTBBill" Porter
Bill "Sorni" Sornson
Michael "Yeti-Rider" Paul
Lap 1
1:20
Lap 2
1:15
Lap 3
1:26
Lap 4
1:18
Lap 5
1:20
Lap 6
1:18
Lap 7
1:34
Lap 8
1:23
Lap 9
1:23
Lap 10
1:18
Lap 11
1:34
Lap 12
1:56
Lap 13
1:25
Lap 14
1:18
Lap 15
1:29
Lap 16
1:18
Lap 17
1:15
Lap 18
1:13
You can see the full results here
The 2004 24hr in the Old Pueblo was a blast! I had thrown my legs over a singlespeed for the first time just a couple of weeks before the race. I was pretty sure I could put in a couple of good laps for the SCUMBAGS SS team but I was a little concerned about recovering between laps as I always felt a quite a bit more thrashed after the training rides on the singlespeed. Out at the race I loved the wonderful speed at which you are forced to climb even though it often comes with a healthy dose of pain, particularly on the b!tches. The cactus trail (first singletrack) was where the singlespeed really shined. It was a gradual climb and there were only a few turns that required any substantial loss of momentum so I could keep up a good cadence. However the new singletrack was a different matter. It really beat me up, as it was bumpy and tight requiring a little more use of the brakes than I wanted. This is were I came to loath my brakes as every time I squeezed them it meant additional pain in my quads and lower back was just seconds away when I had to regain some speed. By the third lap on the new section of singletrack my lower back was on fire and I lusted for the smooth plush ride of my Spider back at home. The final climb was actually not bad on the singlespeed at all. I was pretty whooped by the top of it last year on the geared bike and I was pretty whooped this year too, but I got to the top quite a bit quicker. Lap for lap I was a couple of minutes faster on the SS than I was on the geared bike last year even though I don't feel in any better shape than last year. I squeezed out 5 laps and I felt totally humbled by the laps you kick a$$ solo folks did. The bottom line is I think the SS thing is hella lots-o-fun and I am going to giving the legs some SS luvin, but I have no plans on chunking the Spider.
Category 4 Person - Single Speed 335
4th Place out of 13 teams
| | | | |
| --- | --- | --- | --- |
| Lap | Rider Name | Lap Finish Time | Lap Time |
| 1 | Erik Larson | 2/14/2004 1:16:31 PM | 1:16:31 |
| 2 | Bill Porter | 2/14/2004 2:32:08 PM | 1:15:36 |
| 3 | Eric Hagerty | 2/14/2004 3:53:06 PM | 1:20:58 |
| 4 | Miles Todd | 2/14/2004 5:14:23 PM | 1:21:16 |
| 5 | Erik Larson | 2/14/2004 6:29:51 PM | 1:15:28 |
| 6 | Miles Todd | 2/14/2004 7:46:30 PM | 1:16:38 |
| 7 | Eric Hagerty | 2/14/2004 9:09:06 PM | 1:22:36 |
| 8 | Miles Todd | 2/14/2004 10:39:16 PM | 1:30:10 |
| 9 | Erik Larson | 2/15/2004 12:22:55 AM | 1:43:39 |
| 10 | Miles Todd | 2/15/2004 1:40:32 AM | 1:17:36 |
| 11 | Eric Hagerty | 2/15/2004 3:31:12 AM | 1:50:40 |
| 12 | Miles Todd | 2/15/2004 5:04:26 AM | 1:33:13 |
| 13 | Erik Larson | 2/15/2004 6:43:44 AM | 1:39:18 |
| 14 | Bill Porter | 2/15/2004 8:00:11 AM | 1:16:27 |
| 15 | Erik Larson | 2/15/2004 9:19:44 AM | 1:19:33 |
| 16 | Miles Todd | 2/15/2004 10:47:18 AM | 1:27:34 |
| 17 | Bill Porter | 2/15/2004 12:00:43 PM | 1:13:24 |

I had toyed around with the idea of racing a lap or two with the camera gear on but after my first lap I decided the hell with that. I had also planned and catching some footage of people in the transition area, but after the first lap I found myself just eating or resting between laps. Of well, here is the video of 99% pre ride and 1% race at the Old Pueblo.
This year's race was a true test of one's mental fortitude. The forecast was ominous and it rained on Miles and I during a good portion of our drive out to Tucson. There were sporadic showers while we were setting up camp, but thankfully we had a canopy with sides. Camp went up with only a few rain delays, being set up well before dark. Teammate Erik Larson and his wife joined us Friday morning with their rented RV and by mid-day went of for a practice lap to check out the new changes. I was quite bummed with that the reflector trail was cut out of this year's race due to a archaeological discovery in the area. There were also some singletrack reroutes near the beginning of the course that compensated for the loss of the reflector trail, but not much. Shortly after we finished our lap. A bout of heavy rains come for a few hours. The rest of the day was spent with a trip into town for our "Last Supper" as has become tradition. Followed by a trip to the grocery store.

Saturday morning looked like we would escape from the forecast as the sunrise breathtaking.

Eric and his girlfriend arrived early in the morning and it rained off and on throughout the morning. The race started with no rain but it was quite gooey. It was not long until the rains returned which made for some pretty mucky conditions out on the course. Not so much from a trail damage perspective, but were going to get really messy and your drive train was going to get chewed on pretty hard by the grit and muck. It was not particularly the being on the course that was draining my will to live down, it was the being in camp and having to convince yourself to get back out into those conditions.
We kept churning away even though the conditions turned quite bad with really hard rain becoming the norm with the occasionally light shower. Our first snag occurring at 2AM in the morning. Eric aggravated an old knee injury and that made it very painful to push the pedals so we threw him some meds and would see how he recovered between laps. On my next lap there was a 10 minute or so period when there were a break in the clouds and the moon put some light on the course. I was at the top of one of the bitches and I could clearly see a silvery line marking the line down the fireroad all the way as far as I could see. It was beautiful but shorted lived as soon it was back to the cold pelting rain scene again. About halfway into this lap my brakes were virtually gone and I snapped a chain ring bolt about a 1/4 mile from the top of the last climb. So I ended up Fred Flintstoning it back to the start/finish area which added quite a bit of time to my lap. The guys at Arizonia Bicycle Experts hooked me right up with a replacement set of chainring bolts, but they had long ago ran out of brake pads. Upon arriving back in camp I learned that Eric's knee was not doing very well at all and it would be very unwise for him to try get in another lap. So we dropped to a 3-man team, and the way the rotation was going I was the logical choice to do the short turnaround.

So what to do about the brakes? Back in camp I found that one of the pads in the front had totally disintegrated. Duct tape to the rescue. I managed to fashion a pad using duct tape and tests around camp showed that this just might work. I knew this setup would not last long up front and with some adjustments I was able to get some additional life out of the rear brakes. But this would not be much. I felt that I could easily count on my fingers and toes how may times I could squeeze the brakes before complete failure would occur. Before I knew it is was time for my fourth lap relieving Erik, the guy I sent out. I was really hurting so the brake issues gave me an excuse to go easy. I was still amazed how little I actually used the brakes and how well the tires were holding in the turns. It did get to enjoy the sunrise and a break from the rain, but I was still quite happy to get this lap under my belt.

I quickly stuffed my faced and dived into the tent. FAST FORWARD to 11:something AM - - I ended up doing the last lap to make sure we held onto 8th place and this is when the light really turned on. I had gotten a little rest and the course had dried some so carrying speed was much easier. I was amazed just how much speed I could carry through the turns. I would let off the pedaling just a little sooner before the turns and trusted the tires to do their job. Sure I was approaching the turn a little slower than normal but I was coming out of the turn at least as fast I was doing in the past. I was really getting jazzed over this, flow...yes...this is some sweet energy conserving flow. When I crossed the main dirt road that marked the final climb I was feeling much better than expected. The final downhill was a blast as I only scrubbed speed off when I absolutely had too. I did skip the rock as I did not want to press my luck. I had squeezed the brake levers only about a dozen times on the last lap and out of that I only really yanked on them four times (not counting the transition tent). My last lap was only 3 minutes slower than my first. I wish I would have flowed like that on my first lap.
This race was really great because the conditions were so bad that you felt like did could just to survive it. It was best time I have ever had at a 24 hour race.







The cacti was quite lush this year

We went through a lot of lube during the course of the race :-)

Miscellaneous rider shots
SCUMBAGSS Team 375
Category 4 Person - Single Speed
Category ranking 8th out of 20 teams
| | | | |
| --- | --- | --- | --- |
| Lap | Rider Name | Lap Finish Time | Lap Time |
| 1 | Miles Todd | 2/19/2005 1:16:53 PM | 1:16:53 |
| 2 | Eric Hagerty | 2/19/2005 2:36:01 PM | 1:19:07 |
| 3 | Erik Larson | 2/19/2005 3:50:35 PM | 1:14:33 |
| 4 | Bill Porter | 2/19/2005 5:04:38 PM | 1:14:03 |
| 5 | Miles Todd | 2/19/2005 6:22:42 PM | 1:18:04 |
| 6 | Erik Hagerty | 2/19/2005 7:52:55 PM | 1:30:12 |
| 7 | Erik Larson | 2/19/2005 9:19:20 PM | 1:26:24 |
| 8 | Bill Porter | 2/19/2005 10:46:15 PM | 1:26:55 |
| 9 | Miles Todd | 2/20/2005 12:17:45 AM | 1:31:29 |
| 10 | Eric Hagerty | 2/20/2005 1:57:11 AM | 1:39:26 |
| 11 | Erik Larson | 2/20/2005 3:31:41 AM | 1:34:29 |
| 12 | Bill Porter | 2/20/2005 5:17:38 AM | 1:45:57 |
| 13 | Miles Todd | 2/20/2005 6:56:59 AM | 1:39:20 |
| 14 | Bill Porter | 2/20/2005 8:26:12 AM | 1:29:12 |
| 15 | Erik Larson | 2/20/2005 9:53:51 AM | 1:27:39 |
| 16 | Miles Todd | 2/20/2005 11:18:56 AM | 1:25:04 |
| 17 | Bill Porter | 2/20/2005 12:36:40 PM | 1:17:44 |